"The team believe their biggest strength lies within their driving skills, which they've practiced incessantly at amateur robot fighting events over the years."
— The Robot Wars website on Team Toon
Team Toon is a team from Gateshead, Tyne and Wear, who competed in Series 8 of Robot Wars, achieving third place in their only Robot Wars campaign with their robot TR2.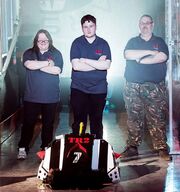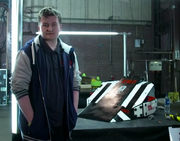 The team consist of the Brown family; captain Alex Brown, and his parents Wendy and Clive. At the time of Series 8, driver Alex Brown was 15 years of age, while Clive Brown was the team's builder and welder. They did not enter any of the original series, having started building robots during the show's hiatus. Team Toon reached the Grand Final of Series 8 with TR2, finishing third overall in their Robot Wars debut, and also won the 2015 FRA UK championship with the same robot. Despite this success, TR2 was not selected to compete in Series 9 beyond being a reserve, although it made a cameo appearance in that series' Grand Final and participated in two whiteboard battles against Behemoth, one of which was broadcast as part of Robot Wars: Battle of the Stars.
On 19th April 2017, Alex Brown announced on Team Toon's Reddit AMA that they did not apply for Series 10, due to him taking exams on the same date that filming is due to take place. However, Brown confirmed that Team Toon will be attempting to apply for a hypothetical Series 11 should it be commissioned.[1]
The name of the team and the majority of its robots is also a reference to the "Toon Army", a name given to supporters of Newcastle United F.C., which includes team members Alex and Wendy. The majority of the team's robots are painted in the same colour scheme of black and white vertical stripes, the home colours of Newcastle United F.C.
Name
Weight Class
Series
TR2
Heavyweight
Series 8
Series 9 (whiteboard battles)
Wins/Losses
Edit
Series Record
Edit
Other Robots
Edit
TR2 is the successor to Toon Raider, which also participates in Robot Wars Live Events, but has no involvement with the TV show. It was originally built in John Findlay's workshop in conjunction with Team Toon, and has received several upgrades since its combat debut in order to keep it in fighting condition. In addition to Robot Wars, TR2 also makes regular appearances in other live robot combat shows such as Robots Live!, with its most recent successes including winning the 2015 FRA UK Heavyweight Championship at their Stevenage event, and finishing third in the 2016 event.
After TR2 was not selected for Series 9, Alex Brown announced that an improved version of the robot, TR3, was being developed.[2] TR3 made its live events debut in April 2017 at the Robots Live! event in Burgess Hill, and would compete at the inaugural Extreme Robots event in Manchester later the same month.
TR2's predecessor, Toon Raider, was previously called And His Army, and began life as John Bell's heavyweight Batterbot before being given to Team Toon, who repainted it and gave it its new name. And His Army fell in the group stages of the 2008 UK Championships after being damaged by Tiberius, but was rebuilt for 2009 and reached the UK Championship finals that year, where it lost to Terrorhurtz on a judges' decision. In 2010, And His Army was rebuilt again, this time being renamed Toon Raider, and has performed well since, reaching the semi-finals of the 2010 UK Championships before losing to Iron-Awe 5, finished third in the 2010 Annihilator and won the 2012 Tag Team Championships teamed with Eruption. In 2014, Team Toon were also given Hellbent 2 from its previous owner Robert Lewis with the hope of entering it in live events again.
Team Toon have also fought on the live events circuit with various featherweights, which are listed below:
44 Toon: A four-wheel drive, double-scooped rambot, designed to ram its opponents no matter how many times it gets flipped over. The robot was originally built in 2005 by Team Lambsy for the Roaming Robots 2005 Winter Tour, before being sold in 2007 to Team Shock. After an unsuccessful run, it was sold again to Team Toon in 2008.
Looney Toon: A pink wedge-shaped robot armed with a front-hinged flipper. Due to its reliability issues at live events, it has frequently been nicknamed "Stagefright".
Stealth: A black octagonal wedge-shaped robot armed with a full-pressure flipper.
Tiny Toon: The team's first ever robot, originally a featherweight version of Batterbot owned by John Bell of Team Scorpion. It was bought at the time of the Heavyweight 2007 UK Championships and had been renamed and repainted to its current form. Tiny Toon has enjoyed considerable success in live featherweight events, winning the 2009, 2011 & 2014 UK Annihilators, and the 2010 UK Championship.
Tiny Hurtz: A featherweight version of Terrorhurtz, armed with a double-headed axe based on that of its heavyweight counterpart, and built using blueprints of Terrorhurtz supplied by John Reid.
The Toonimator: A two-wheel drive featherweight armed with a horizontal spinning disc.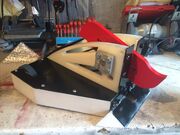 Team Toon have also fought on the live event circuit with two antweights, Ant & Dec.
In addition, Alex Brown created a featherweight named Theseus for an A-Level project, armed with a vertical bar spinner. The build process covered 6 weeks of CAD design, and one month of practical building.
Charity Auctions
Edit
Team Toon organised a charity auction in 2016, to raise money for Cancer Research UK, as a tribute to Krissy Knee, Alan Gribble, and Steve Merrill.
Across four waves, the auction sold various parts from a large number of Series 8 and former TV competitors via eBay, raising over £3,907.66 in the process.
The first two waves consisted entirely of parts from Series 8 competitors, the second wave included parts from older competitors such as 13 Black and Onslaught as well as more 2016 items, and the fourth wave consisted of two major items donated by Robot Wars itself.
On 18th April 2017, Team Toon announced on Facebook that they would run another charity auction in the summer. They confirmed on 1st June that the auction would raise money for Ty Caraid Africa, in support of their '300 club' project to provide funding for the education of Ugandan children.[3][4] The second auction began on Tuesday 25th July, and ended on Sunday 10th September, with 50 items being spread across five waves of 10. These items consisted of parts and merchandise from seasoned Robot Wars, BattleBots and live events competitors, as well two items from the Robot Wars production crew.[5] As with the previous auction, all items were sold via eBay.
On 17th August 2017, Team Toon began offering a limited edition signed photo of all the items for the second charity auction, as part of a prize draw for one of 4 cue cards signed by Dara Ó Briain, Angela Scanlon and the Judges. The cue cards were similar to the cards offered as part of the second wave.[6]
The second auction raised a total of £6,944.32 for Ty Caraid Africa, over £3,000 more than the total for the previous auction.[7]
First Auction (2016, Cancer Research UK)
Edit
| Robot | Item(s) | Winning Bid | Notes |
| --- | --- | --- | --- |
| Various competitors and staff | Signed cue card | £310 | Cue card used on the show, signed by most competitors, as well as Dara Ó Briain and Angela Scanlon. |
| 13 Black | Roulette flywheel | £108 | Used from Series 5 right until 13 Black's elimination in Series 6. Partially coloured by Philippa Forrester. |
| Apollo | Wheel and merchandise | £216 | Merchandise includes a t-shirt, keyrings, and a poster. |
| Beast | Wheel | £92 | Damaged during Beast's battle with Ironside3. |
| Behemoth | 2x Panels | £77 | Featured in Heat 1 of Series 8, used on the back of the robot for roll-over design. |
| Big Nipper | Titanium panel | £40 | Used in the live events where the panel was broken off. |
| Carbide | Yellow wheel | £199 | Signed by the team and used from Carbide's Heat Final onwards. |
| Chimera | Broken wheel hub | £102 | Housed Chimera's large tyre before being broken by M.R. Speed Squared. |
| Chompalot | Side panel | £59 | Used throughout the Iron Maidens competition. |
| Eruption | Top panel | £54.50 | Used during live events. |
| Foxic | Side panel, lifter joint | £41 | Lifter joint connected to the scoop used in Foxic's three head-to-head battles. |
| Gabriel | Axe head, drive plates, motor mounts | £56 | Axe head was used in Gabriel's battle with Ironside3. |
| Gabriel | Craig Colliass' costume | £50 | Worn throughout the series, compared to "the dad from Chitty Chitty Bang Bang" by Dara Ó Briain. |
| Gabriel | Top panel | £45 | Damaged by Pulsar and signed by both teams. |
| Glitterbomb | T-shirt, mascot keyring, signed card | £36 | No piece of the robot included. |
| King B Remix | Chassis side | £42 | Damaged by Sir Killalot during King B Remix's battle with TR2. |
| Matilda | Horn | £269.06 | Provided by Robot Wars, the horn was used in all of Matilda's Series 8 appearances, and is framed and signed by Dara Ó Briain and Angela Scanlon. |
| Nuts | Antweight Nuts, fur offcuts, minibot weapon | £310 | A fully functional antweight Nuts, including transmitter, used in Team Nuts' Series 8 application videos. The fur offcuts are taken from each team member's costume and signed. The weapon was attached to the minibot pierced by Razer. |
| Onslaught | Lifting scoop | £100 | The entire lifting scoop used across Series 2-4. |
| Overdozer | Safety link | £26 | One of the only remaining pieces of the robot. |
| Pulsar | Wheel | £55 | Damaged by Ironside3. |
| Sabretooth | Team Legion shirt | £30 | No piece of the robot included, but Gabriel Stroud would later give the buyer a 'Sabretooth mission badge' as an added reward. |
| Shockwave | Mounted wheel hub, signed banner | £145 | Wheel hub was damaged by Thor in their first head-to-head battle. |
| Storm 2 | Wheel | £158 | Used during The Third World Championship. |
| Supernova | Flywheel tooth | £77 | Used during The Third World Championship final against Storm 2. Also contains three Robot Wars water bottles, signed by the team members. |
| Terrorhurtz | 2x Axe heads | £317 | Used during live events. |
| Terrorhurtz | Axe head on shaft | £410 | Shaft is snapped in half but remains attached to the axe head. |
| Thor | Axe head, shirt | £245 | Axe head was used in live events. |
| Tough as Nails | Gear | £41 | Used within the robot in its Series 8 appearance. |
| TR2 | HDPE panel, official roboteer water bottle, pits entry wristbands, foam finger | £116.60 | Panel was ripped off by Carbide. Water bottle is the white variant. All extras were given to Team Toon by producers at filming. |
Second Auction (2017, Ty Caraid Africa)
Edit
Robot
Item(s)
Winning Bid
Notes
Behemoth
Wheel
£46
Signed by the team.
Heavy Metal
Rotating arm and T-shirt
£49
Signed by the team. Rotating arm was used during all three of Heavy Metal's Head-to-Head battles in Series 9.
TMHWK
Side panel
£33
Signed by the team.
HIGH-5
Back panel
£39.49
Signed by the team. Panel was damaged by Supernova in Series 9.
Team Mouse
Collection of 4 T-shirts
£48
Four T-shirts worn by Trevor Wright during televised and live events (Shunt, Tag Team, Techno Games and Team Barbie).
Meggamouse
Charles the Cheese Wedge, broken wheel and ear.
£51
Wheel is from Charles the Cheese Wedge; ear is from Meggamouse itself.
Glitterbomb
8 Part Collection (merchandise)
£26
Includes: a signed picture of April; a signed Series 8 water bottle; part of Glitterbomb Mk 2's axe mechanism (1-inch titanium, signed); Glitterbomb badge and keyring; Wheely Big Cheese magnet and keyring; and a 'Robot Necklace'.
TR2
2x HDPE side panels, spike +
Bum-Axe
£72
Spike was used in the Dara vs Angela whiteboard battle broadcast as part of Battle of the Stars; Bum-Axe was made for Series 9, but never used. All components signed by the team.
Carbide
Chassis part
£104
Signed by Team Carbide; was used throughout Carbide's Series 9 run.
Tombstone
Bar tips
£470
Tips were used in Tombstone's BattleBots Season 2 battle against Black Ice.
Ironside3
Self-righter box
£32
Original component used in Series 8.
Terrorhurtz
Axe shaft
£410
Signed by the team.
Cobra
Front wedge
£35
As used during Cobra's Series 9 group battle.
Robot Wars
Signed Cue Card, Foam Finger + Series 3/Series 10 Crew Hoodie
£101.99
Items donated by Lucy Rogers. Cue card signed by both presenters and the Judges; foam finger signed by the Judges.
Supernova
Top lid
£57.77
Used in all of Supernova's Series 9 fights; signed by the team and features damage inflicted by Ironside3. Also comes with a sheet of stickers.
Eric
Faceplate
£33
Signed by the current owners of the old and new Eric, Team E.R.I.C. Faceplate is from the original Eric, which competed in Series 3-4.
Cobalt
Wheel + armour
£62
Signed by Team Carbide. Both the wheel and armour were damaged by Bombshell during BattleBots Season 2.
Crackers 'n' Smash
Front wedge
£33
Wedge comes from Smash, and was damaged by Carbide during Series 9.
Minotaur
Signed T-shirt
£42
Shirt signed by Daniel Freitas and Marco Antonio Meggiolaro of Team Riobotz.
Robot Wars
Signed House Roboteer T-shirt + Boxed Pussycat Toy
£92
Shirt and pullback toy formerly owned by Alan Gribble, and donated by Ann Gribble. T-shirt is signed and illustrated by all of the House Robot drivers, and was originally gifted to Alan for working as part of the original series' technical crew.
Pulsar
2x Sweatshirts
£41
Sweatshirts worn by Ellis and Peter Ware during Pulsar's run in Series 8.
Push to Exit
Front scoop
£31
Signed by the team. Scoop was visible during the Series 9 opening sequence.
Big Nipper
Panel, 3x wheels + 2 front forks
£104
Signed by the team.
Beta
Bulkhead
£225.07
Signed by the team. Bulkhead features damage inflicted by Nightmare and Tombstone during Beta's BattleBots Season 2 run.
Wyrm
Side panel
£66
Signed by the team. Panel is 1 metre long and features damage from Shunt, inflicted during Wyrm's Series 9 run.
TR2
Team jacket
£74
Signed by nearly 40 teams from the show and live events.
Sabretooth
Mission Badge
£134
Badge is painted black, is the fifth of 10 to be produced, and includes the first names of Team Legion's members.
Manta
Wheel
£35
Signed by Team Shock. Wheel was broken during a battle with Eruption at the Robots Live! Grantham event in 2017.
Eruption
Side pod, wing + rear fin
£150
Side pod was destroyed during Eruption's Head-to-Head against PP3D in Series 8. Both the wing and fin were used in Series 9 and the Extreme Robots Manchester event in 2017.[8]
Aftershock
Side panel + Gym bag
£150
Panel was made during filming of the Series 9 Grand Final to replace the one torn off by Carbide. Also features damage sustained during Aftershock's Head-to-Heads against Ironside3 and Eruption.
Team Toon
Signed photo of auction items
N/A
Features all 50 items from the second auction; signed by Alex Brown. Limited edition of 100 copies, all sold for £3.00 each and include entry into the auction's prize draw. 63 photos sold, with a combined total of £189 raised.
Bombshell
Top panel, signed photo + sticker
£72
Panel was used on all of Bombshell's battles in BattleBots Season 2; photo signed by all members of the Chaos Corps team.
Coyote
Signed outrigger + poster
£27
Outrigger is used to counterbalance Coyote's crushing jaws when used to lift opponents; component was used in all of the robot's Series 9 battles and features damage inflicted by Carbide.
Iron-Awe 5
2x wheels, sprockets + Mechatrons Trophy
£56
Trophy was made by Ciarán Byrne, aka Dr. Zulu.
S.M.I.D.S.Y.
Top panel + disc
£102
Parts donated by ACE Robotics.
Stinger: The Killer Bee
Wheel, antenna, photos + trading cards
£124
Collection includes a large signed photo of Stinger's BattleBots Season 1 battle against Nightmare, as well as six smaller photos, nine trading cards and five stickers.
Cherub
Candle holder
£43
Made by Craig Colliass out of various parts damaged by PP3D during Cherub's Series 9 battles against the latter.
King Buxton
Signed motor, chain + spike
£37
Motor was used in King B3's run in Series 4, and burnt out during its battle against Atomic. The chain was used in King B Remix's run during Series 8.
Team Storm
Signed European Championship poster
£106
Signed by all competitors from the 2013 Robots Live! European Championships, including teams entering TR2, Terrorhurtz, Behemoth and Eruption.
Apollo
3x signed panels + merchandise
£72
Panels were used during Apollo's Series 8 run, and feature damage inflicted by Carbide in that series' Grand Final. Merchandise includes a poster, a keyring, a fridge magnet and sheets of Apollo and Robots Live! stickers.
Tornado
Side panel + side bar
£245
Panel was used during Tornado's appearances in Series 4 and Extreme 1, and features damage from Stinger which was rectified using a heat gun.
Beta
Hammer
£1,175
Signed, used by Beta during its BattleBots Season 2 run and its appearance as Basher in the Series 8 pilot episode.
Meggamouse
Side panel
£51
Damaged by Carbide, signed by Trevor Wright and Shane Lale.
Dystopia
Motor
£22
Signed by Gareth Anstee.
Point Blank
Piston and targets
£36
Piston operated the robot's spike, targets were used in practice for the robot's weapon tests and are signed by the builder.
Ginsu
Saw blade
£96
Signed; used during the robot's battle against Mechadon at the BattleBots Las Vegas 1999 event. Also includes a signed, printed poster of Greg Munson and Trey Roski with Ginsu.
Iron-Awe 2.1
Front panel
£207
Signed by the team. Features damage inflicted by Typhoon 2 during Iron-Awe 2.1's Series 7 run.
Tauron
Link cover, ESC + stickers
£55
Signed by the team; cover was used during Tauron's Series 9 Group Battle.
Concussion
Panel
£140
Signed by the team.
Apocalypse
Top panel
£31
Damaged by Gabriel at a live event, signed by Ed Wallace.
Dantomkia
Series 6 body shell
£1,005
Entire chassis with flipper arm and all armour intact, including puncture mark from Razer.
The majority of the team are direct descendants of George Stephenson, a civil engineer responsible for building the first passenger-carrying railways in Britain.
Driver Alex Brown is the youngest ever roboteer to win UK Featherweight and Heavyweight championships on the live events circuit.
References
Edit
External Links
Edit
Community content is available under
CC-BY-SA
unless otherwise noted.