"This team can "talk" a good battle!"
— Jonathan Pearce in Series 3
Team Torque was a Scottish Robot Wars team that entered a number of series with four different robots.
The Team
[
]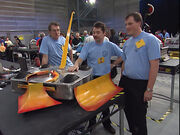 The team originally comprised of Richie McBride, Martyn Sloss and Robin Iddon. These three fought with All Torque in Series 2 and 3.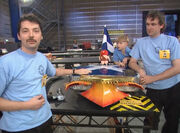 In the First World Championship, the team were joined by a child, referred to as "DJ", but his full name was not listed on the statboard, nor is his name listed on the team's site.[1]
"Who would believe this baby faced boy could dream up weapons so vicious they could not be displayed on TV"
— Team Torque website on "DJ"
After the retirement of All Torque, a new machine Small Torque was built. Martyn Sloss was the team captain in Series 2-3, before Richie McBride took over.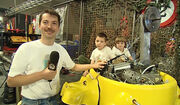 The team made two robots for Extreme 1 and Series 5, Fighting Torque and Hippobotomus. Fighting Torque exclusively appeared in a Mayhem battle of Extreme 1, but had already been replaced by Hippobotomus by the time it was given a Wild Card entry into the second Annihilator after Atomic pulled out, so it fought under the previous name. Hippobotomus fought under its new name in Series 5.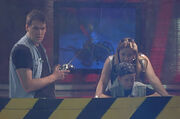 For Series 5, Martyn Sloss joined up with his wife, Lesley, and son, Daniel, to enter another machine, Bot Out Of Hell, whilst Richie McBride fought with his son Alex and daughter Ellen with Hippobotomus.
Lesley Sloss had previously been the web-mistress of the team's website.[2]
"Lesley cracked the whip when we were not getting on with our stuff. "
— Team Torque website on Lesley Sloss
Every robot Team Torque entered had a pun for a name.
Robots
[
]
Wins/Losses
[
]
Series Record
[
]
Trivia
[
]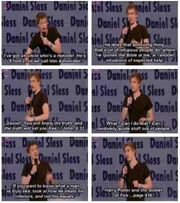 Team Torque were the first team from Scotland to compete in Robot Wars.
Though this Team Torque has retired, there is a mostly female team that goes by the name Team Torque that have worked with Mike Lambert to make Dantomkia 5.0.
Daniel Sloss, who was a member of the team in Series 5, later went on to become a successful comedian.
External Links
[
]
References
[
]