For the competitor in Series 4 and 6, see Terror-Bull
Terror-Bull is a heavyweight robot owned by Team Ballistix, which attempted to enter Series 8, 9 and 10 of Robot Wars. The robot started life as Leveller 2, and attempted to enter Series 8 in this form, before applying for Series 9-10 as a new design with a vertical bar spinner. It would eventually qualify for Series 10 after being rebranded Donald Thump.
Like the unrelated robot which competed in Series 4 and 6, its name combines the theme of a bull with the word 'terrible'.
Versions of Terror-Bull
[
]
Terror-Bull (Series 8)
[
]
The original design of Terror-Bull was a wedge-shaped robot with a rear-hinged flipper, which also utilised a protective face and spikes. The flipper was powerful, and used bungee cords for retraction, while the robot itself ran on a two-wheel drive. Visually, the robot resembles a bull. Away from its guise as Terror-Bull, the robot is traditionally known as Leveller 2 Mk4.5, which was a seasoned competitor on the live circuit.
Terror-Bull (Series 9)
[
]
For Series 9, a brand-new version of Terror-Bull was built. it sported a wide, plough-shaped design, with five flat sides. It featured a small front wedge, designed to lead robots into the 16kg vertical spinning bar, driven by a 1kg belt pulley, allowing the weapon to reach speeds of 145mph (5000rpm). The weapon can reach its top speed within a very short period of 2 seconds. The robot was armed in comparatively thin 3mm HARDOX, weighing 102kg in total, although its self-righting had not been tested.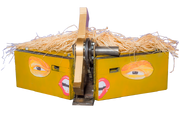 The robot was painted brown with eyes, and a nose ring was present near the bar spinner. After Terror-Bull was not selected to compete in Series 9, it also attempted to qualify for Series 10, but was once again not selected. However, the team converted the design into Donald Thump with no intention of using it to qualify for the show, and one week before filming began, Team Ballistix's efforts were noticed, and Donald Thump qualified for Series 10.
Series Record
[
]
Robot Wars Live Events
[
]
For information on Terror-Bull's history on the live circuit as Leveller 2, see the Leveller 2 article.
Aside from Leveller 2, Team Ballistix also competed with a brand-new flipper known as Schu-Bot, resembling Scraptosaur, which remains active today. Schu-Bot is named after Shubert's Unfinished Symphony, due to the robot's unfinished state. At the Colchester event in 2016, Schu-Bot fell to robots such as Eruption and TR2, but collected a victory over Iron Heart 88.
External Links
[
]