"Terrorpin - certainly caught Philippa's eye. Sweet it did look, but it did have a nasty bite!"
— Jonathan Pearce, revealing Terrorpin's 'Best Design' nomination
Terrorpin (nicknamed Shelly by its team) was a competitor robot which fought exclusively in Series 3 of Robot Wars. In its only appearance, it reached the second round of its heat, before losing to Invertabrat on a close Judges' decision.
The robot's design earned particular praise from Philippa Forrester, who admired the robot for its comedy value and 'cuteness'; it also received a nomination for the Best Design award at the end of Series 3, but lost out to Razer.
Design
[
]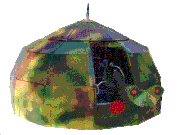 Terrorpin was a large, four-wheel drive, dome-shaped robot, which was painted green, yellow and brown and designed to resemble a turtle. One of the robot's most distinctive features was its outer shell, which could be raised and lowered in order to prevent other robots from getting underneath it. Terrorpin's weapon was a small pneumatic ram with a spike tip shaped and decorated like a turtle's head, which was used to 'punch' opponents which came into range. Unusually, it also featured a whoopee cushion which allowed the machine to produce 'laughing' noises - a capability which Team Terror demonstrated before its battle with Invertabrat.
According to the team's website, Terrorpin was female and even had the team motto of 'The female of the species is more deadlier than the male'. This is further proven with red "lipstick" on the lip of Terrorpin's as well as large eyelashes around the eyes.
Etymology
[
]
Terrorpin's name was a pun on 'terrapin', a group of small species of turtle, which also influenced the robot's design.
Qualification
[
]
Initially Terrorpin was to have a slightly different design, which was described as "large" as well as having angle grinder limbs, but these were removed prior to the Auditions[1]. Terrorpin successfully qualified for the Third Wars by running the obstacle course. A virtually unchanged Terrorpin also attempted to enter Series 4, but failed to qualify for as-yet unknown reasons, and did not return to Robot Wars after that.
Robot History
[
]
Series 3
[
]
"It does have an outer shell and a terrapin tongue-like pneumatic spike… but now, it's in the big pond, and I wonder if Terrorpin will turn turtle if the current gets too strong."
— Jonathan Pearce introduces Terrorpin
As a Third Wars debutant, Terrorpin appeared in Heat I, where it faced previous series Heat Semi-Finalist Vercingetorix in the first round.
Both robots slowly moved out of their starting positions, with Terrorpin darting around the arena before momentarily bumping into the side of Vercingetorix, then drove up its opponent's front. This allowed Vercingetorix to push and carry Terrorpin into Sergeant Bash's CPZ; the House Robot proceeded to shoot flames at both competitors. Terrorpin was almost toppled over as Vercingetorix carried it away and was lifted by the floor spikes; it lifted its shell a few times as Sergeant Bash attempted to separate both machines, before reversing itself off of Vercingetorix and into the wall. Recovering, Terrorpin zig-zagged across the arena, stopping short of, then pushing Vercingetorix around while struggling to stab it with its 'head'. It reversed and turned away from Vercingetorix, before again driving round and into the side of the latter.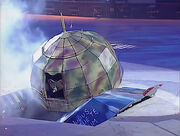 Terrorpin almost reversed onto Vercingetorix's wedge in the process, then into the pit as the two competitors manoeuvred towards the bottom left-hand corner of the arena. It reversed fully into Matilda's CPZ as a result, and struggled to escape as it bumped and was lifted by the House Robot. Terrorpin rammed Matilda's side in response, knocking a small part of her bodyshell off, before bumping into the wall saws and again being wedged off the floor by Vercingetorix. It lifted its shell as Shunt left his CPZ to separate the two competitors, before suddenly charging into Vercingetorix and pushing it into Shunt himself. As Vercingetorix sustained damage from Shunt's axe, Terrorpin pushed it further into the CPZ; Terrorpin proceeded to position itself around Vercingetorix's left-hand side, before pushing it across the arena and into the pit – although not without falling over the edge itself.
Philippa Forrester: "The only thing is that Terrorpin's so cute. Don't you think you might be distracted by its cuteness?"
Les Wall: "Nah, we already listened to it talking, and we're not fooled by that sexy female voice."
Philippa Forrester: "Oh. Well, I won't bother any more, then."
Les Wall: "Some sexy female voices, but not that one."
— Les Wall of the Invertabrat team expresses confidence while dismissing Terrorpin's sound effects
Through to the second round, Terrorpin next faced Invertabrat for a place in the Heat Final.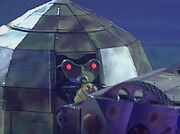 It immediately drove into and pushed Invertabrat back, its shell preventing Invertabrat from getting underneath with its lifting weapon. Eventually, Invertabrat's weapon hooked under Terrorpin's 'head', causing both competitors to lock together and allowing the former to push Terrorpin across the arena. Terrorpin pushed back again in response, punching Invertabrat's weapon mechanism with its 'head', but without causing any visible damage. The two competitors continued to push and drag each other round even as Shunt tried to separate them – Terrorpin finally broke free after Invertabrat pushed it into the vicinity of Sir Killalot. Momentarily lingering in Sir Killalot's CPZ, Terrorpin drove out and bumped into the side of Invertabrat before suddenly stopping for a few seconds. It proceeded to dart away from Invertabrat before driving into its opponent's sides a few more times, having lifted its shell up in the process at some point.
Terrorpin weathered a few more bumps from Invertabrat and manoeuvred around the arena perimeter – in doing so, it dodged Dead Metal and drove head-on into Invertabrat again. This time, Invertabrat got underneath and lifted Terrorpin off the floor – however, as its opponent accidentally steered itself into Dead Metal, Terrorpin escaped, darting to the centre of the arena. It waited as Invertabrat struggled to escape from the CPZ and sustained damage from Dead Metal's saw – however, it was soon nudged by Invertabrat, and attempted to manoeuvre it opponent into Sir Killalot while Dead Metal accidentally reversed into the pit. The two competitors resumed their battle as a result – Terrorpin at last succeeded in ramming Invertabrat onto the floor spikes, before continuing to bump and dodge its opponent for the remainder. In the closing seconds, it drove itself onto the floor spikes and into Sir Killalot's CPZ, bumping into the House Robot itself just as 'cease' was called. The battle went to a Judges' decision, which went in favour of Invertabrat, eliminating Terrorpin from the Third Wars after a close battle - afterwards, Team Terror revealed to Philippa Forrester that its 'head' had stopped firing during the battle, potentially contributing to its loss.
At the end of the series, Terrorpin was nominated for the Best Design Award, but lost out to the previous year's winner, Razer.
Results
[
]
Wins/Losses
[
]
Series Record
[
]
Trivia
[
]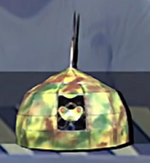 Coincidentally, Terrorpin's name is an anagram of that of an unrelated competitor introduced a series later, Reptirron.
Honours
[
]
Nominations
External Links
[
]
References
[
]