The General was a Welsh robot which competed solely in the Football Tournament of Series 3. It reached the final after beating Spectre, but lost to fellow Welsh robot Evil Weevil on a judges' decision. The team also entered with Spartacus in the lightweight competition of Series 2 and had planned to enter Hazzard into Series 3's Lightweight Competition, but this competition was cancelled due to a behind the scenes accident.
For Series 4, the team had added a larger blade and claw at the front of The General, and placed a toy cannon on top for decoration. However, they failed to qualify.
Robot History
Series 3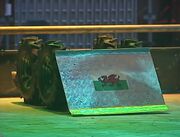 In its first match against Spectre, The General managed to get to the ball, but its scoop didn't help it very much to begin with. Spectre came in and spun around a few times and with Matilda, kept taking the ball away from the The General. However The General managed to regain control and attempt to shoot. It was blocked, but then the ball went in off the rebound from Matilda.
In the final, The General went up against Evil Weevil, Velocirippa and Gnasher. The General was slightly too slow to get to the ball. However it finally managed to tackle Matilda and gain the ball, but lost it soon afterwards to Gnasher. The General then appeared to break down, as its batteries ran out of charge. It came back to life towards the end, but it was too little, too late and the judges' decision went against it, going in favour of Evil Weevil.
Results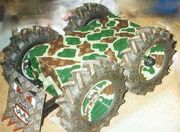 Wins/Losses
Series Record
Series 1: Did not enter
Series 2: Lightweight Championship with Spartacus
Series 3: Robotic Soccer only, and entered with Hazzard (event cancelled)
Series 4-7: Did not enter
Community content is available under
CC-BY-SA
unless otherwise noted.