"The shell is fabricated aluminium. What, no iron?"
— Jonathan Pearce comments on The Iron Mask's lack of iron
The Iron Mask was a heavyweight robot which competed in Series 3 of Robot Wars, losing in the first round to Weld-Dor.
The team attempted to enter a future series with The Iron Mask's successor Ksam Nori (alternatively Qsam Nori), but failed to qualify.
Design
[
]
The Iron Mask was a compact box shape in the likeness of a mask, with ramming teeth at the bottom of the 'chin'. The primary weapon was an axe powered by a starter motor. The Iron Mask had two rear wheels with cutting claws attached, and a small caster wheel beneath the mask driven by a motor from an invalid carriage.
Etymology
[
]
The Iron Mask was possibly named after the movie of the same name.
Robot History
[
]
Series 3
[
]
The Iron Mask competed in Heat J of the Third Wars, where it faced Northern Irish entry Weld-Dor in the first round.
The Iron Mask's only battle had a slow start, with The Iron Mask being shunted by Weld-Dor. After a lot of tentative ramming, Weld-Dor hooked one of the lifting forks underneath The Iron Mask's 'chin'.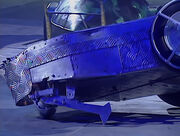 "I thought this might happen, that the iron mask at the front of the robot of the same name, might cause problems and might be impaled...and you can see Weld-Dor can effectively drag Iron Mask where they want him to go."
— Jonathan Pearce
Weld-Dor released The Iron Mask, and struck it twice with its axe. As The Iron Mask attempted to make room for an attack, Weld-Dor attacked the side and flipped it on its back. Cease was called immediately and The Iron Mask was eliminated.
Results
[
]
Wins/Losses
[
]
Series Record
[
]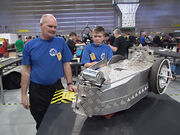 NOTE: The team failed to qualify for at least one series between Series 4-7 with Ksam Nori
Trivia
[
]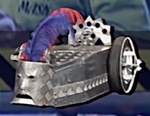 The Iron Mask's official photo shows it with a purple feather above its head, which was not seen on television otherwise.
The Iron Mask was the only representative of North Yorkshire during the original run of Robot Wars, and one of only two in the show's entire run, alongside Crackers 'n' Smash.