The Parthian Shot was a rounded box wedge shaped robot that entered Series 2 of Robot Wars. However it never managed to compete as the robot broke down and the team ran out of time to fix it. The Parthian Shot also qualified for The Third Wars, but once again had to pull out at the last minute for unknown reasons. It was seen in the pits, but not acknowledged on the TV programme, and was discretely replaced by Flipper.
The name comes from a military tactic made famous by Parthian horse archers in ancient Iran, whereby when retreating at a full gallop they would turn their bodies to shoot arrows at pursuing enemies. Through metaphor, this also became the name for an insult delivered as the speaker leaves.
The robot cost £400 to build from a basic tank configuration and powered by starter motors from a scrapyard. The frame came from bracing from benches thrown out at work and the main armament were spikes at the front and rear and a set of ball and chains on the top. It was one of the largest robots in Series 2, and had a very high top speed of 15mph, but naturally its biggest flaw is the fact that it never functioned promptly.
Robot History
Edit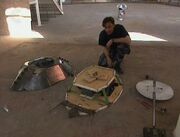 Disaster struck for The Parthian Shot as when the team tested it, having only recently finished building it, it failed to power up, showing no voltage at all. It was due to go fourth in the Gauntlet, but the production team allowed Disruptor and Whirling Dervish to run the Gauntlet in an attempt to give them time to fix the machine. The team quickly found what was wrong and tried to fix the robot, but eventually ran out of time. Just as the team got it up and running, Philippa Forrester informed the team that they had been disqualified.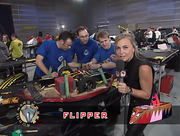 In Series 3, The Parthian Shot was drawn against Ultor, which would eventually win the heat. However, for unknown reasons, it had to withdraw, and was replaced by Flipper.
The Parthian Shot was only seen in the pits during Philippa Forrester's walk around the pits at the beginning of the show, partially assembled. Since Philippa didn't call Parthian Shot by its name, it was simply labelled as its replacement, Flipper.
THE PARTHIAN SHOT - RESULTS
Series 2
The Second Wars - UK Championship
Heat, Gauntlet
Heat F, Gauntlet
Disqualified (6th)
Eliminated
NOTE: The Parthian Shot broke down before it entered the arena, so it never attempted the Gauntlet.
Series 3
The Third Wars - UK Championship
Withdrew
Heat D, Round 1
vs. Ultor
Withdrew
NOTE: The Parthian Shot was originally supposed to fight Ultor, but was forced to drop out. It was replaced by Flipper.
Series Record
Edit
In The Ultimate Guide it incorrectly calls The Parthian Shot "The Parthian Scott"
The Parthian Shot was originally Philippa Forrester's sweepstake robot before withdrawing from Series 3.
Community content is available under
CC-BY-SA
unless otherwise noted.