For the unrelated Series 7 competitor, see Ripper.
The Ripper[1] (also shortened to just Ripper) was a featherweight robot which competed in the Featherweight Championship of Series 2 of Robot Wars. Entered by The Yorkshire Rippers (also known as Team Ripper), it lost the championship to Demolisher after becoming immobilised due to an uncharged battery.
The Yorkshire Rippers later entered the Middleweight Melee in Series 3 with Ripper's Revenge.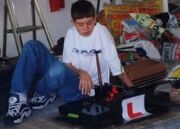 Ripper was a black robot with a low box-shaped body and a standard household hammer as its weapon. Its name was written in red along its weapon mount, while the robot also featured a plough-like panel with an 'L' plate sticker. Notably, the team assert that The Ripper was the only featherweight competitor in Series 2 to be built from scratch, instead of modifying an RC car. The robot was comfortably under the weight limit at 7kg, but suffered from mobility problems in its only battle due to an uncharged battery.
"Aggh, extra complications, because to enter Robot Wars, you need an adult over 18 on your team. I am 15 in August, and my brother is 11. We therefore need my Auntie on our teem, so she needs to fill out some forms."
— Anthony Mills[2] (edited)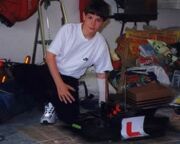 The team, known as The Yorkshire Rippers, was captained by 15-year old student Anthony Mills, the lead builder of the machine. He was accompanied by 11-year old brother Donald Mills, and the duo originally intended to enter the show as a pair, but the show's rules mandated at least one legal adult be part of the team, so the brothers asked their aunt Jackie Holland to join them. The team ultimately decided to build a featherweight due to a lack of finances available to the young team. The Yorkshire-based team returned for Series 3 with the same line-up, while competing with middleweight Ripper's Revenge.
Robot History
Edit
"We got absolutely totalled, Matilda messed our robot up in bad style, talk about no mercy!"
— The Yorkshire Rippers' website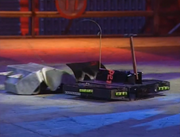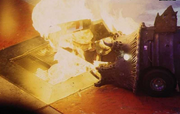 The Ripper competed solely in the Featherweight Championship, which was partially broadcast as part of the end-of-series special, The Grudge Matches. It fought Armadillo, Anarchy and Series 1 Heat Finalist Demolisher, but entered the battle with uncharged batteries. As a result, The Ripper moved just a few centimetres before suddenly becoming immobilised, after which it was rammed by Demolisher. Matilda proceeded to cause significant damage to The Ripper, which ultimately lost the battle - and the Featherweight Championship - to Demolisher.
"Our robot moved a small amount, but then, broke down.....the batteries were not on full, there was lots of interference, consequently we did not move for a full 30 seconds, which means that according to the rules, the house robots can demolish you, even though our hammer was working, we were not actually moving forwardly. We were basically torched to death."
— The Yorkshire Rippers' website (edited)[3]
Wins/Losses
Edit
Series Record
Edit
The Ripper was the only Series 2 Featherweight competitor which was not converted from a radio-controlled car/truck.
References
Edit
↑ https://web.archive.org/web/20000617005732/http://www.geocities.com/Area51/Labyrinth/7510/robot_wars2.html
↑ https://web.archive.org/web/20000617005732/http://www.geocities.com/Area51/Labyrinth/7510/robot_wars2.html
External Links
Edit
Community content is available under
CC-BY-SA
unless otherwise noted.