"Thor's Hammer, the lightest at 114lbs. He's got a serious hammer to shake things loose: let's see if he knows how to use it!"
— Stefan Frank introduces Thor's Hammer
Thor's Hammer was a middleweight robot from Citrus Heights, California, that appeared in Season 2 of Robot Wars: Extreme Warriors. It exclusively fought in the Annihilator, where it was eliminated in the first round after sustaining damage from Hyperactive and Cyclone, and being thrown out of the arena by the latter.
Thor's Hammer was entered by the Truly Unruly team, which also competed in Seasons 1-2 of Extreme Warriors with Medusa Oblongotta. Like the UK Series competitor and the robot from Arenas of Destruction, it was named and modelled after the weapon of the Viking god of thunder, Thor.
Thor's Hammer was a four-wheeled, box-shaped robot armed with a double-headed hammer. It was painted purple with lime green lightning bolts on its top panel, although the official image on its statistics board showed it as being painted dark blue. The robot's hammer was finished in light gray with its name written on the hammer head.
While Thor's Hammer proved fast and manoeuvrable, its high ground clearance and light weight made it very susceptible to being flipped over. The robot's chassis and body-shell also proved to be very fragile against spinning weapons, as its only battle demonstrated.
Robot History
Edit
Thor's Hammer competed exclusively in the Annihilator, alongside Cyclone, Brute, The Termite, Revenge and Hyperactive.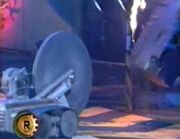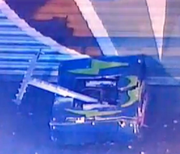 In the first round, it immediately dodged Hyperactive, and swung its hammer as the two robots drew alongside each other. Hyperactive then sent Thor's Hammer somersaulting with its flywheel, buckling Thor's Hammer's chassis and body-shell in doing so. Brute pushed Thor's Hammer away before Hyperactive lifted it off the floor again, with Thor's Hammer having become immobilized following Hyperactive's initial attack. Thor's Hammer was then turned over and flung towards the arena wall by Cyclone, where it lay on its side as Brute rammed underneath it. One more hit from Cyclone's flywheel turned Thor's Hammer back onto its wheels, before another threw it out of the arena, eliminating Thor's Hammer from the Annihilator.
"Now we know that hammer was a little light, but look at them now. They're out of commission!"
— Stefan Frank after Thor's Hammer is thrown out of the arena by Cyclone
Wins & Losses
Edit
Series Record
Edit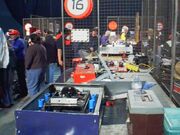 Like the team's other entry, Medusa Oblongotta, Thor's Hammer was thrown out of the arena by a robot equipped with a vertical flywheel.
Thor's Hammer was a middleweight, but it was not the lightest robot in Extreme Warriors, with this title belonging to Marauder.
Community content is available under
CC-BY-SA
unless otherwise noted.