Thorak was a heavyweight robot which attempted to enter Series 7-8 of Robot Wars. It did not qualify for either, although various incarnations of Thorak have made regular appearances at live events.
The team consisted of captain Alan Holmes, who was the weapons operator and maintained the robot's pneumatic and electronics systems, and James Ware, who drove and maintained its radio control systems.
Design
[
]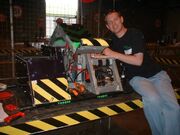 Thorak was a box wedge-shaped robot painted purple with black, green and yellow hazard stripes, and armed with a pneumatic flipping arm. Its armour consisted of 6mm aluminium with 6mm polycarbonate, and the robot cost £2000 to build.
The version that failed to qualify for Series 7 was the MK3 version, and has fought in several other FRA competitions since Robot Wars finished, such as Roaming Robots. Thorak MK1 and MK2 were both weaponless.
Series Record
[
]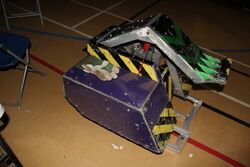 Outside Robot Wars
[
]
After Robot Wars went off air, the team built a second heavyweight, Thorak Nemesis. This robot is similar in design to the original Thorak, but has a larger and less steep front wedge and a more powerful flipper.
Team Thorak also created five featherweights: Talon, an invertible four-wheeled rammer, an unnamed black football robot, IDK and IDK 2, a pair of identical orange featherweights designed for football competitions, and Bibble, a black and polka-dot painted robot. They have also built a boxing robot called Redeye.
Robot Wars Live Events
[
]
Thorak made its debut in the Robot Wars Live Events in the second event of 2016 at Portsmouth. It fought in a 4-way melee against Bullfrog, Luzifer and Cherub, but it lost when it was flipped against the arena wall and was immobilised and lost an armour panel in the process. It also took part in a 4-way melee against Manta, Earthquake and Weird mAlice, but it was swiftly thrown out of the arena by Manta, followed by Earthquake and Weird mAlice. Next it fought in a 4-way melee against Gabriel, Halo and Luzifer. Here, it did slightly better managing to hold its own against Halo's axe attacks and also managed to land a few attacks on Luzifer and Gabriel, and survived until the end.
External Links
[
]
References
[
]