Thorgrim was a German robot that competed in the first and only German Robot Wars. Thorgrim was named after a mythical beast, and was also covered in decorative thorns and fur. It lost in the first round of the only German Wars to eventual third and fourth place finishers Son of Armageddon and Tyke.
Design
[
]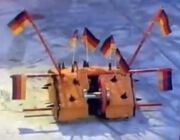 Thorgrim was a bi-wedge shaped robot, which cost €4,000 to build. The robot was armoured in 'flame-resistant' polycarbonate, ranging from 6-14mm in thickness, and used self-supporting tubular framework for additional protection. Its weapon was a small 9.5kg spinning disc, vertically mounted and coloured red, with a top nominal rotation speed of 970rpm; the weapon motor allowed for a maximum rotation speed of 1500rpm. Thorgrim was quite a patriotic robot, heavily decorated with German flags, and the robot was coated in orange fur.
Qualification
[
]
In order to qualify for the German series of Robot Wars, all German competitors were required to attend an inspection run by Derek Foxwell in May 2002, to receive safety advice, and pointers with the build. Thorgrim was in attendance for this event, and as German Robot Wars had less applicants than the number of spaces for competitors, it was automatically accepted for the German series.
Robot History
[
]
German Series
[
]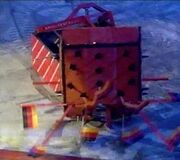 Thorgrim never moved under its own power in its only battle against Son of Armageddon and Tyke, who also was immobile for nearly all of the battle and barely moved an inch. At the beginning of the fight, Son of Armageddon lifted and almost toppled Thorgrim, but was ultimately unsuccessful.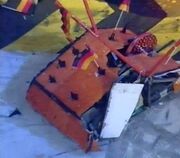 Thorgrim was then shoved into the pit release, and left for the Refbot to count out. Thorgrim was almost granted a place in the second round by sheer luck; however Son of Armageddon pitted Tyke marginally after the count was finished, meaning that Thorgrim had been eliminated. Thorgrim was then set upon by the house robots, especially Matilda who tore large sections of armour off Thorgrim. The judges decided that, despite neither Tyke nor Thorgrim being mobile at any point in the battle, Thorgrim had been eliminated first and so was out of the German Championships.
Results
[
]
Wins/Losses
[
]
Series Record
[
]
Trivia
[
]
External Links
[
]