Thud was a tracked robot that competed in the Super Showdown competition, part of the Grudge Match special in Robot Wars: The Second Wars. It lost its Super Showdown qualifier to Siren.
Team Thud would later enter Series 3 of Robot Wars with Atlas, which was defeated in the first round.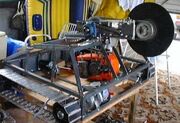 Thud was a large, tank-like robot using tracks as its means of locomotion, powered by a 12V starter motor and mainly built out of scrap and donated parts. Its weapons were a large circular saw mounted on an arm - which Team Thud referred to as a 'chainsaw' on their website - and a rear spike. However, Thud's saw failed to work at all before its only battle, which combined with its slow speed and turning circle greatly hampered its performance in the Super Heavyweight Championship.
Qualification
Edit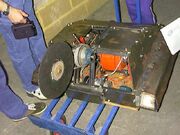 Thud, like with many superheavyweights, intended to compete in the main competition of Series 2 as a heavyweight. Though it did not qualify for the main competition it was entered into the Super Heavyweight Championship instead, despite being narrowly lighter than some of the Heavyweight entrants.
Robot History
Edit
After failing to compete in the main series after experiencing problems with its circular saw, Thud was entered into the Super Showdown, and was due to fight Siren and Roter Ochse in its qualifier battle. Even then, it still encountered problems - the starting cord for its circular saw broke, rendering it disabled before the battle began.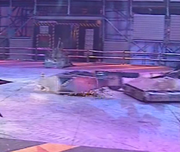 Thud began the battle by turning round and moving towards Siren with its inactive saw, only to turn away. Unseen on the broadcast Grudge Match special, however, it was then attacked by Sergeant Bash, whose jolt caused its left-hand track to lose drive and leave Thud spinning in the middle of the arena. Sergeant Bash was about to attack Thud again when Roter Ochse smashed through the arena wall and into a television camera, causing the battle to be stopped immediately. As Thud had lost drive to one side at that point, Siren was declared the winner, while Thud was eliminated from the Super Heavyweight Championship.
Wins/Losses
Edit
Series Record
Edit
At 84kg, Thud was just over half the weight of the heaviest super heavyweight competitor Roter Ochse, which it fought in its Super Showdown qualifier.
Thud's circular saw would later be reused by its successor Atlas[1].
External Links
Edit
References
Edit
Community content is available under
CC-BY-SA
unless otherwise noted.