".. a machine designed to set a new benchmark in robot design. Its unusual shape is engineered to fend-off attacks from rambots, flippers, spinners and axes, while presenting its opponents with a fearsome 1m diameter rotary axe."
— The Team Dark Star Website on ThundeRing
ThundeRing was a competitor robot that attempted to enter Series 7 of Robot Wars. It failed to qualify for its only series for as yet unknown reasons.
The robot had eleven sponsors, all of whom supplied components and online support for its construction and maintenance.
Team Dark Star had previously failed to qualify for Series 6 with Twinkle-Twinkle, a rectangular box-shaped robot with a horizontal spinning disc. After losing its qualifier to three unknown opponents with spinning weapons, flippers and axes, the team were inspired to build ThundeRing as a robot that could resist all these methods of attack.
"Following this thrashing the Team was faced with a dilemma; admit defeat and retire from robot building or design a new robot that would laugh-in-the-face of its opponent, irrespective of their design and weapon system, before dispatching them to robot Valhalla. Naturally, we chose the latter."
— The Team Dark Star Website on their inspiration for ThundeRing
Design
[
]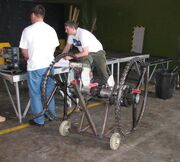 ThundeRing was an unusual axlebot, with a thin body, very large three-spoked wheels and a metre-long rotary axe as its weapon. The wheels were 30mm wide and spread far apart from each other - 1.2m between the chassis - in order to prevent flippers from getting underneath it as easily and to drive over opponents.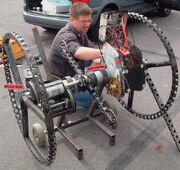 "Offering zero or negative ground clearance from the side (the wheels' steel spiked rims are designed to penetrate wooden arena floors), most flipper robots (with their arms/plates tending to rest a few millimeters off the ground) are forced to attack ThundeRing from the front or rear. This automatically brings the opponent within the envelope of ThundeRing's 1m long rotary axe."
— The Team Dark Star Website on the advantages of the robot's wheels
The robot largely resembled BattleBots competitor Gyrax, while the concept of a large-wheeled axlebot would later be repeated by Gabriel in Series 8 and BattleBots competitor HUGE.
Series History
[
]
Outside Robot Wars
[
]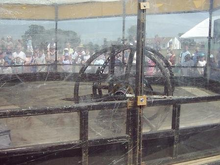 Although it is unknown how well it faired, ThundeRing competed at the Chatham 2003 live event around the same time as the Series 7 qualifiers. It is also unknown who ThundeRing fought, or what happened to the robot afterwards.
External Links
[
]