ThunderChild was a heavyweight robot that attempted to enter Series 8 of Robot Wars. It was not selected to take part in the series, although the robot and Team Ironclads had experience in live events prior to applying for the series.
ThunderChild was originally built by Shane Swan of Team S.Tek, who competed in both runs of Robot Wars with Trax, Dantomkia and Push to Exit. The robot was originally known as Air under Team S.Tek's ownership, but received its current name after being bought by Team ThunderCheese (now Team Ironclads) sometime before January 2015.
Design
[
]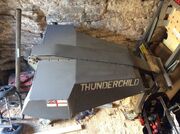 ThunderChild was a T-shaped robot armed with a pneumatic flipping arm. It was painted grey with its name painted in white letters, and featured a pair of small White Ensign flags along its rear wheel covers. Although its flipper was powerful enough to overturn opposing robots, it suffered chronic reliability issues. The robot originally cost £1500 to build.
Etymology
[
]
The robot's name and design are inspired by HMS Thunder Child, a fictitious ironclad torpedo ram from H.G. Wells' The War of the Worlds, which is destroyed in the novel while protecting refugee ships from Martian fighting machines.
Qualification
[
]
When Robot Wars was announced to be returning for its eighth series in 2016, Team Ironclads submitted an online application for ThunderChild to compete in the series. However, ThunderChild was not selected to compete in the series, and did not qualify as a result.
The team did not apply for Series 9 due to time constraints, and then applied for Series 10 with Audacious.
Series Record
[
]
Outside Robot Wars
[
]
Under Team Ironclads' ownership, ThunderChild has become a regular competitor in live events held in the UK and Ireland, such as Extreme Robots and Mechatrons, Dublin. It made its first Mechatrons appearance in 2015, defeating Merlin before being knocked out by Iron Awe 7. In 2016, It returned to Dublin and defeated Stinger, and also faced Beast and Toxic 2. ThunderChild appeared again for the 2017 event, attaining one victory against Beast despite encountering issues with its flipper.
ThunderChild is a regular attendee at Extreme Robots events, with its team recording every fight to later post them on YouTube. The Manchester 2017 event also saw the debut of Team Ironclads' newest machine, Audacious, a two-wheeled, sit-and-spin robot armed with a horizontally-mounted, linear-actuated pickaxe. At the Gloucester 2017 event, ThunderChild fought the recently-crowned FRA UK Champion Manta, Eruption and The Saint, but was thrown out of the arena by Manta. It also fought alongside The Saint in a Tag Team match against TR3 and Two-Headed Death Flamingo, but was left to fight alone when The Saint was pitted, and was eventually pitted by TR3. ThunderChild's biggest success at Extreme Robots to date came at the Maidstone event at the end of 2017. Alongside Audacious picking up its first win, ThunderChild finished third overall, winning a play-off against TMHWK after being knocked out by the eventual champion Ripper.
ThunderChild's 2018 debut came at that year's Mechatrons event in Dublin, where it lost to Beast, Harpy, Iron-Awe 7 and Thor, but collected a win over Coyote by stranding it on the wall. It was defeated by Iron-Awe 5 due to its inability to self-right, and then lost a close Judges' decision to the axe-wielding Harpy. Audacious was also intended to compete at the same event, but its speed controller broke before its first battle. Both robots would subsequently attend the Extreme Robots Manchester event later in the same year, with variying degrees of success. ThunderChild scored two victories against Luna-Tic and Griffalo before being defeated by Donald Thump, while Audacious lost to Ripper in its first battle after getting thrown into the arena ceiling and the pit, before fighting in several whiteboard battles.[1][2]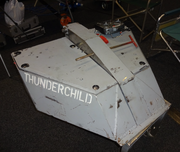 The original version of ThunderChild was retired at the end of 2018, being replaced with a new version featuring a revised chassis with a more prominent wedge-like profile and a refined flipper system. This incarnation appeared at the 2019 FRA UK Championship in Stevenage, where it reached the second round of the main competition before being knocked out by Immersion, and fought in various whiteboard battles. It also competed at the Irish Mechatrons event in January 2020, collecting one win before being eliminated.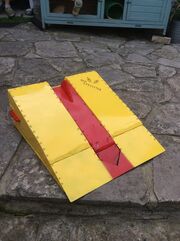 Team Ironclads also participated in featherweight events with two machines, Small Cheese and Red Leicester. Both were yellow, wedge-shaped robots with different weapons; Small Cheese was equipped with a hanging mace with interchangeable ends, while Red Leicester featured a red lifting arm. In July 2017, Small Cheese was retired from robot combat due to various issues, with a combat record of 80 battles and one victory.[3] A new version of Small Cheese, Small Cheese GTI, debuted at the Extreme Robots Manchester event in 2018.[4] Among the team's newer featherweights is Pallas, a simple two-wheel driven invertible wedge using the colour scheme of ThunderChild.
In 2021, Team Ironclads rebuilt Red Leicester into Agamemnon (not to be confused with the 1996 US Robot Wars middleweight of the same name), which now sports a similar grey colour scheme to its counterparts. It, along with ThunderChild, Audacious and Pallas, appeared at a number of events that year including Robonerd and the Robots Live! event in Crawley, with all robots attending the latter as active competitors.[5]
As well as fighting with ThunderChild, Audacious and the team's featherweights on the live events circuit, Joseph Jack Prophet also bought the shell of The Big Cheese in 2008, which made its most recent appearance at Robonerd 2021 alongside Team IronClad's machines.
Robot Wars Live Events
[
]
ThunderChild also competed at various Robot Wars live events, albeit with no major success. In 2015, it competed at the Robot Wars World Championships held in Colchester, reaching the second round. It qualified out of the first round with ease, as An Adorable Kitten never moved in the battle, immediately giving the win to ThunderChild and TR2, although TR2 flipped ThunderChild and AAK out of the arena regardless. In the second round, ThunderChild faced Apex and Nuts, but its flipper was not working. It still started the battle aggressively, but after driving over the floor flipper, ThunderChild was turned over and could not self-right, eliminating it.
ThunderChild was in attendance at the first show of 2016, held in Manchester, but did not compete until the second day due to mechanical problems. It battled Eric and Ripper, surviving longer than Eric, but eventually lost the battle to Ripper. ThunderChild's next appearance came at the Colchester event - after initially being pitted by Behemoth in its first-round battle, it and The Saint outlasted TR2 and Iron Heart 88 in their losers' melee to progress, resulting in ThunderChild facing Eruption and Kan-Opener in the second round. Despite getting thrown out of the arena by Eruption, ThunderChild survived long enough to progress to the third round, where it was finally defeated by Earthquake. At its final Robot Wars live event in Gloucester, ThunderChild initially fought Thor and Ripper, but was forced to withdraw from its second battle against Gabriel and Eruption due to technical issues and a blown speed controller.[6]
Team Ironclads' featherweights, Small Cheese and Red Leicester, also frequently attended the Robot Wars live events, competing in featherweight battles until the final event in Maidstone, in November 2016.
References
[
]
External Links
[
]