"This'll prune a few nuts, nails and bolts"
— Jonathan Pearce
Toe Cutter was a large silver box robot that competed in the Third Wars. It had a very unique weapon; a 3 kg spring loaded blade that was capable of slicing clean through a watermelon effortlessly. It was made from reinforced 3mm thick aluminium sheet and cost £3500 to build. It fell in the second round to the reigning champs Panic Attack. The robot was updated, but failed to qualify for Series 5.
"Our weapon was a 5 kilo blade attached to a Clay Pigeon trap. It was a terrifying weapon to work with (it could have cut off our arm if it went wrong), but against steel and metal, it didn't really perform."
— Simon Reason
This robot's working name was Blade Runner (no relation to the American middleweight robot), as a tribute to the 1982 film of the same name. Its name was changed on request of Mentorn, so as not to infringe on the film. The team name Nexus, another reference to the Blade Runner film, remained unchanged though.
After the Third Wars, Toe Cutter was modified, the biggest difference being the shell was given two roll bars, to prevent the robot from being flipped. This robot was simply renamed Toe Cutter 2, however, it failed to qualify for the Fourth Wars, after it lost its qualifier battle against Dominator 2. For the Fifth Wars qualifiers, Toe Cutter 2, largely unchanged from its appearance in Series 4, failed to qualify again, after it lost its qualifier battle to Cataclysmic Variabot, which also failed to qualify. This was Toe Cutter's last appearance, before it was retired.
Simon and Jon Reason were also part of the Wolverine team in Series 5, joining after they failed to qualify with Toe Cutter 2.
Robot History
Series 3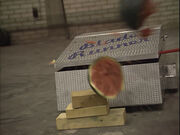 Toe Cutter was placed up against Purple Predator in the first round of the Third Wars. In the battle, Toe Cutter tore chunks off Purple Predator's fur, but failed to do any more, appearing to lose drive on the right-hand wheels towards the end of the fight. Toe Cutter drove over an arena spike and was nearly flipped over, but saved when it hit Purple Predator and bounced down onto its wheels. The fight went to the judges, who put Toe Cutter through to meet reigning champions Panic Attack in the second round. This battle had a slow start, until Panic Attack got under Toe Cutter, whose right-hand wheels again seemed not to be spinning for an unidentified reason. Panic Attack could not, however, flip it, but it managed to avoid the blade. Toe Cutter used its blade to no effect and was lifted again by Panic Attack, which lost the light on its top. Panic Attack drove around in circles until Toe Cutter fell on its side, onto its back, and was immobilised. Sir Killalot then snapped the chain of one set of its wheels, and as it was turned back upright, Sergeant Bash nipped the blade, but couldn't snap it off.
Results
Wins/Losses
Series Record
Series 1-2: Did not enter
Series 3: Heat, Round 2
Series 4-5: Failed to qualify with Toe Cutter 2
Series 6-7: Did not enter
Community content is available under
CC-BY-SA
unless otherwise noted.