Not to be confused with Thor
Tor was a robot which attempted to enter Robot Wars: The Fourth Wars, but became immobile in its qualifier battle. Tor did not qualify for Series 4, leading the team to build Pendragon for Series 5, which was also unsuccessful in qualifying.
Design
[
]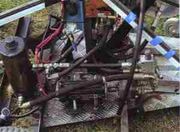 The robot was large in shape, and used a thin lifting arm for a weapon, which can lift 200kg. Its armour consists of Kevlar for style, the robot was decorated with insects and wildlife, such as spiders. A shield bearing the Cornish flag rests above the lifting arm.
Etymology
[
]
'Tor' is originally a Cornish word, brought into the English vernacular, and means a large, free-standing rock outcrop that rises from the surrounding gentle slopes of a rounded hill summit, which the design of Tor resembles.
The Team
[
]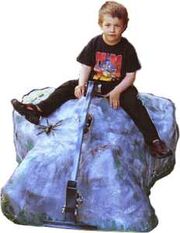 Tor was built by a Cornish team captained by Steve Trevena, alongside his colleagues (one of whom was named Gary) from Tremorvah Industries, a disability equipment supplier. Mark Rivron joined the team after Tor's Series 4 qualification attempt, and the combined team later attempted to enter Series 5 with Pendragon. Both Steve and Gary had previously contibuted towards the build of Roadblock and Beast of Bodmin, which inspired the build project of Tor.
"Thanks to Tremorvah Industries, Jeff for the hydraulics, Sid for the welding, Pete and Chris Kinsey for kicking the project into life, Mark Rivron for making it work at the last minute for the Children in Need Event, most thanks go to Alison for her patience"
— Steve Trevena
Qualification
[
]
Tor attempted to qualify for the Fourth Wars, but lost its qualifier battle due to a faulty failsafe. The team would also be unsuccessful in qualify for Series 5 with Pendragon.
Series Record
[
]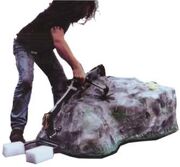 Outside Robot Wars
[
]
Tor, among other Robot Wars competitors such as Killertron, Wheely Big Cheese, Eye of Newt, St. Agro, Rottweiler 2 and Miss Struts, took part in the 2000 Children in Need event which consisted of tug of war, battles and sumo matches [1]
External Links
[
]
References
[
]