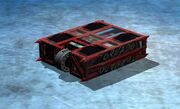 "Tornado by name, Tornado by nature! This one can really go in the arena- spikes, all-new cutting disc, along with new steel, polycarbonate and titanium armour, this'll be a tough one to beat"
— Jonathan Pearce's in-game commentary
Tornado is a low, basic, red box-shaped robot that was invertible and was most known for its pushing ability. It had a very successful Robot Wars career, reaching the Semi-Finals in Series 4, winning Series 6, reaching the Grand Final of Series 7, winning two Challenge Belts and reaching the first All-Stars Grand Final. Tornado had several horsepower in its drive, giving it tremendous pushing power, it maintains this in-game.
Appearance and Armament
Edit
Robot Wars: Extreme Destruction (PC/Xbox) is one of three Robot Wars video games that Tornado featured in. This game was based on Robot Wars Extreme: Series 1, the concurrent Extreme series to Series 5, and the Tornado in this game is based on a combination of its Series 4 and Series 5 appearance, as it maintains its very boxy shape of its Series 4 appearance, but is equipped with the spinning disc that it had from Series 5 onwards. The robot is invertible in the game, but has a very low ground clearance, as flippers struggle to get underneath it. Due to its low ground clearance, Tornado's pushing ability in the game is very high, able to push most robots with ease.
Strategies
Edit
Using Tornado
Edit
Tornado's spinning disc doesn't do amazing damage, but using Tornado as a rammer is a very easy way to dominate a battle- due to its excellent pushing power and controllability, it should be able to shove around most robots in the game.
Against Tornado
Edit
Tornado can be flipped around, but only by flippers low to the ground. However, the armour of Tornado's isn't the strongest, so trying to catch Tornado side-on, to hack away at the armour, may be the most potent tactic.
Differences from Real Life
Edit
Tornado's body is the Series 4 design, but its weapon is the drum, which it didn't have at the time.
The drum will spin downwards when Tornado is the right way up, whereas in real life it would spin upwards and was reversible.
Community content is available under
CC-BY-SA
unless otherwise noted.