Not to be confused with Series 8-9 competitor, Foxic
Toxic 2 is a heavyweight robot which attempted to enter Series 8 of Robot Wars. It was ultimately not selected to take part in the series, despite enjoying considerable success at live events held during the show's hiatus. Team Trance also applied to enter Series 9 and 10 with an unspecified robot, but once again were not selected[1].
Design
[
]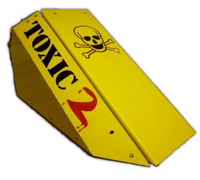 Toxic 2 is a tall yellow and red wedge-shaped robot armed with a full-pressure pneumatic flipper. Its flipper is powerful enough to throw other robots out of the arena in live events, while the robot features two small cylindrical bump-stops on its sides to prevent it from being stranded on its side.
Series Record
[
]
Outside Robot Wars
[
]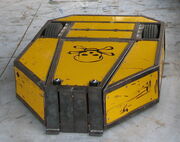 The original version of Toxic was built in 2003, being an invertible, octagonal-shaped robot with two-wheel drive and a front flipper. This version was not as successful as its successor, being regularly flipped out of the arena by other competitors such as Kronic and Pressure. At the 2006 UK Championships, after fighting TX-108 to a Judges' decision, it lost to Storm 2 when it was stranded on its side.[2] The original Toxic was sold to Kev Baxter in 2016.
Toxic 2 was built in 2009, where it became a regular at events hosted by Robots Live! and Roaming Robots. After receiving upgrades to its flipper and drive system, it won the 2013 European Championships, beating Manta in the final, and went on to win the Robots Live! events at Burgess Hill in 2014 and 2015, and at Reading in 2016. Toxic 2 has also performed well in the FRA Heavyweight UK Championships, finishing third in 2012, reaching the Quarter Finals in 2014, finishing third again in 2015, and fourth in 2016-2017.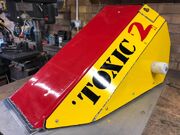 Toxic 2 remains an active competitor at live events. In April 2018, it competed at the Robots Live! event in Burgess Hill at the end of that month. There, it finished third overall in the main competition, finishing behind Robot Wars Series 10 champion Eruption as well as the then-incumbent FRA UK champion - and event winner - Manta.[3] Toxic 2 was repainted in March 2019 ahead of another Robots Live! appearance, subsequently appearing at the Grantham and Stevenage events in June and September respectively. It was during the latter in which it faced Eruption again in the FRA UK Championship quarter-finals, losing on a judges' decision. Upon its return for the 2021 Crawley event, Toxic 2 would avenge its earlier losses by throwing Eruption out of the arena during a whiteboard melee.[4]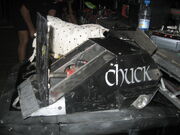 Team Trance also competes in featherweight events with Chuck, a black wedge-shaped robot with a front-hinged flipper. Chuck was previously built by Team Bud as a featherweight version of their heavyweight robot Envy, which was sold to Team Trance in 2013. Under their ownership, Chuck remains active on the live events circuit, competing in featherweight rumbles at most Robots Live! events where Toxic 2 is in attendance.
Robot Wars Live Events
[
]
Prior to its attempt to enter the rebooted Robot Wars, Toxic 2 had been competing on the live circuit for several years. Its first achievements included finishing second place in the 2012 and 2015 Robot Wars live championships, losing to Big Nipper and TR2 in those respective years.
Toxic 2's most notable achievement came in 2015, where it won that year's Robot Wars World Championship. In the first round, it qualified when Gripper was flipped over, and Ripper became stuck comically in the wall structure, although Toxic 2 was pitted by Gravity at the end of the fight. In the second round, Toxic 2 began a continuous streak of throwing robots out of the arena, flipping Brutus and Cherub out, Cherub again in the quarter-finals, Manta in the semi-final, and Thor in the Grand Final.
References
[
]
External Links
[
]