Toxin was a super-heavyweight robot built by Team Terrafonics for Series 3 of Robot Wars. After the team initially attempted to enter it into the main series, it was subsequently selected to compete in the accompanying Super Heavyweight Championship. However, Toxin would ultimately never appear in the series, as the latter was cancelled before it could fight at all.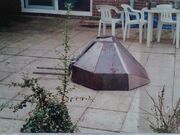 Toxin was a octagonal-shaped robot armed with a rear wedge and a front pair of lifting forks. The original concept for it was a domed robot made out of a large wok, similar to famous American competitor Blendo, equipped with a lifting arm and an arm-mounted sawblade which swung down through the lifter. However, the sawblade was discarded, as Team Terrafonics found it hard to obtain and even harder to manufacture.
Toxin took six months to build, and was driven by a pair of wheelchair motors that gave it a top speed of between 5-7mph. The robot was originally powered by two 12V, 24A batteries, with its lifter powered by a low-pressure pneumatics system which enabled it to lift 350kg. Toxin was armoued with an 18mm plywood base, 1.5mm steel at the front and back, 5mm steel on the top, and 12mm steel bent to form its front scoop.
By the time it attended the Series 3 auditions, Toxin was missing its front armour, and Team Terrafonics found that the robot was severely overweight. Without its armour, it weighed 97kg - 17kg over the heavyweight limit at the time. Despite this setback, Derek Foxwell commented that Toxin was well-made, compelling the team to install smaller batteries - saving nearly 30kg - and calculate how many holes they should drill into the robot to bring its weight down further. However, the Robot Wars producers called the team to tell them not to sacrifice too much weight, as they had selected Toxin to compete in the Super Heavyweight Championship.
Filming for Series 3 was delayed for various reasons, which meant Toxin was finished long before filming. Following a behind-the-scenes accident in The Pits, the Super Heavyweight Championship was cancelled - along with several other competitions - and Toxin was thus unable to compete in Robot Wars.
Series Record
Edit
NOTE 1: Tanto, a robot built by Team Danby, also competed in the 2016 Pilot episode under new ownership of Team Immersion
NOTE 2: Craig Danby also competed in Battle of the Stars as the mentor of The Cat.
Outside Robot Wars
Edit
After failing to enter Robot Wars due to the cancellation of the Super Heavyweight Championship, Team Terrafonics later considered entering Toxin into BattleBots, as it would have been eligible to compete in the heavyweight division with the smaller batteries. However, they ultimately decided not to attend, as they deemed that it would have been too expensive for them to travel to America.
Community content is available under
CC-BY-SA
unless otherwise noted.