Toxin was a super heavyweight robot built by Team Terrafonics for Series 3 of Robot Wars. After the team initially attempted to enter it into the Middleweight Championship and later the main series as a heavyweight, it was subsequently selected to compete in the accompanying Super Heavyweight Championship. However, Toxin would ultimately never appear in the televised series, as the latter competition was cancelled before its first battle could begin.
Design
[
]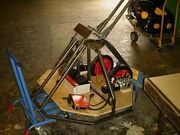 Toxin was a octagonal-shaped, two-wheel drive robot with tall angled sides, armed with a set of front lifting forks and an integrated rear wedge shape. Taking six months to build using only hand tools, it was driven by a pair of wheelchair motors giving it a top speed of 5-7mph. Armour consisted of 1.5mm steel at the front and rear, 5mm steel for the top panels and a bent piece of 12mm steel for the front scoop. Toxin was originally powered by two 12V 24A batteries, with its forks powered by a low-pressure pneumatics system enabling a lifting capacity of 350kg;[1] the presently-known Team Danby's website also states that the weapon was potentially capable of lifting a car.[2]
Team Terrafonics' original idea for Toxin was for a dome-shaped robot made out of a large wok, with visual similarities to famous American competitor Blendo. This was to have been equipped with a lifting arm as well as a sawblade mounted on a seperate swinging arm. However, the octagonal shape was chosen instead as it made the robot easier for the team to construct and obtain materials for.[1] A later CAD drawing nevertheless suggested that the team continued to evaluate the idea of using a dual scoop and 9-inch cutting disc weapon for some time, the former powered by hydraulics and using a steel wire system for quicker actuation. Statistics accompanying this drawing also indicated 2-3mm thick steel armour throughout and four wheelchair motors for drive, as opposed to two on the finalised machine.[3]
Qualification
[
]
By the time it attended the Series 3 auditions, Toxin was missing its front armour, and Team Terrafonics found that the robot was severely overweight. Craig Danby says the robot was initially built to challenge for the Middleweight Championship title held by Hard Cheese, but the team "overshot" the 45.4kg weight limit. Without its armour, it weighed 97kg, approximately 17kg over the original 79.4kg limit for heavyweights. Despite this setback, Derek Foxwell commented that Toxin was well-made, compelling the team to exchange its original 24A batteries for smaller equivalents. This saved close to 30kg, with further reductions planned by Team Terrafonics as they calcuated the number of holes to drill into their robot.[4]
As the team were in the process of doing this, they were called by the Robot Wars producers to not sacrifice too much of Toxin's weight, confirming its selection as a competitor in the Super Heavyweight Championship. The team complied and brought Toxin's weight up to as much as approximately 150kg by the end of the build, though Team Danby's Facebook posts suggest a documented weight of 120kg.[4][3] Due to filming being repeatedly delayed, Toxin ended up being completed a considerable time before the televised events of Series 3 were set to begin.[4]
Following a behind-the-scenes accident in The Pits, the Super Heavyweight Championship was among the various side competitions to be cancelled. As a result, Toxin was unable to compete in Robot Wars.
Series Record
[
]
Outside Robot Wars
[
]
While preparing Toxin for its Series 3 entry, Team Terrafonics also considered entering it into the the inaugural BattleBots event in North America as early as June 1999. A provisional entry into the Gigabot (heavyweight) division was placed, upon the team learning that it would have been potentially eligible to compete with its smaller batteries. However, Team Terrafonics would ultimately withdraw after deeming the costs of travelling to the United States with Toxin too expensive.[4] The robot itself was scrapped some time after.[3]
References
[
]