Tremor was a heavyweight robot designed and built by a group of secondary school students from Bradfield, North Yorkshire with the intention of applying for Series 10 of Robot Wars.
Although the robot was some way through the build process at the time of filming, Tremor did not compete on the show.[1]
Design
[
]
Tremor was an invertible, four-wheeled robot armoured in HARDOX, which featured a pair of hinged wedges either side of a front-mounted drum spinner. Tremor's rear wheels were powered, and the front two were chain-driven. The team gathered to talk about how the robot should look for competition, before settling on this design.[2]
"When we started we had group discussions about what the attack and defence would be and how it would be different from other robots in the arena."
— Team member James Maiklem explains the thought process behind Tremor's design
Work on Tremor began in 2016. Having tested Tremor's drive for the first time, the team noticed it weighed 121kg, this being 11kg over the reboot weight limit, so holed out various parts to reduce weight without compromising structural integrity. Eventually, the team managed to reduce Tremor to be within the 110kg weight limit.[3]
Etymology
[
]
Tremors are instances of uncontrolled shaking which can describe unusual behaviour within the human body. They can also describe the shaking of the Earth's surface, which often acts as a forewarning for earthquakes. In regions of high seismic activity especially, the terms tremor and earthquake are often used interchangeably.
Series Record
[
]
Outside Robot Wars
[
]
Following the cancellation of Robot Wars, Tremor was repurposed for the UK live scene in 2019 and made its debut at Extreme Robots Bolton, where it fought in several rumbles. The spikes on the drum had been replaced with more traditional teeth, and the robot had been given a black and orange colour scheme, also keeping its bright yellow wheels.
In the first, it fought ST Ripper, Audacious, Dead Bod, Flippin' Troublemaker and Ignition. Unfortunately footage on this battle is limited, though Tremor was able to get its drum spinning and
In the second, it faced Thor, Manta, Gabriel 2 and ST Ripper. Tremor started poorly, getting axed by Thor as Manta and ST Ripper tussled in the corner of the arena. Gabriel then took a turn hitting the top of Tremor, before Manta slid underneath and threw it out of the arena.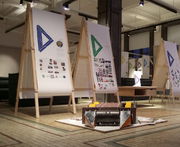 Then in the third, it faced Ignition, Audacious, Theresa Mayhem and Dead Bod. After being bullied into the corner by Ignition, it turned its attention to Dead Bod before again overturning Team Bradnetic's machine. Tremor then drove into the corner of the arena, where it played no further part in the fight.
A then-unpainted Tremor also made an appearance as a static display at the DIMENSIONS Design and Technology show in 2017.
References
[
]