"One mean-looking shopping cart!"
Trolley Rage (also known as Trolley Rage 2[1]) was a robot which competed in Series 9 of Robot Wars, entered by the University of Greenwich. It was built at no cost by the university, with all of its components (bar the batteries for safety reasons) being recycled. In its only series appearance, Trolley Rage was defeated in its Group Battle after suffering terminal damage at the hands of Carbide.
Design
[
]
"Trolley Rage is probably the hardest robot we've ever created - as it's designed for a child to look at and be inspired."
— Team. Ablaze Facebook page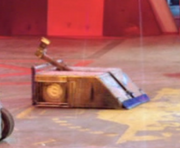 Trolley Rage, apt to its name, was built from an upturned shopping trolley, and armoured in 3mm steel plating, protected by a 40mm thick box-section frame. This made the robot box-wedge shaped in design, and was armed with a bladed axe which rested on the handlebar at the back of the robot, and served as the robot's self-righting mechanism. Trolley Rage was built in a way that required little funding to create, using easily accessible materials such as wheelchair motors, despite featuring other modern internals for safety reasons. Semi-circles were added to Trolley Rage's sides so the robot could not be side-stranded. However, the robot was slow in testing at an estimated 6mph, running on wheelchair motors. To counter this, the motors' voltage was raised before entering the arena, giving the robot a top speed closer to 10mph.
The front end of Trolley Rage could be adapted to face a variety of weapons. The robot's steep front wedge would be used to combat vertical spinners and other weapons, while a lengthy pair of sacrificial spikes could line the robot when it faced horizontal spinners - ultimately they were not used on television to fight Carbide due to Trolley Rage being unexpectedly switched into its battle at the last minute.
"Trolley Rage uses recycled components, which helps to keep build costs down. It's constructed from an upturned shopping trolley and its motors were taken from a wheelchair. It also has two interchangeable weapons – mounted spikes or a wedge."
The Team
[
]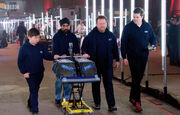 Trolley Rage was entered into Series 9 by The Greenwich Greats (nowadays simple University of Greenwich), a team representing Greenwich University and its engineering faculty. Professor Simeon Keates, the Deputy Pro Vice Chancellor in the Faculty of Engineering at the University of Greenwich, originally conceptualised the machine, and took on the role of team captain, also inviting his son Lucian onto the team. His colleague Dr Raj Bhatti, a first-year Engineering tutor and Research Postgraduate tutor, also assisted with the engineering of Trolley Rage. The robot was driven in battle by 22-year old Mechanical Engineering student Gareth Anstee, who redesigned Simeon Keates' original design to create a safer and more competitive build. Gareth Anstee entered the series with much experience on the live circuit, and had previously attempted to apply for other Robot Wars series with Dystopia.
"The team consists of two senior managers from the Faculty of Engineering and Science at the University of Greenwich, one of their sons and a second-year student. Despite Gareth being the only member of the team with any fighting experience (with over 30 events with his own heavy weight robots) the team decided to take part."
— The Robot Wars website on the Greenwich Greats
Robot History
[
]
Series 9
[
]
Trolley Rage competed in Heat 5 of Series 9, where it faced the previous year's runner-up Carbide, as well as newcomers Meggamouse and Crackers 'n' Smash. However, this proved to be a huge handicap for the team, as Trolley Rage was initially intended to fight Aftershock, Sabretooth and TMHWK - this is why Trolley Rage entered the arena in its setup used for fighting vertical spinners. However, after Crank-E was unable to participate in this Group Battle, Trolley Rage was moved into this fight with no time to apply its sacrificial spikes.
Dara Ó Briain: "What is Trolley Rage made out of?"
Professor Simeon Keates: "Everything that's on here is basically reclaimed, so the motors are about 20-30 years old, they came out of a very old wheelchair. The drive motors for the axe, similar age."
— The Greenwich Greats state the design principle of Trolley Rage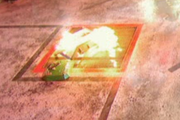 Trolley Rage initially aimed itself towards Meggamouse, but turned to the left after Meggamouse rammed Crackers. Trolley Rage was met with an attack from Carbide, which left its front-right panel dangling loose. Trolley Rage then made its way over Crackers, which was stuck on the Flame Pit, although Trolley Rage failed to connect with an attack of its axe. Trolley Rage then made its way over towards the other competing machines, but was once again met with a critical attack from Carbide, which caused significant bodywork damage as well as ripping out some of the wiring controlling the robot, leaving Trolley Rage immobilised.
"And that could have done enough damage, there, to end the dreams of Trolley Rage very early on."
— Jonathan Pearce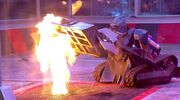 After Meggamouse was also dealt a killer blow by Carbide, the battle came to an end, and Trolley Rage's elimination was confirmed. Off-screen, Trolley Rage was held over by the fire by Sir Killalot.
"To be honest, I don't think it went too badly overall. It certainly moved - it certainly fired. Hopefully it inspires some people to say yeah, we can build a robot out of the scrap metal that's lying in the scrapyards, or wheelchair motors that no-one's going to be using anymore, and we can actually go and build something."
— Gareth Anstee states the positives that can be taken from Trolley Rage's appearance on the show
Results
[
]
Wins/Losses
[
]
Series Record
[
]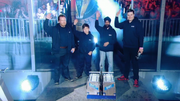 Outside Robot Wars
[
]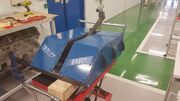 Trolley Rage itself also competed at the Extreme Robots event held at the University of Greenwich in September 2017, defeating The Steel Avenger and Halo in an exhibition battle and acting as a house robot for all rounds of the aforementioned schools' competition. The robot now sports an all-over blue colour scheme and revised armour, while its spikes were relocated to the front, allowing it to free school-built featherweights if they got stuck in the arena against other competitors or hazards. At the Maidstone event of Extreme Robots towards the end of 2017, Trolley Rage fought three times, being thrown out of the arena by Eruption in one battle, flipped over by Iron-Awe 5 in another, and then overturned by the floor flipper in a battle with Saint, General d'Meaner and Dozer, unable to self-right due to its axe being damaged.
On 5th April 2017, Gareth Anstee confirmed on the Team. Ablaze Reddit AMA that he, and the Greenwich Greats, would not enter Series 10 due to exams. However, he also revealed at the time that he was working on a second robot with the University of Greenwich[2].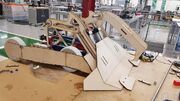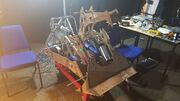 The University then gave a list of requirements and a budget to build a new robot to try and make a competitive entry that still inspired new engineers. After some initial designs and component selection by Gareth Anstee, he then worked with Adam Hamilton and Thomas Long to produce the final design of General d'Meaner, which Anstee built over the two weeks leading up to its debut. General d'Meaner's design is based on a "Terrier" combat engineer vehicle, and was named in reflection of the University's connections to the military.[3]. The robot features a 18hp drive system, a top speed of 20mph, and a low-pressure pneumatic flipper and grabbing arm as weapons. The completed General d'Meaner made its debut at the University of Greenwich Extreme Robots event in late September 2017, where it was used as a house robot for the final round of a schools' featherweight competition. General d'Meaner also fought in three battles at Extreme Robots in Maidstone, where despite some initial teething problems causing it to be plagued by issues with its weaponry - it managed to win its first fight in a five-way melee against other experienced competitors.
In June 2019, the University of Greenwich sold Trolley Rage and General d'Meaner to a Scottish university for use in educational projects.
For more information on Gareth Anstee's excursions aside from his university team, see Dystopia.
Robot Wars Live Events
[
]
Ahead of its televised appearance, the original Trolley Rage entered the Maidstone leg of the Robot Wars tour in 2016. Although it lacked its axe, it fought one battle against Stinger and Meggamouse. Immediately it was flipped by Meggamouse, but was able to roll over back onto its wheels. Trolley Rage drove backwards and rammed Stinger before turning away, however Trolley Rage had moments of pausing, leaving it inactive for some periods of time. Trolley Rage was chased by Meggamouse, which flipped it against the arena wall. Trolley Rage tried to get away but Meggamouse pursued and threw Trolley Rage across the arena. After a bombardment of flipping, Trolley Rage begins to move sluggishly, and only could only spin on the spot, while the other two fought on. After managing to get itself to the centre of the arena, Trolley Rage was flipped once more by Meggamouse, this time onto its back, unable to self-right. After this battle valuable experience was gained, and improvements were made to Trolley Rage 2 after the event.
Trivia
[
]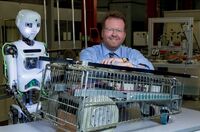 Trolley Rage's wheels were covered in bike tyre for extra grip, and the team brought spare tread which was eventually used by Arena Cleaner.
Although Trolley Rage's speed was listed as 6mph on the Robot Wars website, its speed was much higher with at least 10mph being achieved in testing.
The Greenwich Greats and Trolley Rage, alongside Rusty, do not have official photos on the Robot Wars website. In Trolley Rage's case, this is because the team had to wait an unexpectedly long time for their interview with Dara Ó Briain to be filmed, and the photographer was only booked to stay on-site for a limited schedule.
References
[
]
External Links
[
]