"Twister, for we will twist your metal!!"
— Twister website[1]
Twister was a competitor in Dutch Robot Wars: Series 2 and UK Series 7. It was more successful on home soil, causing lots of damage before falling in the Heat Final to the eventual runner-up Philipper 2, then receiving a wildcard place in the Grand Final, where it was knocked out by the eventual champion, PulverizeR. It lost in the first round of the Seventh Wars on a Judges' decision, narrowly falling to Pussycat and Roobarb in its only British series appearance.
Versions of Twister
[
]
Twister (Dutch Series 2)
[
]
"Twister 1 was designed by welding metal together and to construct a robot. No drawings were made (maybe that was a mistake) ... with a little too much convincing we built it together"
— Twister website (edited)[2]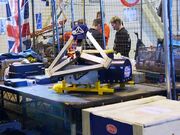 Originally, Twister was an upright box shape running on two wheelchair motors with built-in gearboxes, controlled by two 4QD NCC 70–36 regulators. The robot was armed with a large spinning triangle mounted at a 45-degree angle, powered by a 24v fork truck motor on a home-made gearbox running at a 1:3 ratio. Though it had balancing issues due to its two-wheel drive and raised weaponry, and could not self-right, the spinning blade was capable of great destruction. The robot was fairly reminiscent of a windmill.
Twister (UK Series 7)
[
]
"This new and improved version of the Twister concept was designed on the bases of a full killing force. While the Twister 1 had to cope with a lot of disabilities, the Twister 2 has none."
— Twister website (edited)[3]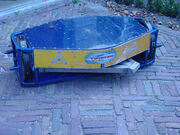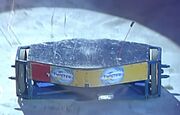 In Series 7, Twister fixed its self-righting issue by switching to an invertible design. The spinning triangle with blunted vertices ran through the lower centre of the robot, allowing the weapon to defend the robot from both sides. The weapon now boasted a top speed of 1600rpm brought by its new Lynch motor, and the robot's chassis was constructed from a steel frame, protected by 12mm Lexan armour.
"As a lot of you saw last year, we could not get back on our feet after getting flipped. This time we will. When a flipper wants to try we are ready to take you on. For this time we are aiming for the crown. No more mister nice guy."
— Twister website[4]
The Team
[
]
"Twister came to light when 3 people, Frans, Shyam and Sjaak saw the English wars on the TV. They decided that they could do a even better job, and after brief consideration they made there sick ideas come to life."
— Twister website[5]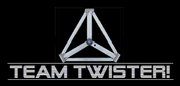 Team Twister were a Dutch team based in Bosschenhoofd. The team was captained by Sjaak Koning, who was responsible for the robot's electronic construction. Teammate Frans Vink was responsible for photography, and these two team members were present in both of Twister's appearances. Shyam Ramlal competed only in Dutch Series 2, but was responsible for the metal construction of Twister, while Graham Lawrence took his place in UK Series 7. The team also credit Ramon Papa for Twister's design concept, and Charles van Veen for their web design.
The team had a signature "windmill dance" which they did after each of their victories, which would see the three team members hold on to each other and form a triangle, then spin in circles repeatedly. This was only seen in the Dutch series of Robot Wars, where Twister collected its victories.
Qualification
[
]
As with all competitors in Dutch Series 2, Twister applied for the series through open applications, and was accepted to compete on the show in this manner.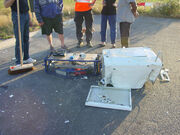 In its UK Series 7 qualifier, Twister fought Aggrobot, Ceros and Rhino. Twister's attacks were largely focused on Ceros, which was persistent in attacking it. Twister buckled the side of Ceros, and threw sparks off its titanium armour, although eventually Twister's weapon became torn, damage which would later require re-welding. Twister went on to win the battle based on the heavy damage it caused, but despite this, all four of the competing robots would be given places in the main competition of the Seventh Wars.
"We fought for around 2 minutes in which time Ceros managed to get flipped, self right perfectly and then go on to toss Aggrobot several feet in the air and on contact with terra firma again were dead to the world! We then decided as Rhino were still trying to learn how to control their machine that we should go for Twister as otherwise it would look like we were scared of it. We hit it and it buckled the entire side of Ceros! Me being the way I am did not stand for this and attacked again trying to flip the vulnerable wheel of the machine. I almost got a flip on but he turned last minute and the flipper caught the heavy frame in which time 4 major things happened. I saw a very pretty bright titanium spark, the flipper got buckled, we threw Twister up a little, but the best bit was tearing through the spinning weapon requiring them to have to get it re-welded before they could fight again. So Ceros qualified, however on closer inspection we saw we had a lot of damage to repair. The front of the flipper was bent out of all proportions and the side was smashed in quite badly."
— Ceros website describes the battle (edited)[6]
Robot History
[
]
Dutch Series 2
[
]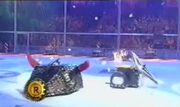 Debuting in Heat B, Twister first fought fellow newcomer The Black Beast. As the match began, Twister remained stationary, opting to spin up its weapon as The Black Beast gradually advanced towards the machine. Once Twister fully spun up, it impacted The Black Beast, shattering both of the decorative eyes on the front of The Black Beast. After this hit, The Black Beast then attempted to allude the blade of Twister by retreating to the wall, although Twister would land another shot, tearing apart one of the horns mounted to the machine while Twister continued to attack the ailing machine. After driving into the CPZ, Shunt would then impact the top plate of The Black Beast, instantly immobilizing the already crippled machine and sealing the victory for Twister, which proceeded to completely tear off the remaining horn on The Black Beast as the combination of Shunt and Mr. Psycho caused further damage to the beaten machine.
In the second round, Twister met Impact, the successor to X-Bot. As the match began, Twister once again got its weapon up to speed as Impact rushed over and attempted to delay the spin up by swinging it's rear mounted hammer into the triangular blade of Twister. Although Impact was able to briefly prevent Twisters spinup, the blade eventually reached hazardous speeds and disconnected one of Impacts wedge segments. After absorbing several additional hits as the rear mounted hammer caught fire, Twister then removed the second wedge segment on Impact, immobilizing the machine in the process. Although Impact had already been counted out by the Refbot, it still received heavy damage from Matilda and Dead Metal, distributing its internals across the arena in a brutal victory for Twister.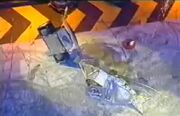 Advancing to the Heat Final, it faced Philipper 2. As the fight started, Twister spun up its blade and struck the circling Philipper 2, although the impact caused minimal damage to Twister at the cost of severely destabilizing Twister. As Twister began to spin up its weapon once more, Philipper 2 then proceeded to overturn Twister, immobilizing the srimech-less machine. After Twister's blade ceased spinning, Philipper 2 used the secondary crusher to compress the tire of Twister as the machine was counted out by Refbot, after which it would be picked up by Sir Killalot and distributed into the Pit.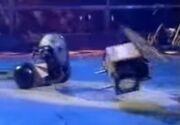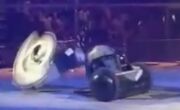 Although Twister was defeated in its Heat Final, it received one of three wildcards along with Bamm Bamm and Meshuggah and was granted entry to the Grand Final. In its first fight reinstated into the competition, Twister faced off against the revised PulverizeR, a Heat Finalist from Series 1. The fight had a tentative start, with each robot trying to avoid the other's spinner. PulverizeR got Twister from behind and hit it hard, sending Twister flying across the arena. PulverizeR then hit the pit release before striking Twister again, this time flipping Twister onto its side. Twister tried to use its weapon to self-right, but could only skitter on the arena floor. PulverizeR finished it off by dropping it down the pit.
UK Series 7
[
]
"Winning isn't anything, it's everything this year. With a completely new robot we are taking on the best."
— Twister website[7]
Twister's first venture into the UK Championship saw it face number 9 seed Pussycat, as well as returning Sixth Wars first round losers Roobarb and Brutus Maximus in the opening heat of the Seventh Wars.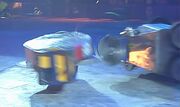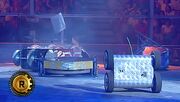 Twister was immediately charged by Pussycat, before Roobarb joined in and flicked Twister with two flips. After this, Twister went on the offensive, knocking Pussycat aside with a hit which lifted Pussycat off the arena floor temporarily. Twister then attacked the reversing Brutus Maximus, shattering some of its protective covering and damaging one of its saw blades. Twister and Pussycat then clashed head-on - an attack which sent Twister up into the air but also damaged Pussycat's spinning blade, ceasing its movement. Twister was then reversed into by Brutus Maximus, but the latter came out the worse as its entire row of saw blades came loose. Suddenly, after more pressure at close-quarters from Pussycat and Roobarb, Twister's weapon stopped working, and Roobarb followed this up by inverting Twister with a flip.
"Be interesting to see who survives from the remaining three though. Twister needs to do a lot, here, in the closing stages."
— Jonathan Pearce as the battle runs down towards a judges' decision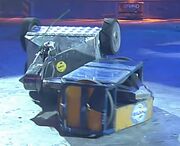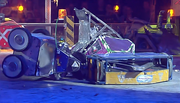 From this point on, Twister was forced to resort to pushing its opponents around, as it edged Pussycat against the arena wall. Pussycat then attacked Twister with its now-revived spinning disc, but another solid connection saw Pussycat's weapon stop working again. With time ticking down, Twister tried to force both Roobarb and Pussycat backwards, but its efforts proved ineffective. Cease was called, and with Brutus Maximus counted out by Refbot before time was up, Twister went to a judges' decision along with Pussycat and Roobarb. However, the judges went in the way of the other two surviving robots, and its Seventh Wars campaign ended at the first hurdle.
Results
[
]
TWISTER - RESULTS
Dutch Series
Series 2
Dutch Championship
Grand Final, Round 1
Heat B, Round 1
vs. The Black Beast
Won
Heat B, Semi-Final
vs. Impact
Won
Heat B, Final
vs. Philipper 2
Lost
NOTE: After losing in the Heat Final, Twister was given one of the three wildcards into the Grand Final.
Grand Final, Round 1
vs. PulverizeR
Lost
UK Series
Series 7
The Seventh Wars - UK Championship
Heat, Round 1
Heat A, Round 1
vs. Brutus Maximus, Pussycat (9), Roobarb
Eliminated
Wins/Losses
[
]
UK Wins: 0
UK Losses: 1
Dutch Wins: 2
Dutch Losses: 2
Series Record
[
]
Dutch Series
[
]
| Dutch Series | Twister Series Record |
| --- | --- |
| Series 1 | Did not enter |
| Series 2 | Grand Final, Round 1 |
UK Series
[
]
Outside Robot Wars
[
]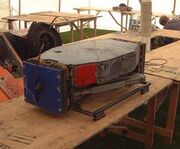 Twister was entered into the 2006 UK Championships, hosted by Roaming Robots. At 2006 UK Championship, Twister had eight wheels (four wheels on each side) instead of two. It was placed in Heat F with Corkscrew (which withdrew), PulverizeR and the 10th seeds UFO. Twister failed to progress beyond the heats after losing to UFO, despite defeating the heat winners PulverizeR in a battle within the group.
Twister was later purchased by Dutch roboteer Niels de Carpentier, the builder of Hammerhead.
Trivia
[
]
Twister possessed the only triangular spinner in Robot Wars.
A picture of Twister from Dutch Series 2 was displayed on the team's hats during UK Series 7.
References
[
]
External Links
[
]