Twister was Team Berserk's Series 5 entry and final entry to Robot Wars. It featured spikes for ramming and spinning, a flipper and a 55mph flywheel from which it got its name. It was invertible with two wheels on the top and bottom of the robot, with the top wheels set slightly ahead of the bottom. However, it lost in the first round, the first ever robot to lose to a walkerbot in the main competition.
"...very well built"
— Laurie Calvert on Twister, during the Series 6 qualifiers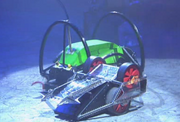 Retaining only the bludgeoner, Twister was completely redesigned and rebuilt for Series 6, with a a four-wheeled pyramid shape and two cutting discs added at the front - a design largely based on Pussycat. However, it was immobilised in its qualifier against Barbaric Response and Lightning, who also failed to qualify. This was Team Berserk's final Robot Wars appearance.
Robot History
Series 5
Twister did almost nothing in its first round battle. Twister seemed clueless at how to stop its opponent Clawed Hopper, a walker, despite its powerful weaponry. After drilling a hole in Clawed Hopper, Twister broke down, only 15 seconds into the battle. This meant that the House Robots could slice up the robot, and Clawed Hopper was given space and (eventually) pitted it. This battle marked the first time a walker made it past Round 1 of the main competition.
Results
TWISTER - RESULTS
Series 5
The Fifth Wars - UK Championship
Heat, Round 1
Heat L, Eliminator
vs. Clawed Hopper
Lost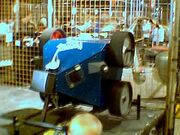 Wins/Losses
Series Record
Series 1: Did not enter
Series 2: Entered with Berserk
Series 3-4: Entered with Berserk 2
Series 5: Heat, Round 1
Series 6: Failed to qualify
Series 7: Did not enter