"Most beautiful creature - it used to be a lot more lethal, but it was far too big and far too heavy and they had to take off half the weapons. But the important thing is that they kept the decoration, which I think is great."
— Philippa Forrester
Twn Trwn (pronounced "Tun Truun") was Team Monster's entrant for Series 3 of Robot Wars. Ultimately, one axe blow from Trident immobilised it, knocking it out of the competition.
"Twn Trwn" is Welsh for "broken ring".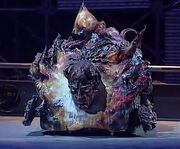 Like its successor - The Creature - it had an intricate fibreglass design, but it was substantially larger and only costing £200. Twn Trwn's weaponry, a snowplough, had to be removed due to weight restrictions, the team opting to retain the aesthetic parts of the robot rather than the weapons. Despite this, Twn Trwn remained overweight, but the novelty of the robot, combined with the unlikeliness that extra weight would help it in battle, allowed Twn Trwn to enter regardless. In battle, Twn Trwn used its "head" as a battering ram instead.
Robot History
Edit
"Twn Trwn sounds like the Thunderbirds' tune - "Twn Trwn!" - certainly needed International Rescue, but it didn't come for Twn Trwn."
— Jonathan Pearce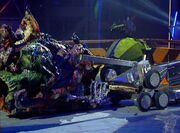 In its heat eliminator, Twn Trwn was drawn up against fellow newcomer Trident. When activate was called, Twn Trwn edged forward, and met Trident head-on. Trident wasted no time in launching a blow with its axe, which dug deep into the artwork and tore small pieces loose. Trident circled Twn Trwn and bumped the other side, but it became apparent that Twn Trwn had lost power. After an extensive period of being battered by Trident, Shunt and Sgt Bash intervened. Sgt Bash set Twn Trwn on fire, Shunt hit it hard with his axe, and Matilda's chainsaw sliced effortlessly through the design of the robot, cutting off an ear on one of the heads.
"Art in the arena, that's what we like, thank you so much for supplying that."
— Philippa Forrester thanks Team Monster
Wins/Losses
Edit
Series Record
Edit
Outside Robot Wars
Edit
Some members from Team Monster appeared in the Battery Sprint competition in the 2001 Techno Games with robot War King. War King was against Photophattiephobia and Take Two. In the race, War King started by walking backwards and accidentally "sat" on Photophattiephobia. As both robots were reset, War King fell over onto its face losing the race to Photophattiephobia.
During Twn Trwn's appearance, its name was often mispronounced. Notable examples included Tun Turun and Twin Trwin.
Like The Creature, Twn Trwn's defeat saw it get immobilised from the first attack by its opponent.

Henry also suffered the same fate when both of its losses were one-hit KOs by the eventual heat winner. Unlike Henry however, Team Monster's loss in Series 3 was to the eventual heat winner and their loss in Series 4 was not.
Community content is available under
CC-BY-SA
unless otherwise noted.