Not to be confused with the various machines from Team Typhoon.
"Typhoon has been an "on-going" project throughout the last three years. It has been taking up my valuable time and effort, and caused a decaying car to be evicted into the cold harsh winter outside, in order for the build to continue."
— Dave Jones
Typhoon was a competitor robot which was planned to compete in Series 3 of Robot Wars. It successfully qualified for that series, but withdrew before it could fight, and later failed to qualify for Series 4. The robot was built by roboteer Dave Jones.
Design
Typhoon was a four-wheel drive, box-shaped robot with a pair of powerful lifting forks shaped like exhaust pipes. Its design gave it a passing resemblance to US Robot Wars and BattleBots competitor Vlad the Impaler, although without the latter's top-mounted self-righting ram. The robot was painted painted black, red, yellow and black-and-white checkers, with its name and an image of a typhoon spout on its top panel.
Qualification
Team Natural Disaster originally intended to enter Series 1, but Typhoon was not finished until the Series 3 auditions.
"It was started with series one I mind, but by the time anyone picked up a saw it was series three that was the aim, and not only did it get built in time, but it passed the audition too!"
— Dave Jones on Typhoon's construction and entry into Robot Wars
After passing the weigh-in and technical checks - at which point its weight at the time was confirmed to be 82.2kg - Typhoon completed the 'driving test' without its body shell, surprising the Panic Attack team with its manoeuvrability upon being instructed to spin on the spot.[1] Shortly after, Team Natural Disasters received confirmation that Typhoon had passed its audition, securing its place in the main competition. However, Typhoon's speed controller caught fire three days before filming was due to start, forcing the robot to withdraw from Series 3.
Team Natural Disaster subsequently attempted to qualify for Series 4. However, Typhoon's speed controller malfunctioned again during its qualifiers, resulting in it failing to qualify for that series. It is currently unknown which robot (or robots) Typhoon fought against in its qualifiers.
"Reliability of the speed controller was again the downfall, and thus caused our defeat in the auditions. Mind you, in one of the fights we managed to get so well tangled up with another robot it took five men to separate the two with crowbars!"
— Dave Jones on Typhoon's performance at the Series 4 qualifiers
Typhoon, and Dave Jones, did not enter any future series, although they continued to fight at live events.
"Series five is being ignored due to principles I have. To be honest the TV show has lost all its appeal for me, and Typhoon is going to be completed and strengthened purely for live events, where the constrictions are far less suffocating."
— Dave Jones on retiring from Robot Wars[2]
Series Record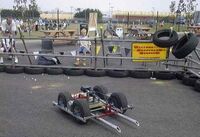 Outside Robot Wars
Team Natural Disaster also entered Techno Games with a swimming robot named Flowerbot.
"Well, the technical consultant for Techno Games 2000 came to my school at the time to ask if we could help. He asked us if we could build a swimming robot in 3 days, but not to take it too seriously (let's face it, Team ND winning something could cause a major disaster as the shock spread throughout the land). So how do we build a swimming robot that cannot use any boat parts? Well, you take three flowerpots, add two twelve volt batteries, a bundle of R/C gear pinched off Typhoon, and two Ford sierra windscreen wiper motors, then combine with Foamex and go on national television to await humiliation."
— Dave Jones on entering Techno Games[3]
Trivia
Typhoon was sponsored by Lionhead Studios, the makers of the video game Black & White.
External Links
Team Website (captured pages collection) [1]
References
↑ https://web.archive.org/web/20010518150324/http://www.tinweb.com:80/discus/messages/350/1655.html?FridayAugust2719990143am
Community content is available under
CC-BY-SA
unless otherwise noted.