Typhoon Thunder was a lightweight robot that competed in the Lightweight Championship in Extreme Series 2, which it won. Typhoon Thunder was one half of the Typhoon Twins, alongside Typhoon Lightning, which achieved second place in the Extreme 2 Middleweight Championship.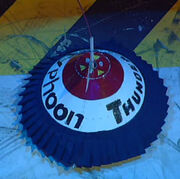 The design of Typhoon Thunder was virtually the same as the other machines from Team Typhoon, making it a conical full-body spinner, spinning at roughly 700rpm. Unlike with other Typhoon robots, the robot was decorated with a fabric skirt, which was designed to gender the robot as female, with its male equivalent Typhoon Lightning being the other half of the Typhoon Twins.
Main article: Team Typhoon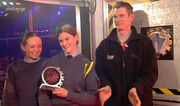 Typhoon Thunder was entered by a team of Edinburgh Air Cadets, from Scotland. The Typhoon series of machines were primarily designed by the usual Team Typhoon captain Flying Officer Peter J. Bennett, although he was not present on the Typhoon Thunder team. Instead, Typhoon Thunder was captained by Martin Armistead, who was accompanied by the driver of the robot, Keri Scott, alongside Amy Drinkwater.
Typhoon Thunder entered the Lightweight Championship in the second series of Extreme, where only a single opponent stood between it and the title - Ellie's Little Pink-Bot.
Team Typhoon entered the battle with complete confidence, showing no fear of their opposition. Typhoon Thunder didn't have much to do against Ellie's Little Pink-Bot as its opponent failed to move. Typhoon Thunder missed Ellie's Little Pink-Bot on a charge, and then hit it a few times, knocking off the opponent's hole saw before Ellie's Little Pink-Bot was counted out and destroyed by Growler. The champion Typhoon Thunder was safe to keep its distance and celebrate its victory.
Craig Charles then handed the trophy to Keri Scott, with Typhoon Thunder now the incumbent lightweight champion of Robot Wars.
Wins: 1 (plus 1 as part of the Typhoon Twins)
Losses: 0 (plus 1 as part of the Typhoon Twins)
By entering both the Lightweight and Middleweight Championships in Extreme 2, Typhoon Thunder is the only robot to compete in two different weight classes within one series, due to the same robot entering the Middleweight Championship as half of the Typhoon Twins.
Community content is available under
CC-BY-SA
unless otherwise noted.