For the Series 6-7 competitor, see UFO.
"We are a secret organisation, devoted to ridding the world of killer robots."
— Mark Stringer on the "mission" of Team M.I.B.O.
U.R.O., standing for Unidentified Rotating Object, was a robot from West Sussex that fought in the Seventh Wars. It lost in the first round, having been paired with the fourth seed Bigger Brother and soon-to-be champion Typhoon 2.
Design
[
]
U.R.O. was an invertible, two-wheeled circular robot with a 2.5kg, thin cutting disc, driven by chain, that acted as a full body rim spinner, a mix between the designs of The Revolutionist and Corkscrew Two, summarised by Jonathan Pearce as "high mass, bi-directional, circumferential, 2.5kg disc". However, U.R.O was at a severe disadvantage as it had never been tested before its first round melee, and its weapon failed to work in battle. The side of the robot was decorated with flashing lights.
The Team
[
]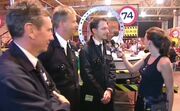 U.R.O. was entered by Team M.I.B.O. which stands for Men in Black Overalls. This namesake was lived up to by the West Sussex-based team, who wore black clothing in their televised appearance. The team was captained by Mark Stringer, who was accompanied by Peter and Chris Loeber, according to the statistics board. It has been suggested (but not confirmed) that a team member called Jim Foggo took Chris Loeber's place on the televised team.
Robot History
[
]
Series 7
[
]
Jayne Middlemiss: "How fast is it?"
Mark Stringer: "We're not quite sure, we haven't spun it in anger yet, but you'll see it for the first time out there!"
— Mark Stringer on the robots lack of testing or experience
U.R.O was the only robot that had never fought before going into its first fight, against series 6 returnee Colossus, the number four seeds, Minor Meltdown champion and Series 5 runner-up Bigger Brother, and Typhoon 2, a newcomer to the UK championship, but from a team of former middleweight and lightweight champions.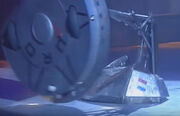 Right at the start of the battle. Fourth seed Bigger Brother flipped U.R.O. onto Refbot's ram, leaving it pinned there. Once it was shaken loose, U.R.O fled from its opponents, spinning feebly, before it was rammed by Bigger Brother and pushed aside. It was too wide for Bigger Brother to flip completely over initially, but it then succeeded in flipping U.R.O. into the CPZ several times. From there, it appeared to lose mobility.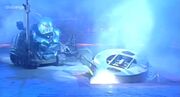 "...I don't think it's going to be long until the newcomers, Team M.I.B.O., Men In Black Overalls, become a grey and distant memory in Robot Wars history."
— Jonathan Pearce as Bigger Brother flips U.R.O. in the CPZ
Sergeant Bash bit into U.R.O.'s shell, peeling part away as Refbot counted it out. Suddenly, U.R.O. regained mobility and slid feebly towards Bigger Brother and Colossus, and ended up in the pit.
Results
[
]
Wins/Losses
[
]
Series Record
[
]
Outside Robot Wars
[
]
In 2004, U.R.O. was updated with new armour and internals, including a belt drive for the disc to replace the chain used in Series 7, as preparation for a potential eighth series, which ultimately would not take place for twelve years. Team captain Mark Stringer is known to have owned the robot for at least the majority of this hiatus.
Trivia
[
]
Along with Colossus, U.R.O. was the final robot to lose against former runner-up Bigger Brother, and the first to lose against Series 7 champion Typhoon 2, in Robot Wars.