"With a simple pyramid design to ensure greater stability and maximum defence. Weighs in at 71.9 kilograms, runs off two electric wheelchair motors, and this is clearly a robot to look out for!"
— Jonathan Pearce introduces Uglybot
Uglybot was a competitor robot that appeared in Series 1 of Robot Wars. It failed to progress beyond the Gauntlet stage after only setting a distance of 1.65m, which was the worst run for any competitor in the first series.
Design
[
]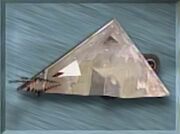 Uglybot was a triangular-based pyramid-shaped robot painted grey and with a mouth and eyes added on the front. Its weapons were a pair of 7" cutting discs at the rear and a static cutting blade mounted on the tip of the wedge, while the robot also featured a flashing amber warning light inside its shell as a 'gimmick'. However, neither Uglybot's weapons nor the warning light were seen in action, as it was eliminated at the Gauntlet stage.
The Team
[
]
Uglybot was entered by a two-man team from Gillingham in Kent.
"Paul Shearwood, the driver, and Colin Faulkner: future in-laws!"
— Jonathan Pearce describes the Uglybot team
Paul Shearwood, a ceiling plasterer by trade, controlled the robot and did the talking in Uglybot's introduction and interviews.
Robot History
[
]
Series 1
[
]
"Hopefully we'll win, who knows? We'll have to wait and see!"
— Optimism from Paul Shearwood before running the Gauntlet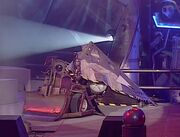 Uglybot was the last robot to compete in Heat B. In its Gauntlet run, it drove towards the left-hand route when the turntable pointed it towards Shunt, but immediately got stuck on the arena wall and appeared to be unable to drive away from it.
"Driver Paul collects bonsai trees, in his spare time - ooh, banzai!"
— Jonathan Pearce as Shunt rams Uglybot against the wall
Shunt rammed into Uglybot plough-first, disrupting its escape and getting underneath it while steering Uglybot away from the wall. Eventually, he rammed Uglybot against the corner, and back towards the turntable as it attempted to drive past him, causing part of the turntable to fold over as Uglybot was forced against it. Uglybot only covered 1.65m during its run, and was eliminated from the First Wars.
"Never mind. Seven months and all them long nights, innit, we don't care! We'll be back next year."
— Paul Shearwood speaks to Philippa Forrester after Uglybot is eliminated
Results
[
]
UGLYBOT - RESULTS
Series 1
The First Wars - UK Championship
Heat Gauntlet
Heat B, Gauntlet
1.65m (6th)
Eliminated
Series Record
[
]
Trivia
[
]
Uglybot is one of twenty robots never to fight in robot combat, having only ever reached the Gauntlet or Trial stages.
Uglybot scored the worst Gauntlet run of Series 1, with a distance of 1.65m.
The Uglybot team was the only team from Series 1 to lose in the Gauntlet and not make a subsequent appearance in later series of Robot Wars, despite Paul Shearwood saying otherwise.

The Uglybot team were also the only team in Heat B of Series 1 that did not return.