"With a 29" disc and a lifter tail, one bite out of either weapon and the other robot will be dead! "
— Jerome Miles
Unibite was a robot built by Team Duct Tape which fought in both seasons of Robot Wars: Extreme Warriors. It did not initially enjoy a significant degree of success, losing in the first round of the US Championship in Season 1 and the second round of the Annihilator during the same season. An updated version, Unibite 2.0, had better fortunes in Season 2, reaching the Heat Final of the US Championship before losing to Conquering Clown.
The team also competed in Season 2's special events with Hyperactive, a modified version of the original Unibite.
Design
[
]
"I got an Email from Robot Wars a few weeks ago asking me if I wanted to compete. I had just gotten back from Battle Bots with my last robot Sublime, he was pretty beat up and was 150 pounds to light. So I decided to build a new heavyweight with the 1.5 weeks I had before the robot had to ship. Lets just say 1.5 weeks full of 12 hour days working on the robot have made me glad the robot is done."
— Jerome Miles on the quick turnaround of building Unibite[1]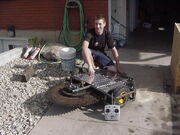 The original Unibite was an invertible, two-wheel drive robot with a wide, low-profile chassis. Its weapon was a front-mounted 29" horizontal spinning disc lined with several cutting teeth and weighing 35lbs, which it used to cause considerable amounts of damage to opponents at its top speed of just under 1000rpm. The rear of the robot also featured a sign reading 'DEAD', which was made from an old 'DEAD END' road sign.
"The robot uses two Hawker battery's for the four drive motors, and two packs of Panisonic 3000 NMH cells for the saw. I used a total of 6 EV's in this robot, 4 for the drive and two for the weapon. I did a 15:1 reduction to the 12" wheels, I decided I wanted to go for a little more pushing power and less speed with this robot. I used 16 pitch gears and #35 chain to do the reduction."
— Jerome Miles on the internals of the original Unibite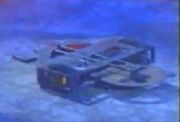 In Season 2, the robot was rebuilt as Unibite 2.0, featuring revised armor, a more conventional two-toothed horizontal flywheel and a set of rear flipping forks. The flywheel had a 29-inch diameter and could rotate at a speed of over 200mph (172mph according to Stefan Frank).
The Team
[
]
Main article: Team Duct Tape
Unibite was entered by Team Duct Tape, captained by lead builder and driver Jerome Miles. For Season 1, he was accompanied by Jonathan Babb and Julie Miles, while for Season 2, his new teammates Chris Williamson and Eric Sporer completed the team. The team also competed in side events of Season 2 with Hyperactive, under the captaincy of Joshua Babb.
Robot History
[
]
Season 1
[
]
In the US Championship, Unibite fought in a six-way melee against Bot-Ugly, Sobek, The Revolutionist, Tricerabot, and Coffin-Bot, which had replaced Conquering Clown.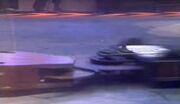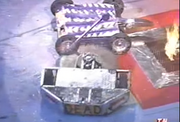 Unibite started by getting its weapon up to speed. It attacked the wheels of Sobek with the spinning disc prior to being hit by Coffin-Bot. Combined with pushing action from Tricerabot, the attacks were enough to rip off one of Sobek's wheels. It attacked Sobek and Tricerabot until it broke down near the flame pit, taking Unibite out of the action after a battle of aggression.
Unibite was also seen in the Annihilator, facing Drillzilla, Conquering Clown, Red Virus, Skullmania and Rippa Raptor.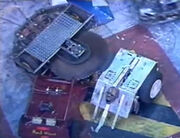 In Round 1, Unibite charged at the Conquering Clown and Skullmania, causing minor damage. Unibite continued attacking the other competitors by spinning in circles, and this tactic caused damage to Skullmania with a glancing blow. Skullmania's tire had burst as a result of this attack, and eventually it lost mobility, eliminating it from the competition. Despite having already qualified, Unibite then attacked Rippa Raptor, ripping apart its bicycle wheels.
Unibite was safely through to the second round, as one of the five robots there.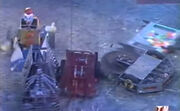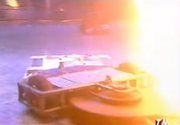 Unibite looked aggressive once again, causing cosmetic damage to Conquering Clown, Rippa Raptor and Drillzilla. However, when it went on the attack on Conquering Clown again, Drillzilla rammed into the back Unibite causing its removable link to fall out. The immobile Unibite was placed on the flame pit by Drillzilla, where it was counted out, although its weapon started working again. The House Robots pitted Unibite, resigning it to fifth place. The team were unable to cease Unibite's disc, which continued to spin even during the interview with Mick Foley.
Season 2
[
]
Unibite 2.0 competed in Heat C of Season 2, where it was drawn into a three-way melee against Black Widow and Texas Tornado.
Unibite 2.0 spent most of the battle being pushed around by Texas Tornado, with both Unibite 2.0's flywheel and flipper looking ineffective. However, Texas Tornado became briefly immobile on top of a flame vent after lifting up Unibite. Once Texas Tornado was counted out, Unibite 2.0 qualified for second round, despite a revived Texas Tornado retaliating later into the battle.
In the second round, Unibite 2.0 fought Brute, which had finished within the top four of the previous season.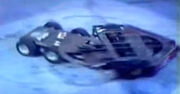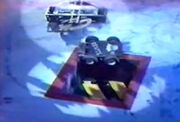 Brute charged at Unibite 2.0's flipper, but neither machine was caused any distress. Unibite 2.0 was pushed around by Brute, with Brute's spinning drum grinding away at the frame of Unibite 2.0. Brute continued to shove Unibite 2.0 until Unibite 2.0 hit the pit release button. Brute repeatedly failed to push Unibite 2.0 in, before driving straight into the pit itself.
Unibite 2.0 advanced to the Heat Final, where it faced Conquering Clown 2, which Unibite had previously faced in the Annihilator of the previous season.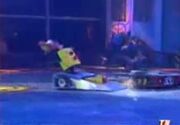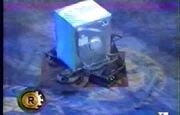 Unibite 2.0 and Conquering Clown 2 attacked head-on with their spinning weapons, only causing minor damage to one another. One of Conquering Clown 2's wheel guards was buckled by Unibite 2.0's disc, causing the wheel to lock up. Despite having the upper hand, Unibite 2.0 was dealt a critical blow by Conquering Clown 2, causing it to lose mobility completely. Unibite 2.0 was counted, before Sir Killalot bent the rear flipping weapon and dragged it to the Drop Zone. A washing machine fell onto Unibite 2.0, confirming its elimination from Season 2 at the Heat Final stage.
Results
[
]
UNIBITE - RESULTS
US Season 1
Annihilator
Round 2
Round 1
vs. Conquering Clown, Drillzilla, Red Virus, Rippa Raptor, Skullmania
Qualified
Round 2
vs. Conquering Clown, Drillzilla, Red Virus, Rippa Raptor
Eliminated
US Championship
Heats
Heat
vs. Bot-Ugly, Coffin-Bot, Sobek, The Revolutionist, Tricerabot
Eliminated
Wins/Losses
[
]
Series Record
[
]
Outside Robot Wars
[
]
Unibite never competed outside of Robot Wars, although it was somewhat succeeded by HyperBite in 2015, named in reference to Robot Wars competitors Unibite and Hyperactive. For more information on the team's excursions in other competitions, see Team Duct Tape.
Trivia
[
]
The back panel of Unibite reading "DEAD" was a gift from Team U-FO at the filming of a previous season of BattleBots.
Unibite's name was seen on Hannibal in Nickelodeon Robot Wars.
External Links
[
]
References
[
]