This article focuses on the team who entered Cunning Plan and Griffon into Robot Wars, not the university and its other graduates, such as Team Shock.
The University of Reading is a university in Reading, Berkshire, established in 1892. The University has a long tradition of research, education and training at a local, national and international level. It is one of the ten most research-intensive universities in the UK, as well as being considered one of the top 200 universities in the world.
Oliver Steeples
Edit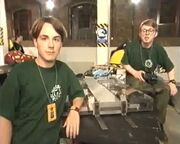 One of the graduates of the University of Reading became an eager roboteer. Oliver Steeples, who used University of Reading as his team name, created a featherweight Cunning Plan for the first series of Robot Wars. He reached the Grand Final, before falling to its own demise in its defeat of T.R.A.C.I.E.. Oliver was joined by his brother Ben, who helped Oliver upgrade into a heavyweight called Griffon. Oliver claims on his website [1] that the only reason he incorporated Ben into the team was because it was "too heavy to carry on [his] own."
"While at the University of Reading, in my 3rd year I saw an advert about RW and decided to apply after looking at the American RW on the web. Cunning Plan was then made and entered and did quite well. After that I got bored at uni the next year and got permission to make another robot in the workshop and that's how Griffon was made."
— Ben Steeples on the making of Cunning Plan, and subsequently Griffon[2]
However, Griffon failed to repeat Cunning Plan's success. Although it won the Internet Insurrection at the end of Series 2 (after flipping Sergeant Bash over), the robot fell relatively early in both of the main competitions that it entered, and did not compete in Series 4 following Steeples' retirement from heavyweight robot combat.
Note: Cunning Plan was a featherweight robot, but it competed in the main competition of Series 1 as all weight classes were grouped together for that series.
Wins/Losses
Edit
Series Record
Edit
Outside Robot Wars
Edit
Oliver Steeples built three of the six antweights in the first Antweight World Series: Dozer, Odyssey and Type 0. He still builds and competes antweights today, including two-time Antweight World Series champion General Mayhem, and a four bar lifter antweight called Mini G which took design cues from Griffon. Steeples was also contracted to manufacture R2-D2 models for Star Wars: The Force Awakens, an opportunity which came about due to his membership in the R2-D2 Builders Club.[3] Incidentally, Steeples was introduced by Jonathan Pearce as a "Star Wars fan" when Cunning Plan first entered the arena in Series 1.
Will Thomas of Team Shock would later introduce himself as a cybernetics student at the University of Reading in the Series 8.
References
Edit
Community content is available under
CC-BY-SA
unless otherwise noted.