The University of Reading is a red-brick university in the English town of Reading, Berkshire. Established in 1892, receiving its Royal Charter in 1926, the University has a long tradition of research, education and training at a local, national and international level. It was awarded the Queen's Anniversary Prize for Higher and Further Education in 1998, and again in 2005. It is one of the ten most research-intensive universities in the UK, as well as being considered one of the top 200 universities in the world. In recent years it has been beset by controversy, with closing departments and job losses among staff.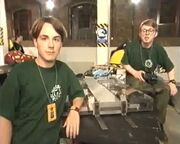 One of the graduates of the University of Reading became an eager roboteer. Oliver Steeples created a featherweight Cunning Plan for the first series of Robot Wars. He reached the Grand Final, before falling to its own demise in its defeat of T.R.A.C.I.E.. Oliver was joined by his brother Ben, who helped Oliver upgrade into a heavyweight called Griffon. Oliver claims on his website [1] that the only reason he incorporated Ben into the team was because it was "too heavy to carry on [his] own."
However, Griffon failed to repeat Cunning Plan's success. Although it won the Internet Insurrection at the end of Series 2 (after flipping Sergeant Bash over), the robot fell relatively early in both of the main competitions that it entered and also failed to qualify for Series 4.
Oliver Steeples built three of the six antweights in the first Antweight World Series: Dozer, Odyssey and Type 0. He still builds and competes antweights today, including two-time Antweight World Series champion General Mayhem, and a four bar lifter antweight called 'Mini G' which took design cues from Griffon.
Robots
Note: Cunning Plan was a featherweight robot, but it competed in the main competition of Series 1 as all weight classes were grouped together for that series.
Wins/Losses
Series Record
Series 1: Grand Final with Cunning Plan
Series 2: Heat, Gauntlet with Griffon
Series 3: Heat, Round 2 with Griffon
Series 4: Failed to qualify with Griffon
Series 5-7: Did not enter
References