321Annihilate




The best robot ever!

First Edit
Robot Wars 2016 Series
Favourite Series
The Sixth wars
Favourite Robot
Iron Awe 5
Least Favourite Robot
Warthog
Favourite House Robot
GROWLER!
Favourite Battle
Panic Attack vs Firestorm 4 Commonwealth Carnage
Hello I am 321Annihilate and I have joined this wiki on Wednesday 9th March 2016. I have been following this wiki for 5 years now and thought it was about time to create my account. I have already been of some use to this wiki as I was the one who gave the info on Wraith.

Nowadays I spend my time making models of the robots that competed in the wars and some that compete today and I now have a vast collection of over 400! They range from robots as well known as Chaos 2 to some robots which don't even have a page on this wiki yet such as Cakes. I would love to do all I can to help this wiki grow but I am still getting used to all the editing buttons and whatnot and if you have any advice please tell me it would be a great help. I'll be expanding this page soon but for now bye!
Recently I have been doing a championship with my robot wars models all of which are based of real robots so please ask me if you are unfamiliar with the names. Since I have so many I will format it out differently from the official robot wars championship. There will be 32 Heats the winners of will progress onward to the quarter finals which consists of 8 4 way melees with 2 robots going through in each. The remaining 16 will be split into 2 semi finals with 8 robots in each and then there will be 4 head to head battles in each semi the winners will then go onto semi final round 2. It will consist of 2 head to heads in each semi and the winners go into the grand final to determine the champion. Every 10 edits I do I'll upload another one of my models.
As you know I make lots of competitor models. Here are some. Image 1 NUTS
Image 2 My Arena Image 3 Behemoth ( It is very old)
Image 4 X-Terminator (Series 7)
Image 5 Bonk
Image 6 Mute (As it looks today)
Image 7 The Original G Man
Image 8 WBC (My first ever model. It's 6 years old!)
Image 9 TX-109
Image 10 Storm Force
Image 11 PA3
Image 12 Eruption
Image 13 Schumey Too (Nowadays)
Image 14 DTK ( Dantomkia MK 4)
Image 15 Wraith
10. Plunderbird
I really love Plunderbird because it wasn't really a great robot but they had to be one of the most entertaining teams in robot wars. They also did well with Plunderbird 2.
9. Wedgehog
Now I know what you are thinking but get used to this. Wedgehog isn't the only very random robot on this list. I am just one of those people who take a shine to certain robots. Even though I am insulting the great team Chaos I think it would of been more exciting to see in the grand final than Robot The Bruce.
8.Killertron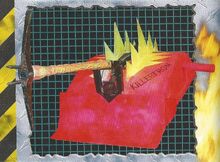 One of the best robots in the early days. Deadly axe, great design. It really should of one it's mayhem battle. No wonder they retired after that.
7.Razer
Razer is one of the most liked robots in all of robot wars and I love Razer. It was really the first destruction I saw on robot wars. It was Razer ripping and destroying the back end of Aggrobot. It is actually considerably low on my top 10 list but there are others which I like better.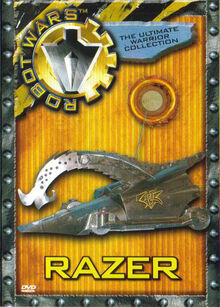 6.Bumblebot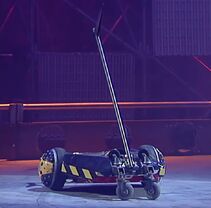 ????????????????? That is what you are thinking. Have I gone mad. Why is Bumblebot out of all robots number 6? And to be honest I don't know why either. I just liked him.
5.Wheely Big Cheese
One of the most powerful flippers there was, although it was very slow and ponderous. The battle with Axe Awe was just amazing and I can't see why Roger Plant never came back to robot wars.
4. Bigger Brother
The team Ian, Ellie and Joe Watt were so fun and great to have on the show. Not to mention flipping every robot out of the arena in series 5. Even though more powerful flipper are coming along today such as Eruption, Bigger Brother still does well in Robots Live! events today. And Hypno Disc .... wow!
3.Dantomkia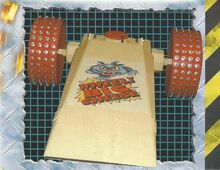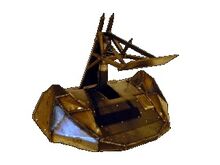 Dantomkia was a great newcomer to robot wars and was so good it was allowed to fill in for the all stars event in series 7 after other robots could not compete. Nowadays the mk 3 is now Spitfire, mk 4 now DTK is a mangled wreck but great and mk 5 still competes strongly and I ############ cant continue yet.
2.Behemoth
What a robot. From the second wars onward it never missed a war and even though it was notorious for breaking down it was a great robot. Since Robot Wars ended it has attended almost every event since.
1.Iron Awe 5
The great two time champion IA5 is a great flipper and is my number 1. I cant get enough of it and the team are kind enough to put Axe Awe and Iron Awe 2.1 out on display in live events. Although IA5 is starting to show its age and becoming less successful and most likely wont win again it can still deliver major upsets. What a robot.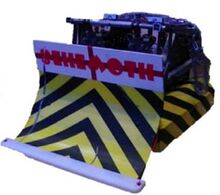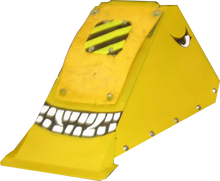 Community content is available under
CC-BY-SA
unless otherwise noted.