Welcome to the user page of CaliforniaKingsnake. This user has been a huge fan of Robot Wars since 2003 when he began watching Extreme on Dave. Since then, his love for the show has grown, to the point he has begun his own Twitch streaming series of Robot Wars, using robots he has either built or rewired to fight in incredible battles. (For those interested, streams are every Sunday ~5:30PM GMT at https://www.twitch.tv/primevalbrony )
Userpages
Edit
http://robotwars.wikia.com/wiki/User:CaliforniaKingsnake/The_Created_Robots_Tournament
Favourite Robots (Classic Series) Edit
NOTE: This will not include Razer, Hypno-Disc or Chaos 2, because they've been in WAAAAAY too many lists of best robots.
Number 1. Suicidal Tendencies (Series 4 onwards)
Edit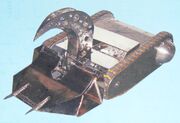 This robot combines everything I love in innovative robots: tracks that run so smoothly, effective forks then scoop, then finally an awesome crusher in Series 5 and Extreme. What more could I love in my 'bots? Oh that's right, wrecking up former semi-finalists Thermidor 2 as well as doing damage to Pussycat
Number 2: Dominator 2
Edit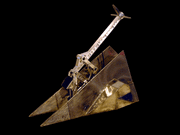 A robot rightfully deserving of a favourite, and a master of consistency. I know Firestorm reached 3rd thrice, but did it do so in a row? Yes for its last 2, but it missed out on the three in a row, so I say Dominator has better consistency. The power, the unique design, and took only 2 SECONDS to immobilise Henry 2. TWO. SECONDS.
Number 3: S.M.I.D.S.Y
Edit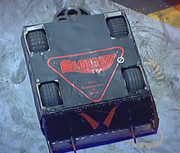 Another popular favourite on the Wiki, and with good reason. This robot had a lot of bad luck in its career, but had they been rescued like so many others on the sidewall then Chaos 2 could have been beaten. Not only that, but in my personal series of the Wars using Robot Arena 2: Robot Wars mod, SMIDSY has done what Storm 2 did: put robots OotA with force alone. And it's done this to: Thor, Manta (Team Shock version), Toxic 2, AAK and BIGGER BROTHER. And they placed a respectable 3rd place.
Number 4: Atomic
Edit
4 OotAs in a row. Need I say more? Okay, maybe I should. So after Series 4 one wouldn't think much of Atomic. Then Extreme 1 shows up and it wipes the floor with the others, though they were Mousetrap and Fighting torque. Then in Series 5 it gets trashed by Hypno, and I mean REALLY trashed. Then after a year of absence it DECIMATES its heat with such power and even some grace. It honestly could have won the whole series had Typhoon toppled over and not righted.
Number 5: Bigger Brother
Edit
Such cute kids. I know that "Little Joe" was ~6 years older than me, but he's still a kid to me, always rambling in the intros. And he's the reason they beat Splinter, Tornado, S3 and more, and his dad is the best DRIVER in the series that beat Hypno-Disc in the biggest shock EVER. Not only that, they're beautifully designed too.
Number 6: Disc-O-Inferno
Edit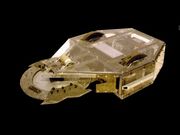 Like I said earlier, Extreme 1 was my first series. As such, I had no clue what the Disc-O team meant when they said they didn't want to compete any more. So you can imagine the huge smile on my face when it TRASHED Comengetorix and Velocirippa. This was a massive underdog in its Mayhem, and was now up there as a favourite for the Annihilator. And it won, so I love it.
Number 7: Dantomkia
Edit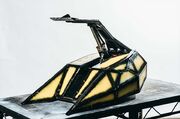 This robot looks so lovely. It's elegant where most flippers are just "box with wedge end". That and it was a master of OotAs. It almost decimated the USS Gonna Burn (Overdozer) in its first fight of the new series, and returned in spectacular style.
Number 8: Pussycat
Edit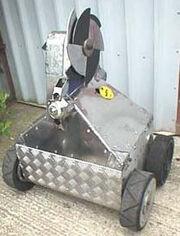 A robot that can run whichever way up and has that kind of name is certainly one to enjoy. Pussycat's fights always were fun for me, and the robot is buried within tragedy nowadays. However Pussycat's sheer popularity is why it's so low down on my list. Y'see, I prefer the underdogs, the lesser known, so seeing such an all-star as Pussycat was never as much fun as seeing a robot like Fluffy or Suicidal Tendencies. I do still like a lot of all-stars *coughRazercough* though I do appreciate underdogs a lot more
Number 9: Shear Khan
Edit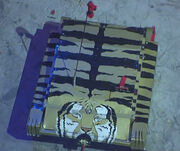 Well cor blimey, how on Earth does a robot that only had one fight EVER in Robot Wars get to be on my list when others don't? The reason is simple: I wanted more of it. Seeing its only fight made me want to see it in more fights, even if it did lose them. Like perhaps a Wild Card Warrior match against Firestorm? Or have it qualify for Series 5 instead of bores like Tartan Terror or Juggernot or so on? But I digress. The one fight we got of it was a good fight, even if they lost, and more importantly the robot itself looked good and could have maybe done good.
Number 10: Thermidor 2
Edit
And finally, we come to a robot with the most glitchy performance ever. Heat Round 2, Semi-Final Round 1, Heat Round 1, Heat Round 1, Semi-Final Round 1, Heat Round 1. So its main competition performance wasn't the best, but then there was Extreme 1, and in this series Thermidor 2 was the king of the arena. 3 OotAs in this series (including 2 in one match, with one of those 2 being Stinger of all robots), Flipper Frenzy champion; come to think of it, how was Thermidor NOT in the all-stars line-up? Seriously, replace 3 Stegs or Diotior with Thermidor and you have great potency and much more excellence of a robot that was always the bridesmaid, never the bride
Prophetic Prose's favourite robots Edit