Hi, I'm CombatWombat555, also known as Jon. Feel free to call me any variation of that.
My username's probably a little odd: The Combat Wombat was a flying machine in Philip Reeve's series Mortal Engines, and I just liked the name and the alliteration, and the idea of an animal as unwarlike as a wombat being described like that appealed to me, so it just stuck. I'm not sure where the 555 came from, but it's the name of my YouTube channel, so I kept it. Yes, I'm on YouTube. Feel free to visit, but please don't expect masterpieces.
I'm currently in my final year of studying physics- that and some mental health issues mean I make fairly sporadic appearances, apologies.
Userboxes
Edit
Wow! I won something!
I started the below many years ago, my opinions have almost certainly changed, and there's been an entire reboot since then. I've got no real appetite to complete or change it right now, so left here for completeness.
And now for something a little different...
Edit
As part of a course I was doing way back in secondary school, I built my own rocket-powered model car, with a view to beating the then world record of about 90mph. Whilst it's not strictly robot-related, I still thought it was pretty cool, and seeing as other people have posted their own robot pictures on here, I thought another engineering project wouldn't be too unwelcome. The video's available here if you're interested.
Arenas of Destruction Robots
Edit
Seeing as others have posted pictures of their Lego/K-Nex/cardboard/other models, and my Lego models when I was younger were pretty poor (one consisted mainly of a long strip attached to a pair of wheels and called a flipper, it wasn't exactly creative but it worked quite well), I thought I'd do something slightly different and show off some of my favourite designs from Arenas of Destruction instead.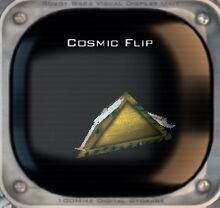 Cosmic Flip
Edit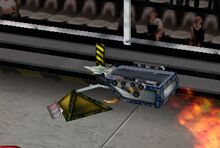 Starting with one of my old favourites, we have Cosmic Flip. This small, unassuming robot was a mainstay when I was younger, created by my brother and I pretty much every time we made a new profile or had to move the game to a new computer, simply because it was an extremely effective design. Whilst it wasn't particularly fast or powerful (the more powerful motors made the robot rock and it became almost uncontrollable), the flippers were very good, especially given that the vast majority of the robots on the game couldn't self-right. It had staying power too, being very difficult to knock out. Cosmic Flip won a LOT of tournaments, and remains one of my favourite designs, if only for the nostalgia.
Chassis: Triangle
Locomotion: Small Inner Pneumatic x2, Caster
Power: Yuarta 800 24V Sealed Lead Acid Battery
Drives: Dosch 750W 24V DC x2
Weapons: Lifting arm, small pneumatic lifting scoop
Armour: Titanium
Weight: 55kg
Cost: 8890 credits
This section is unlikely to ever be finished, seeing as I no longer have a working copy of the game. Left here for the sake of completeness.
Robot Garage
Edit
Whilst at university this year I've started getting involved with the Bristol Bot Builders (BBB) community, and building and competing with my own antweight robots, with varying degrees of success.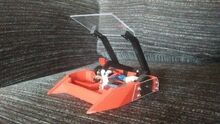 Mort/Spiderbot:
Edit
Mort was originally a prebuilt robot I bought from Alex Shakespeare in 2017, but didn't really see any use until a BBB social around Halloween last year. Converting the flipper into more of a grabbing weapon and sticking on googly eyes and pipe-cleaner legs, Mort became Spiderbot to get more into the theme of the event, and was actually surprisingly effective: full event report here.
Spiderbot is currently inactive after I removed most of its electronics for use in The Wrong Trousers.
Wins/Losses:
Edit
NOTE: Whiteboard and football matches are not included. 2v2s are included.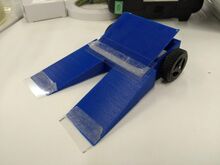 The Wrong Trousers
Edit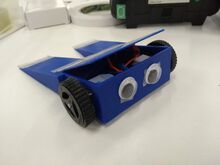 About a month after the social was an actual tournament hosted by Bristol Electronic and Electrical Engineering Society (BEEES), at Bristol University- BEEES Robot Wars 9. Not wanting to enter a robot that I hadn't built myself, I designed a new chassis, 3D-printed it at my own university, put most of the electronics from Spiderbot inside, and The Wrong Trousers was born. It has no active weaponry- for a very time-limited first attempt I didn't really want anything too complex- but had a low ground clearance and good pushing power and speed, although it was very twitchy to drive.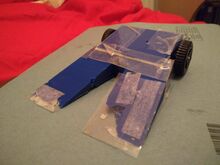 The full event report is under construction, but in brief The Wrong Trousers finished a respectable joint 5th- after losing its first proper match in about 3 seconds (the scheduled first opponent, Pingu, was forced to forfeit after technical difficulties, but won a good few fights to finish the other joint 5th placer), The Wrong Trousers worked its way through the losers' bracket and put up a good fight against vicious vertical spinner Smash Mouth before getting slightly mullered. A hasty patch-up with spare acetate made it ready for the robot rumble at the end, and, somehow, despite being mostly tape by this point, it won. Full event video here- my first fight at 11:55, rumble at 21:58.
Oh, and it also won Best Robot Name, so there's that.
Wins/Losses:
Edit
Wins (including the rumble): 3
Losses: 2
The Wrong Trousers 2: Safety Pants
Edit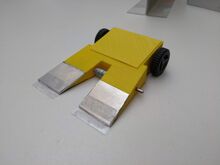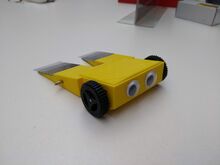 This was the same basic idea as The Wrong Trousers, but had a few key modifications. Firstly, after the bite taken out of the front wedge, 1.5mm aluminium was added to the 'shins' - not the thickest armour, and only superglued in place, but hopefully something to keep it together a bit more in the event of meeting another destructive spinner. Next, a 'crotch guard' - effectively washers on a steel rod between the legs. This was deemed necessary after Smash Mouth put a fair amount of damage in, well, the crotch region, behind which is the lipo battery, and I thought it probably best to protect that with more than a couple of millimetres of fairly weak PLA. More subtle, but no less important, were a thicker top plate, and a Firestorm-style undercut at the rear, meaning that I could get out-wedged pretty severely but still have the wheels touching the ground: fairly vital if I wanted to avoid another 3 second defeat... Oh, and it was now yellow, because that's what was in the 3D printer at the time.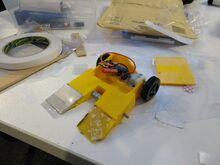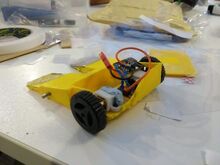 The Wrong Trousers 2: Safety Pants (and no, I'm not writing that out every time) faced two events in two days, so going into the first- BEEES Robot Wars 10- I was pretty keen to avoid taking too much damage that'd force me out of the second. After quick victories in the first two rounds (including vengeance of sorts against one of the clusterbot drivers from BEEES Robot Wars 9, who entered a Wheely Big Cheese replica) and a best-of-three win against The Common Cold, I was in the semi-final against Smash Mouth, which this time had a new vicious asymmetric blade with a lot more bite. The Trousers' modifications weren't really up for that, and losing one aluminium wedge led to losing the back corner, exposing the lipo, and calling time on the fight (massive props to the BEEES photographer for catching that moment). A quick patch-up job and a quick win against the losers' bracket winner put the Trousers into the final against Smash Mouth again, which didn't last any longer than before. Second place. Full event video here for the interested.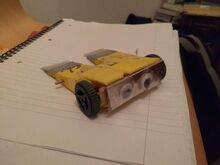 After an evening of superglueing wedges back on and new aluminium armour to the rear (covering up the gaping hole Smash Mouth left in the chassis), the Trousers was ready for BBB7. Despite me expecting nothing but imminent failure, TWT2:SP performed more than admirably, actually drawing praise from Tim Rackers and Jack Tweedy of all people for its surprising pushing power in the 2v2s. The 1v1 tournament was really where it shone though, grabbing a pair of quick victories before getting lobbed all around the arena by a flipper and pitted. The Trousers bounced back and stormed through the losers' bracket, taking 5 wins a row-including another good flipper, a very scary spinner that had dismantled its previous opponent (I was the most surprised of anyone with that), and Alex Shakespeare's sharpiebot- to make the final, where I lost to the same flipper as before. Somehow, another second place. Yeah, no idea either. 2v2s available here, 1v1s available here.
Wins/Losses:
Edit
NOTE: Whiteboard and football matches are not included. 2v2s are included.
Community content is available under
CC-BY-SA
unless otherwise noted.