I started watching Robot Wars during the airing of the beginning of Series 3, just missing the first heat, and I've videoed the vast majority of episodes that followed, and we can still play these videos, thanks to our really old VCR that somehow still works. I've also bought a huge load of the merchandise too, not that any of it is in good shape, after several years of use, pullbacks or otherwise.
Background
Edit
With being such a fan of Robot Wars, I've designed dozens of robots, and built some as featherweights, all of which have been tested and modified for greater efficiency as they can practice on a homemade arena that was built purposely for these robots, below is a list of those robots already built. As even the first of our machines was built and completed only very recently, I have not competed with them in any Robotic fighting events or shows yet.
I greatly recommend all of the users on this wiki to build their own robots, it's great fun to do it, and you'll really enjoy the end product.
Slightly Blighty
Edit
Largely resembling the original Killertron, its chassis is a rectangular cuboid shape with a domed top. The weaponry is an overhead axe. However, that's where the similarities end between them.
The chassis may have a domed top like Killertron, but the centre is further down, to house and hide the axe weapon. The axe is powered by a 4.5V electric motor. Since originally designing the robot (when the axe featured an axe similar to that of Killertron), the axe has adopted a much smaller shape, and is now only able to hit anything at one end of the robot, due to the motor not being powerful enough to swing an axe any bigger. The robot is painted completely in the colours of the Union Flag.
Scraptosaur
Edit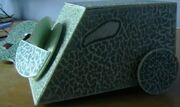 A basic box-wedge design, the design on the body-shell is loosely based around Raizer Blade. It is armed with a fierce, 2-bladed spinning disc on the front, spinning at almost 3000rpm, which has been proven to slice fingers (accidentally of course)! The robot was originally designed with a static spike on the back and coned wheels to avoid being flipped, it has since lost these features, and is now very vulnerable to flippers. The robot shows a very large resemblance now to Weld-Dor 3, only without the rear spinning blade and having a spinning disc instead of a flipping arm on the front.
Braveheart Bumble
Edit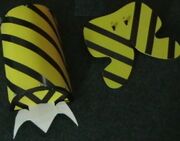 A semi-cylindrical shaped robot, a shape similar to that of the final Mega Morg machine. It is in the colours of hazard warning stripes, to resemble a hornet/wasp/bee. It is armed with a set of static pincers at the front, with a small static spike on the back. Both weapons are tipped with red paint to resemble blood. What makes this robot particularly unique is its top speed, which makes it a great step above the others, thanks to its specially designed lightweight gearboxes, and its lightweight chassis base. Braveheart Bumble uses the same motors as the other two robots, but the pincers give it great pushing ability.
Main article: User:Datovidny/Lists
Main article: User:Datovidny/Sandbox
Userboxes
Edit
Badges and Awards
Edit
Pinball Warrior
The Pinball Warrior award is awarded to you by

Toon Ganondorf

(t

c)

for being an excellent asset to Robot Wars Wiki.
Community content is available under
CC-BY-SA
unless otherwise noted.