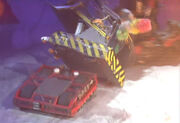 I am the RW wiki user Deadbotuliza. I live in the Uk, and became a fan of Robot wars by accident in December 2001. I was flicking channel, and came across the second World Championship, and as I was already playing with Mechanno and Lego toys, I became hooked. My favorite robot is Tornado. I am the youtube user Panickattack 100 [1]. I have bought every RW pullback toy and minibot. I also would like advice on how to build a robot, as it is my number one goal to become a roboteer.
I have a high level of sensetivity, so I can get upset easily. I also enjoy swimming and Football. My favorite football teams are Arsenal and Leeds. I also like music, and Alternative is my favorite genre.
I try to add contributions to other wikis, but this is my main Wiki.
I made my 1000th edit on the 29th of April when I edited Spawn Again's article.
contributions
Edit
Special:Contributions/Deadbotuliza
Claim to fame
Edit
A poem I did that was published in RW's Series 6 magazine.
I saw the Razer team at an Exhibition at a theme park circus a few years ago.
Community content is available under
CC-BY-SA
unless otherwise noted.