Hello there humans! I am not the real Diotoir I am just a fan. I prefer to be the robot historian and I'll document every one of their battles in a Youtube video.
My own robot
[
]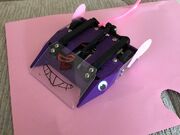 As you may already know I am the greatest user on this wiki. To show my absolute dominance in the Robot Wars space I myself have my own robot. RATTUS ANTTUS! Here's a well prepared and brilliantly made video introducing my fabulous machine!
Favourite wars
[
]
Series 4
[
]
Do I need to say more? Well maybe. I loved almost every battle (could have been every battle but Heat C battles were really bad) for the memorability factor and on pure destruction levels. The robots that fought were creative and great in their own ways. We had a great selection of side events with fantastic outcomes, surprising outcomes and overall chaotic outcomes. What made Series four even better was the grand final. Chaos 2 under pressure against Stinger while a shock exit with Hypno Disc then for the greatest final battle in Robot Wars history. Both robots bash and crash into one another, it could have gone ether way and it was glorious, though I was little upset Pussycat didn't win I still thought that was a truly an honorable battle, so good it didn't matter.
To do list
[
]
Remove duplicates and remove any unneeded or outdated images (ask users about "Lego or cardboard model images")
Upload DVD replacements - in particular reboot!

Upload any DVD stuff anyways
Use the Scandinavian DVD of Robot Wars First Great War that NJGW uploaded for Series 1

Get rid of unneeded pages.
Arena shots, where needed.
Make sure episode and competitors pages have at least 2-3 images of them in battle. (Exceptions to robots/battles that are short lived i.e. Track-tion vs Apex or Rapid)
Add required pages (because no one else can/is going to do it)
Add Techno Games and AWS wiki links to articles.
Fix the weapons table to have an extra box for images to corelate with the robots.
Add 1996 robots to said weapon pages using a purple filter.
Pages full of stuff
[
]
These are personal pages of mine that I have made including my screw up.
Most contributed articles/most used
[
]
Where to find me
[
]
Completed projects
[
]
robot history Diotoir
Robot history Stinger
Quickest battles
robot history Killertron
tag team finals
all grand finals
missing Hypno-disc ultimate warrior
Missing Chaos 2 ultimate warrior
series 4 pinball
Pussycat robot history part 1
All All-stars finals
Robot wars history: Pussycat part 2
series 3 pinball
Entire Northern annihilator
Robot Wars History: Tornado part 1
Entire Southern annihilator
Missing Razer ultimate warrior
Entire annihilator 1
Entire annihilator 2
Top ten Pussycat battles
Robot Wars History: Tornado part 2
Extreme 2 Annhilator Battles only
Series 1,5,Extreme 1,6,7,8 Full Series
Series 7 Annihilator (Battles only)
Best Robot Wars Battles per Series - On "Mr McGee" account
Upcoming Projects
[
]
As mentioned above HD remakes! (where possible!)
Series 2, 3, 4, Extreme 2, Full Series
Best Battles Compilation - User/Viewer choice and "official"
History of edits
[
]
Other Wikis
[
]
Userboxes
[
]
Award for Best Design
The Award for Best Design is awarded to you by ToastUltimatum for Finding a creative way to upgrade the quality of Series 3 screenshots.
Pinball Warrior
The Pinball Warrior award is awarded to you by

Toon Ganondorf

(t

c)

for being an excellent asset to Robot Wars Wiki.
Sumo Basho
The Sumo Basho Championship is awarded to you by ToastUltimatum for promptly uploading images from the Robot Wars website.
Award for Most Original Entry
The Award for Most Original Entry is awarded to you by ToastUltimatum for the user's high focus on robots which didn't qualify for a televised series.