H-DRules



Spin to win, run away to survive

Nationality
English
First Edit
Forum:Qualifiers
Favourite Series
Series 4
Favourite Robot
Hypno Disc
Favourite House Robot
Growler
About Me
Edit
There's not a lot to say. I have loved Robot wars for a long time and remember watching one of the live shows in Extreme Warriors: Season 2. Thanks to my brother and sister I posses the signatures of Team Razer, Team Pneumatic Fanatics(Steel Avenger, for those of you that don't know) and Team Big Brother and the mini bots of X-Terminator, Panic Attack, Hypno-Disc, Chaos 2, Razer and all the house robots and I have got the pullbacks of Dead Metal, Stinger and Shunt(Thanks to a mess up by Amazon) which I did get myself. I have Robot wars Extreme Destruction and in truth I'm quite friendly get along well with people(I just thought I'd say that so people don't think I'm a grumpy boy in a dark room living on Robot Wars), but can get annoyed when people are rude for no reason. I am enjoying the best part of my life so far, splitting my time between school(very little), rugby, Robot Wars and my Xbox 360. My first ever edit was on the qualifiers in the forums. I have also made contributions to Halopedia, hence the picture, and the RvB wiki. I do go off Robot Wars sometimes and have moments when I get bored of it(which was proved when I went four months without making an edit) but now hope to commit to this wiki until it is perfect and then I can look back and see how much time I wasted making this user page instead of doing something useful, like I am doing now. Also, please do not judge me on my user name, I am not a fan-boy, I just like Hypno-Disc On 27th October 2010 I reached the 500 edit mark.
| # | | Robot | My Top Ten Favourite Robots |
| --- | --- | --- | --- |
| 1 | | Hypno-Disc | Just about awesome in every way. A great team who never seemed to mind being beaten only made the machine as a whole better. Really destructive and brilliantly designed, it was a joy watching any one of its battles, although maybe not the one against Dominator 2. It is such a shame that it had to end its reign of carnage on Robot Wars. It must have been terrifying to hear the disc get up to speed in the arena, let alone watch the opposition be torn apart. For some reason though, it always seemed to meet its match against flippers, despite the sri-mech. On the other hand I suppose Bigger Brother didn't really count as a flipper robot by halfway through its battle with Hypno-Disc. |
| 2 | | Diotoir | True, not the most successful robot there ever was but they were great sports and you've got to love them. The fur was always brilliant for keeping the crowd warm and a good replacement for bonfire night. I loved all the jokes, such as "sabotaging" Firestorm, and best of all the fact that they're Irish!(No, I'm English, not Irish). I am convinced that the Irish are some of the best people to have set foot on Earth. Anyway, just to show that you can have fun and still win things at the same time, such as the Tag Team Terror and Sportsmanship Awards. |
| 3 | | Chaos 2 | A brilliant robot with a brilliant flipper. Definitely deserved its two titles and I wouldn't have been surprised if it had won more. Outclassed in Series 6 though, had they changed more they probably would have gone further, but then on the other hand, Dantomkia is a tough bot so I'm not sure that even if it had changed Chaos 2 would have reached the semis. Just to prove Chaos 2's power, in its Challenge Belt battle with Tornado, despite being immobile it still managed to overturn Shunt and toss Dead Metal into the air. If only you could earn points by attacking the house robots, Chaos 2 would have won a lot more fights. |
| 4 | | Bigger Brother | It's very hard not to like them, they had a brilliant design and showed how much a robot can improve. Such a tough robot, and it showed it didn't need its flipper to beat a robot. Unfortunately, they seemed to come to a dead end in Series 7, like many other great robots. It's such a pity that so many brilliant machines had to end their career on Robot Wars exiting at the heat stage. Still a brilliant robot, in fact the only reason their not higher in my list is because they beat Hypno-Disc in the Fifth Wars Grand Final. |
| 5 | | Panic Attack | Some of the best driving I've ever seen has come from Kim Davies. Deservedly Series 2 champs and Kim was also a great guy. Not only that but the robot itself was amazing and in my opinion looked very good. Brilliantly controlled and brilliantly designed, it's a wonder how it didn't win more. Liked the Gold paint in Series 6, but only the paint. |
| 6 | | Tsunami | Such a powerful flipper is difficult to ignore. I was surprised they didn't make the semis, it was such a brilliantly designed robot I expected them to challenge for the title. It looked amazing and showed what it was capable of very early on. I did enjoy the irony of how X-Terminator finished them off though. |
| 7 | | X-Terminator | It may seem strange to follow up a robot with the one that beat it but that's what I feel like doing. Anyway, the only reason its this high in the list is because of the series 7 version of X-Terminator which, personally, I think is absolutely awesome. There are very few robots with disc or flywheel of some kind that could through a robot cleanly OotA. If only Hypno-Disc could flip opponents out of the arena... |
| 8 | | Cassius | Such great sports and also a brilliantly designed robot which rose the bar for other competitors and is also the big daddy of the sri-mech, although Chaos nearly beat it to the crown. I do think that Panic Attack deserved to win more though. |
| 9 | | Ceros | Ceros, in my opinion, looked great and that's why its one of my favourite robots. That's pretty much it. That was short. |
| 10 | | Rhino | For the same reasons as Ceros. Although it wasn't really a good design. I'm running out of things to say already. |
Robot Wars Series 8-10
Edit
Favourite Battles
Edit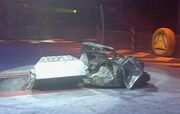 1.Bigger Brother vs Hypno-Disc: Although Hypno-Disc lost this is still my favourite battle because of how Bigger Brother came back despite being completely destroyed.
2.Hypno-Disc vs Splinter: Obvious reasons
3.Flipper Frenzy: Because of all the robots teaming up to try and flip the House Robots. It is a pity Matilda was still on her wheels at the end of the battle.
Least Favourite Robots
Edit
1.Razer: They seemed like nice people until the whole Gentlemen's Agreement thing, although that was mainly Ian Lewis. Despite Razer being a good robot, it was so hard to like the team. Their constant cockiness got on my nerves so much, which made it even better every time they fell early in the competition. I did like Razzler though, I have to admit.
2.Tornado: It just didn't appeal to me. In my eyes it is simply a box on wheels. A very powerful box, though, I'll give it that.
3.Mortis: It's not a case of hating them, it's just that they nearly ever time(apart from series 2) despite spending so much money on their robot and being so technologically advanced they failed to fulfil their potential. You don't spend 100 grand on a robot,effectively coat it in diamond then fall at the heat final. On the other hand it did win the War of Independence. They were nice people(sort of) and I do like them its just they really should have done much better.
Userboxes
Edit
Community content is available under
CC-BY-SA
unless otherwise noted.