Hi, I'm Jack and welcome to my profile!
My fascination with all of this began when I was very young. I found myself enthralled in this show where two boxes on wheels would drive around and occasionally bump into each other. That show was none other than Robot Wars... New Blood admittedly, but Robot Wars nonetheless.
My parents managed to record the majority of Extreme 2 on VHS, which I'd watch on repeat for hours on end. I'd go as far as saying it consumed a considerable percentage of my childhood, for better or for worse. This is probably the reason why I have such an affinity for Extreme 2 even now, despite its inconsistent quality being clear to see as an adult. It definitely has its moments though!
My earliest memories of Robot Wars involve seeing Razer, Stinger, Terrorhurtz and many of the house robots in person at RAF Cosford in 2003. I was even lucky enough to see Razer and meet Ian Lewis in person, who was kind enough to sign my Series 7 programme thingy. This was a defining moment for me, and a reason why my love for Robot Wars has extended well into my teens and early adulthood.
Bolton 2019
Edit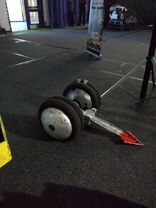 In July 2019, I attended my first live show in 16 years, travelling to Bolton for Extreme Robots! It was incredibly surreal to finally see and appreciate robot combat in person, having seen it from the other side of a screen for nearly all of my life.
Highlights included meeting a few people I've come to befriend through the community and seeing Gabriel manage to un-OOTA itself! Not getting more pictures is one of my biggest regrets of the event, however it was a fantastic experience nonetheless.
Beetleweight Progress(?)
Edit
I'm currently in the process of building my very first robot called Choppy Boi... more to come on this in the coming months!
Bristol 2020
Edit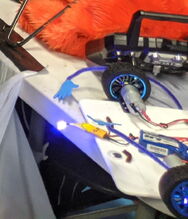 February 2020 rolled around and I decided to make the trip down to Bristol for the BBB Beetleweight Championship! It was honestly great to get a true sense of scale for these machines and actually talk robots with people for once.
Sadly the bodgebot Yak Attack (made from a shortbread tin with a yak on the lid) couldn't be ready for whiteboard fights, though the competition was brilliant and the people involved were even better.
Hopefully with a beetleweight of my own on the way, there will be more events to come in the future!
Outside of Robot Wars
Edit
I currently work within the NHS as an admin assistant in our local orthopaedic hospital, which is pretty cool I guess. In my spare time, I also co-run and sometimes write for @SouthamptonPage on Twitter as a first generation Southampton fan in my family.
Social Media (YouTube and Twitter)
Edit
Making my debut (and currently only) YouTube cameo, I was fortunate enough to be part of the Sir Chromalot episode of the Robot Wars History Podcast. Thanks to Nick and Toast for having me on!
I also run a Robot Wars Twitter bot that generates random 1v1s for all classic series robots. You can find that here if you're interested in having randomised Robot Wars matchups polluting your Twitter feed every 30 minutes.
Now who wouldn't want that in their lives?
Awards and Whatnot
Edit
Award for Best Engineering
The Award for Best Engineering is awarded to you by TOAST for restructuring and expanding all minibot articles.
Community content is available under
CC-BY-SA
unless otherwise noted.