"Well, Chopper came out, I think with one plan in mind...Let's just get mullered! Let's get absolutely massacred, let's do our very, very worst!"
— Jonathan Pearce
Hello all, this is ToastUltimatum, resident Yorkshireman of the wiki. I'm one of the two active bureaucrats in the community.
Subpages
[
]
Opinion pieces
Robot Wars memorabilia
Name rating
Featherweight robotics
Fantasy tournaments
Periodical blogs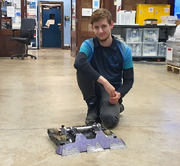 Blogs written by other users which I contributed to
History
[
]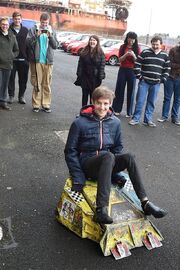 Despite me only joining the wiki in 2012, where it was founded in 2008 I've actually had somewhat of a connection with this site since its beginnings.
When Robot Wars Wiki was first being created, Christophee asked two fellow Robot Wars fans he knew on Wikipedia, CBFan and Izzy259, to help out with this task. CBFan got in there pretty quickly, but Izzy259 didn't. As you may have figured by now, Izzy259 was indeed me, at just 10 years of age. Contrary to belief, I was not a girl, my young age made me think Izzy was a shorthand for Isaac ¬_¬
But no matter. If asked why I never joined this place, I honestly have no idea at all. I now know that I ought to have, this site would have been a great learning opportunity, as well as one to help the wiki as much as a 10-year-old could, and it would kick-start me into full-on wiki editing, which I now enjoy committing to.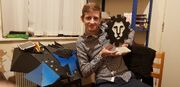 Eventually, I did join the site under the poor username of Torngentleman2, where I added a quote from S3's team captain as to why S3 didn't compete in Series 7, and made the Robot Wars: The Sixth Wars/Heat G article. After that, I disappeared once more.
In September 2012, I finally committed myself to Robot Wars Wiki, with the ToastUltimatum account. I was an admin by the end of the same year, and became a bureaucrat at the start of 2016 after all of the other active bureaucrats had retired - and it was a good job I did, because during my application, the BBC decided to announce a reboot of Robot Wars!
Task List
[
]
My current aims for how to contribute to the wiki. People are of course welcome to help, but these are the things I've personally put my focus on. I can think of other jobs that need doing, such as taking more images from Dutch and German Robot Wars, but I can't give myself too much to work on at once.
| Objective | Progress |
| --- | --- |
| Go through all competitor articles which have separate team articles, and add small sections to their competitor articles detailing their team for its relevant series, linking through to the main team article. | Example: Vulture, Push to Exit |
| Go through Series 6, and make sure we have images of contributions to battles from every competing robot. If a robot fought well before losing the battle, ensure at least one image demonstrates this. | Up to Heat H. |
| Similarly to Series 5 and 6, ensure images of battle contributions from every competitor in Season 2 of Extreme Warriors are produced. | Episodes 1-6 done. |
| Rename the Robot Wars: Extreme Warriors episode articles. | Yet to be started. |
| Rewrite Team S.Tek from scratch. | Yet to be started. |
Top 10 Robots
[
]
Honourable mentions: DisConstructor, Hyperactive, Infernal Contraption, Infinity, Mega Morg, Pressure, Probophobia, Propeller-Head, Raging Knightmare, Tetanus, Thermidor II, Trazmaniac, Typhoon series, Vulture
| Number | Image | Robot | Thoughts |
| --- | --- | --- | --- |
| 10 | | Gyrobot | As a pre-teen, I had a real vendetta against Heat B of Series 7. I thought the whole thing (apart from the featherweights) was extremely dull, yet my poor organisation of my VHS tapes meant I'd keep watching it again and again, until the point where I genuinely labelled the tape "DON'T WATCH". Many years have passed now, and I give that episode much more credit. My evaluation of Gyrobot grew with it, and yet it's hardly the fault of the robot itself, which is still a little bit dull to watch in combat. The real reason is this. I'm sure many wiki members can attest to the fact that you develop strong appreciation towards the robots built by the roboteers you first corresponded with. Steve Wood wasn't the first roboteer I ever spoke to, but it happened as a result of responding to a YouTube comment in a period where Robot Wars was on its twelve-year hiatus, and I was still impressionable enough to be impressed by contact with a roboteer. This one worked out particularly well; after a few emails, I had received some exclusive photos of Gyrobot's qualifiers, and later, videos of the qualifiers themselves! The unaired qualifiers have always been my research area of interest on this wiki, so this was the best possible outcome. I'd eventually read through the very detailed Gyrobot website, and by the end of it all, I realised my huge attachment towards this little machine. |
| 9 | | Scraptosaur | Discovering Scraptosaur was a game of two halves. I saw its Seventh Wars heat as it aired, and took a quick liking towards the machine, but it never really did enough to stick out from the crowd, even if it always stayed in my memory. Essentially, Scraptosaur was a robot that I'd always wanted to like, but I lacked the excuse. That is, until I watched the second series of Robot Wars: The Dutch Battles. Scrap-II-Saur was a wonderful contributor to that series, where it placed third, after great wins over Tough as Nails, Cyclone, Gravity and Meshuggah. By the end of all that, Scraptosaur was a firm favourite. |
| 8 | | Chopper | Chopper only had two fights in its combat history, so it really had to stand out in order to make my Top 10 robots, but stand out, it certainly did. As you'll see in a separate list, Chopper's battle with ICU and Mad Dog is one of my absolute favourites of all time, a battle that is quite synonymous with me, and Chopper is undeniably the root of the 'problem'. Chopper's complete and utter insistence on performing as badly as possible before winning regardless and requiring the eventual champion to get rid of it will never fail to amuse me. Well, Chopper came out, I think with one plan in mind...Let's just get mullered! Let's get absolutely massacred, let's do our very, very worst! |
| 7 | | 13 Black | 13 Black was an example of a robot with great aesthetic design, which still managed to be very effective. After a missed opportunity in Series 5, 13 Black became one of only three unseeded heat winners in Series 6, being eliminated in possibly the funniest battle in Robot Wars. After Series 6, 13 Black also impressed in Extreme II, earning impressive victories against Chaos 2 and Dominator II, even standing up to the mighty Razer. I'm well aware that 13 Black is far from the deadliest of spinners, but that adds to the charm for someone who isn't generally a massive fan of spinners - 13 Black tried its best, and actually got somewhere as a result. Here's a piece of trivia, I almost named my Robot Wars Wiki username 13 Black, but decided to use ToastUltimatum for consistency across wikis. I went to Las Vegas in August 2018, and you know what I wasted my $10 on. |
| 6 | | Eruption | My favourite robot which I have seen in person, and by far my favourite champion, Eruption. I knew this would quickly become a robot I would like a lot when I saw it dominate Apollo in front of my face, after constantly being a force on the live circuit where I had watched it fight beforehand, but when it became the first competitor robot to flip a competitor out of the arena in the reboot, I leapt out of my seat, and Eruption was cemented as a favourite, immediately jumping into this list. And that was just the beginning. I had their backs all the way through Series 9, and they achieved an astonishing four out-of-the-arena flips within their heat, blasted Ironside3 into defeat, and won a classic battle against Aftershock. By the time of Series 10, Eruption was already a silver medallist, which made it harder to cheer for... until I learned that its heat contained Aftershock and Carbide. It was a sheer moment of joy when they got the triple-OotA in the group battle, with no editing magic to give the game away as I saw it in person. I proudly waved my Eruption banner around throughout filming (which funnily enough read "No, Eruption will beat Can't abide", I didn't even believe it myself but CALLED IT), and while I will admit it was hard to cheer for it during the 10 Robot Rumble and the first few rounds of the Grand Final, as it would have been the predictable winner, you couldn't possibly cheer against it in that Grand Final against Carbide, which has to go down as the greatest Grand Final victory of all time. |
| 5 | | Gravity | Something that often goes unmentioned, I actually really enjoy watching Gravity in the Dutch Battles, where it defeated and out-pushed the UK vs Germany champion Das Gepäck impressively, before getting blown to bits in the Heat Final. But looking at its Series 7 form in action, I couldn't not include Gravity on my favourites list, and Gravity has only grown higher since. Gravity wielded immense power in UK Series 7, and Robot Wars simply would not be the same without it. I wrote that last sentence several years ago, but it certainly could be interpreted as a dig towards the selection committee for Series 8... |
| 4 | | Shredder | I do like Shredder Evolution, of course, but it is because of its predecessor Shredder, as to why I like the series of robots so much. Shredder, a fairly weak looking machine, was clearly beating the seeded Mousetrap 2, before defeating itself in an admittedly funny way in Series 5, and it especially proved itself in Series 6. Shredder performed well in the first-round melee, where after initially taking damage from S3, it proceeds to dominate the seed by trapping it in the CPZ expertly. Shredder's battle against The Alien was similarly impressive, as despite having an effectively useless weapon, it managed to come back from an initial deficit, and defeat the destructive The Alien, using nothing more than the power of ramming it, and the CPZ. The Heat Final wasn't close, but I wouldn't have it any other way, it says a lot when the robot still has drive, and it needed to be warped so badly that the tyres didn't touch the ground before you can declare a KO. The Shredder team laughed at damage they took, and even when they came back to life, they just rammed straight back into S3's disc face-first, and pitted themselves when they noticed the House Robots were "struggling", all of which contributes to Shredder taking the title of my fourth favourite robot. With some help from Shredder Evolution. The fact that Shredder ranks on some people's least-favourite robots lists is totally beyond my comprehension. |
| 3 | | Atomic | Atomic never struck me as a potential Grand Finalist, but it's remarkable how close they came. Atomic swept under the eventual champion, Typhoon 2, and gave it a strong flip. If Typhoon 2 went over, the entire series would be totally different. Simple as it may be, "Typhoon 2 stands off" is among my favourite lines of commentary from Jonathan Pearce, because of the sense of drama it gives me. Atomic showed potential from the very beginning, defeating the 17th seed King B3, then tossed Mousetrap all around the arena in Extreme, even turning Hypno-Disc over. Series 7 was where Atomic really shone, getting four consecutive OotA's, and winning my favourite battle in Robot Wars, all while looking dapper in bright yellow. |
| 2 | | Mute | When I take a liking to a battle or a robot, one of the main ways something can appeal to me is the comedy aspect. I've unashamedly held the belief that comedy is my favourite media genre for several years, and I really think there's no harm in favouring a good laugh over something truly moving or impressive. Mute fits this perfectly, because it's firmly among the weakest heat winners in Series 7 and its design was knowingly flawed - but it was just bloody funny wasn't it? Their circus-like self-righting was a source of endless pleasure, and the occasional flip from the machine actually impressed with its power. Yet I can sum up my love of Mute by pointing out the room for humour in every single one of its fights. Mute did the following: drove into the pit against Terror Turtle and still qualified; flipped Mr Nasty around while Sgt. Bash had a squabble with the Refbot; broke down against Roobarb and still won; broke down against Cedric Slammer and still won AGAIN; almost beat the near-infallible Storm II out of nowhere; meandered around while someone else won the melee on its behalf; defeated the tenth seed by landing on it; self-righted around the arena for five minutes and still did enough to win a Judges' decision; and eventually threw itself out of the arena. Mute had nine fights and they were all hilarious - that's the makings of a second-favourite robot. |
| 1 | | M2 | At the end of the list, there can only be one winner - M2, my favourite robot for several years now. M2 carries the same principle as Mute in that every single fight containing this robot has something going for it. This time M2 only has four fights total, but every single one of them is wonderful. M2 opened the entire series by throwing two robots out of the arena in sequence despite hardly boasting the most powerful flipper - easily my favourite series opener. M2 then has to fight a former runner-up and ninth seed in the second round, but emulates a performance seen only by the likes of Chaos 2 and Firestorm III, and flips Pussycat all around the arena in an emphatic, yet also extremely close, victory. M2's win against Tiberius III has to be one of the greatest ever, they were halfway down the motorway with suitcases in the boot after Tiberius had the match thoroughly sown up, but the game-changing flip and the beautiful pitting is something that will never fail to raise a smile from me. It was the end of the line against Atomic, but M2 didn't go down without a fight, and made another of my favourites really work for its win, something that hadn't been seen of Atomic yet, and almost tossed it out of the arena in a shot I see as iconic. It helps a lot that Heat A of Series 7 was one of the very first episodes I saw in full, but I'm determined to believe that I would've loved M2 even without that, because it just brings with it a symbol of quality in all of its appearances, even offering an endless sequence of good fights on the live circuit. Did you know that M2's qualifier battle for Series 7 is on YouTube now?? |
For more lists like this, see User:ToastUltimatum/Lists
Personal Trivia
[
]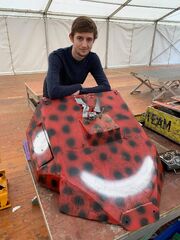 YouTube content
[
]
On YouTube, I go by the name of TaleOfTheToaster, where I make Let's Plays. If you don't know what one of those is, it's a playthrough of a video game while commentating over the top of it. While I mainly make Let's Plays of Inazuma Eleven games, an anime soccer RPG on Nintendo handheld consoles, I previously made Let's Plays of both Robot Wars: Metal Mayhem and Robot Wars: Advanced Destruction.
I have also made a stop-motion TV Ident using Robot Wars toys, which you can see here
Let's Play Robot Wars: Metal Mayhem

[

]
Let's Play Robot Wars: Advanced Destruction

[

]
Robot Wars Podcasts & NJGW content
[
]
Podcasts include episodes of NJGW's Robot Wars History Podcast that star myself, and my appearances on mystrsyko's Roasting Robots.
Other Interests
[
]
Gallery of Near OotA's
[
]
Award & Userboxes
[
]
Award for Best Engineering
The Award for Best Engineering is awarded to you by Christophee (talk) for expanding several episode articles to an excellent standard.
| | |
| --- | --- |
| | This user won the Ragnabot 3 sweepstake with Eruption! |
| | |
| --- | --- |
| | This user was invited to compete on BattleBots in 2020 with Abrasion. |
| | |
| --- | --- |
| | This user would award PulverizeR the 15th seed in Series 7. |
Administrators aren't eligible to earn badges, so I never really got the chance to earn any before I started awarding badges to other users myself! If I had been eligible to collect badges, I'd say some of my key rewrites included Rosie the Riveter, Tyranabot, Tsunami and Team MAD. One of my favourite random rewrites I did was Enderbot. Badges were never given out for reboot competitors, as that counted as creating new content rather than improving existing content, but I did write the basis for every reboot competitor article except Or Te, and the two machines I always made sure to write Battle Histories for after each episode were Eruption and Sabretooth, both of these articles being almost entirely my work.
Other Wikis
[
]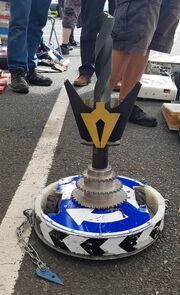 Primary
[
]
Secondary
[
]
Occasional
[
]
Series Record
[
]
NOTE: ToastUltimatum was to apply for Series 10's proposed Featherweight Championship with The Tragic Roundabout before the event was cancelled.