Hello, I am VulcansHowl, but feel free to call me Vulcan for short. I've been an avid Robot Wars fan since I was eight, and first recall coming across the show through receiving a Gold Shunt pullback from a local Toys "R" Us store. Shortly afterwards, I got hooked after watching repeats of Series 3-4 and the first broadcast of Extreme 1, and haven't looked back since.
Watching repeats of Series 5-7 and both series of Extreme on Challenge between 2015-2016 revitalised my enthusiasm for the show, and I greatly enjoyed Series 8-10 from start to finish. It was a real shame that a Series 11 didn't get commissioned, but even if it doesn't the reboot was fantastic while it lasted.
My username is inspired by the Avro Vulcan bomber, and the 'howling' sound its engines make when they are at approximately 90% power.
Subpages
[
]
Lists
[
]
Blog pages
[
]
What if...Terrorhurtz fought in Series 7? - An early blog, where I give my thoughts on how Terrorhurtz might have fared had it not been disqualified from Series 7.
Audited Series 9 - My own take on an audited Series 9, with a unique Grand Final format.
Series 11 Wishlist - My latest blog, where I list some of the robots which I feel deserve a place in a hypothetical Series 11.
Userboxes
[
]
Antweight
[
]
Sasha
[
]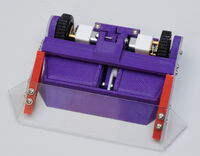 Sasha is my custom antweight built by Alex 'Shakey' Shakespeare in 2017. It is a two-wheel drive purple and red robot with a compact 3D-printed chassis and a servo-operated flipper as its weapon. The flipper is hinged at the robot's sides to protect the chassis from spinners, and features an angled polycarbonate wedge along with two narrow bars ('ears') on the outer edges to help get underneath opponents and test objects. Sasha is able to self-right by using its flipper, and can also re-right itself by reversing should it be left on its back with the flipper open.

Originally, the robot was named Kiki after the titular character from the Studio Ghibli film Kiki's Delivery Service. In 2020, I decided to rename it after a cat owned by my late aunt, who sadly died during the summer.
Awards and Badges
[
]
Pinball Warrior
The Pinball Warrior award is awarded to you by

Toon Ganondorf

(t

c)

for being an excellent asset to Robot Wars Wiki.
Award for Best Engineering
The Award for Best Engineering is awarded to you by

Toon Ganondorf

(t

c)

for general expansions to Robot Wars Wiki, including expansions of the Robot Wars Magazine, Arena articles and weapons pages..
Award for Sportsmanship
The Sportsmanship is awarded to you by ToastUltimatum for fostering and maintaining the King of Bots Wiki from the ground up.
Sumo Basho
The Sumo Basho Championship is awarded to you by ToastUltimatum for a recent series of repetitive edits, including spelling, links and categories.
Award for Best Design
The Award for Best Design is awarded to you by ToastUltimatum for for redesigning the logo of the Robot Wars Wiki.