For the unrelated robot Series 2 and 3, see Victor.
"You can see that yellow lifting arm - lifts, shreds, pokes, cuts hair, drives a car, works a computer...does just about everything, that arm, except...move!"
— Jonathan Pearce
Vector was a Nottingham based robot that singularly competed in Series 3 of Robot Wars. It was a black box-wedge robot with a yellow hydraulic flipping arm, and armoured in high carbon steel sheets. The yellow arm was a lifter, but doubled as a piercing spike and a srimech, however it was not seen in action (properly) in its only appearance. The robot was completely stationary in its first fight, and was eliminated in Round 1 despite its opponent T2 driving into the pit of its own accord halfway through the battle.
Robot History
Series 3
In Round 1 of the Third Wars, Vector went up against a returning machine to Robot Wars, T2. Vector did not move at all until T2 closed in on it and launched an attack itself. Vector then moved forward slightly, but broke down over the arena spikes near the Matilda's CPZ. As Matilda herself moved in, T2 lost control and acccidentally drove itself into the pit of oblivion under absolutely no pressure. Despite this, the House Robots all continued fighting and attacked Vector, with Shunt and Matilda attacking the shell, which actually held up well, and Shunt axing the arm, which did not.
"Lets be honest, Vector didn't do anything-I think that's key. See I think Vector was immobilised right from the start, therefore T2 should go through."
— Jonathan Pearce's opinion
As the cease was called, the judges ruled that Vector had not been sufficiently mobile to qualify for second round of the heat, therefore T2 progressed into the next round instead, eliminating Vector from the competition.
Results
VECTOR - RESULTS
Series 3
The Third Wars - UK Championship
Heat, Round 1
Heat F, Round 1
vs. T2
Lost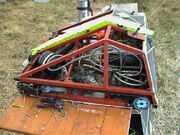 Wins/Losses
Series Record
Series 1-2: Did not enter
Series 3: Heat, Round 1
Series 4-7: Did not enter