For the unrelated Heavyweight competitor from Series 3, see Vector
"It's designed around a brute force design, with lexan body armour on the front, high powered torch for targeting purposes, and it's built on power."
— Adam Clark
Vector of Armageddon was Adam Clark's first entry into Robot Wars. It competed in Series 1, but was eliminated early on after getting wedged on a ramp during its Gauntlet run.
"And The Riders of the Apocalypse team, driven by two 14.4V motors, and has the same speed controller as used for bomb disposal robots."
— Jonathan Pearce introduces Vector of Armageddon
Vector of Armageddon was a silver-grey featherweight robot with a wide body and an upright front wedge. It featured the same type of speed controllers as used by bomb-disposal robots, and relied on speed, torque and 'brute force', with the aim of ramming other robots as its primary offensive capability. Vector of Armageddon's name and design were based on the successful American robot Wedge of Doom, which won the featherweight division in the original US Robot Wars competitions in 1996 and 1997. However, despite having a maximum climb of 35 degrees, a zero-degree turning circle and an exceptionally high top speed of 20mph, Vector of Armageddon had a low ground clearance of only 1mm. While this would have given it a considerable advantage in the Arena stage, the latter proved decisive in its early elimination at the Gauntlet stage.
The robot's design was inspired by Wedge of Doom, a competitor in the American Robot Wars live events.
"I met Tony B and Dan D at the long beach event and Tony gave me insight to the tyres that he was using which he considered to be a big part of the WOD's grip against the colson and other type of tyres being used at the time. I came up with the name with Dan Danknick, not quite sure how, but we considered it nerdy enough with a touch of physics"
— Adam Clark confirming that Wedge Of Doom inspired Vector of Armageddon
Robot History
Edit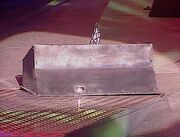 Vector of Armageddon competed in Heat D, and initially started well in its Gauntlet run, choosing the middle route and clearing the see-saw without difficulty. It turned to avoid the drills and made a run for the second ramp, but got wedged on the ramp as a result of its low ground clearance. Unable to back away or drive forwards, Vector of Armageddon remained on the edge of the ramp until time ran out, having covered a distance of 8.55m.
Jeremy Clarkson: "I know that it looks like a grass-cutting box, but it's a serious robot, that, isn't it?"
Adam Clark: "Yeah, it was designed for very extreme ground clearance, and the ramp was just too steep for it, unfortunately."
— The post-run interview
Under normal circumstances, Vector of Armageddon's run would have covered enough distance for it to qualify for the Trial stage. However, it only finished sixth overall on the results table, resulting in its elimination from the First Wars.
VECTOR OF ARMAGEDDON - RESULTS
Series 1
The First Wars - UK Championship
Heat, Gauntlet
Heat D, Gauntlet
8.55m (6th)
Eliminated
Series Record
Edit
Outside Robot Wars
Edit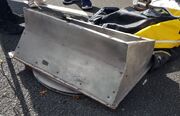 As of August 2019, Vector of Armageddon is still intact and fully functional, making an appearance at Robonerd 2019 alongside 259's disc and its builder Adam Clark.
Vector of Armageddon is one of twenty robots never to have fought in robot combat, having only ever reached the Gauntlet or Trial stages.
Both halves of this machine's name would be names of unrelated robots in Series 3: Vector and Armageddon.
Vector of Armageddon was the first robot said to be inspired by an American design, being influenced by US Robot Wars competitor Wedge Of Doom.

Vector of Armageddon's name is also a synonym of Wedge of Doom.

Like Cunning Plan, Vector of Armageddon was retired in favour of a heavyweight robot (Corporal Punishment) which was entered in the following two series.
Vector of Armageddon is the robot which covered the most distance in the Gauntlet in the First Wars to still be eliminated from the series.
Community content is available under
CC-BY-SA
unless otherwise noted.