"Invertible, with rubber suspension and a strong chassis. Looks aggressive, but has light armour and is likely to be swatted, let's be honest!"
— Jonathan Pearce describes W.A.S.P.
W.A.S.P. was a robot that competed in Series 6 of Robot Wars, where it was defeated in the first round by the reigning champion Razer, and Raging Reality.
Design
[
]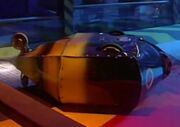 W.A.S.P. was an invertible robot with rubber suspension on the tyres, painted to look like a wasp. It had a strong chassis but had light armour which proved to be its Achilles' heel in its only battle. Its weapons were a spinning disc and tail spike. The robot was two-wheel driven, but featured a castor at the rear for balance.
Etymology
[
]
Although the name was an obvious reference to wasps, it in fact stood for "What a Silly Project".
The Team
[
]
W.A.S.P. was a school entry captained by teacher Rod Williams from West Hampstead, London. He was joined by his students Edward Kelly and Chris Foord.
Qualification
[
]
"For W.A.S.P. as far as I remember there were no qualifiers for season 6 as they were actually a couple of contestants down so everyone that applied got in and the only time the robot was activated before was a 3 min test in my teacher's garage."
— Chris Foord in 2020[1]
According to team member Chris Foord, W.A.S.P. did not participate in a qualifier battle for Series 6 but qualified regardless. There is doubt surrounding this statement as Foord also believed that all applicants for Series 6 qualified successfully which is untrue and W.A.S.P. appeared in a film by Team Lightning during the Sixth Wars qualifiers..
"We were gonna enter a different robot the next year but the teacher got sick and it just never happened."
— Chris Foord in 2020[2]
The team intended to enter Series 7 with a new machine, but after teacher Rod Williams became ill for a period, the project never came to fruition.
Robot History
[
]
Series 6
[
]
W.A.S.P. had an unlucky draw in its only appearance, as it was drawn against the reigning champion Razer, alongside Raging Reality and Brutus Maximus.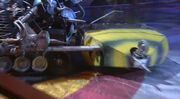 W.A.S.P. was moving very slowly, allowing Brutus Maximus to push it towards Sir Killalot's CPZ. It managed to avoid the House Robot, but was flipped onto Razer by Raging Reality, then flipped again onto Sir Killalot. It received damage to the front armour, and was barely moving, before being flipped back into the CPZ by Raging Reality. W.A.S.P. had a large hole drilled in the armour and was picked up by the lance of Sir Killalot.
"We know, the end of the tale is nigh for W.A.S.P.! Buzz off and out of here, and fly, fly away, to fight another day! It looks gruesome!"
— Jonathan Pearce as Sir Killalot drills through W.A.S.P.'s armour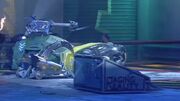 As Brutus Maximus was counted out, Razer came in to crush through the armour again, before being counted out by Refbot.
Despite the damage W.A.S.P. received from Sir Killalot and Razer, in the post-battle its internals appeared undamaged by the two robots.
"It's all superficial … bit like the robot really!"
— Rod Williams, having inspected the damage
Results
[
]
Wins/Losses
[
]
Series Record
[
]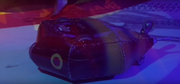 Trivia
[
]
W.A.S.P. was the only robot from Heat A of Series 6 to be entered by a team which did not appear in another episode.
W.A.S.P. was one of the only robots to compete after Series 3 to take significant damage from the drill of Sir Killalot.
References
[
]