"This is my sort of robot - it's built from a beer barrel!"
Weeliwako was a competitor robot from Series 3 of Robot Wars. It defeated Brimhur in the first round, but was pitted by returning Semi-Finalist Mace 2 in the second round.
Design
"What a strange beast Weeliwako is!"
— Jonathan Pearce
Constructed from a beer barrel, Weeliwako had a large tower weapon with a double sided mace with four spikes on each side and cost £150 to build.
It worked in the same way as Stinger, with the brakes causing its overhead spiked weapon to strike the enemies. Along with Stinger, Weeliwako was the first torque reaction axlebot in Robot Wars. Unlike most axlebots, Weeliwako could sit itself upright, using concrete at its base.
The Team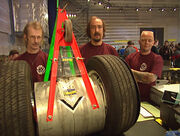 Weeliwako was entered into Robot Wars by a Brighton-based team of three, captained by the robot's lead builder, John Whyatt. In Weeliwako's only series, John Whyatt was joined by Lorne Baker and Raymond Taylor.
Qualification
Weeliwako was selected for Series 3 after attending the auditions and running the obstacle course. A rebuilt Weeliwako 2 attempted to qualify for the Fourth Wars, but lost its qualifier to Aeolus, with neither robot qualifying for Series 4.
Robot History
Series 3
Weeliwako faced Brimhur in the first round.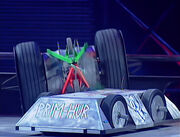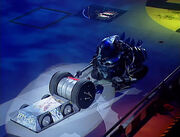 Brimhur rammed into Weeliwako, but didn't cause any damage. Weeliwako then brought its spike down onto Brimhur a few times and created some dents. After some more pushing around, Weeliwako attacked Sir Killalot, managing to evoke a chase from the House Robot. As Weeliwako tried to escape Killalot, Brimhur broke down and was axed by Shunt, leaving Weeliwako victorious.
Philippa Forrester: "The beer barrel came through."
Team Weeliwako: "Couple of punctures...both tyres are a bit split on the inside rims."
Philippa Forrester: "Well if you just have normal tyres, what did you expect really? You're going to get a puncture in there, if anywhere. Clear off, well done, we'll talk to you later...And no nicking tyres out of the car park! Because we know who you are!"
— Post-battle banter
In the next round Weeliwako faced Series 2 Semi-Finalists Mace 2.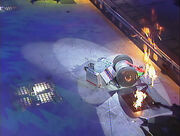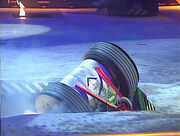 Being invertible Weeliwako wasn't affected by Mace 2's flipper. The battle itself featured Mace 2 pushing Weeliwako around, over the flame pit and into the side walls. Weeliwako only got a handful of blows on Mace, which had not much effect. In the end, Mace and Weeliwako grappled, but Mace was the stronger and Weeliwako was thrown into the pit of oblivion, the second axlebot to suffer that fate at the hands of Mace 2. Sir Killalot closed in and hoisted Weeliwako out of the pit and roasted it on the flame pit before cease.
Results
Wins/Losses
Series Record
Trivia
Weeliwako was the second consecutive thwackbot that Mace 2 defeated in the opening heat of Series 3.
Community content is available under
CC-BY-SA
unless otherwise noted.