"Only took a month to build, based on car fan and starter motors, with an aluminium body shell and a large pickaxe with power behind it. At the limit of its weight class, Willy's a whale!"
— Jonathan Pearce introduces Wild Willy
Wild Willy was a competitor robot in Robot Wars: The Third Wars. It lost in the first round to Flip Flop Fly after driving into the pit. The team returned in The Sixth Wars with Cyrax.
Wild Willy was a purple box-wedge robot, armoured in aluminium. Wild Willy was at the very peak of The Third Wars weight limit. Mounted on the wedge was a red spiked pickaxe, powered by a 12V car starter motor (this concept was later used by Cyrax). It was powered by fan motors and could achieve a top speed of 15mph.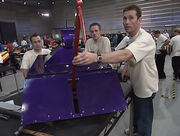 Wild Willy was entered into Series 3 by a three-man team based in North Pickenham, Lincoln. Captain Paul Wilcox was joined by Mark Garroway and Ryan Pettefer for the Third Wars. The robot was designed by Paul Wilcox and Ryan Pettefer. Joined by Mark Garroway (who did the paint), the three men built Wild Willy over a month. Wilcox and Pettefer also entered the Sixth Wars with Cyrax three series later.
Robot History
Edit
Wild Willy was placed up against Flip Flop Fly in Round 1 of Heat L.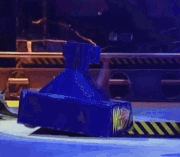 Wild Willy started the battle much faster than its opponent, landing several blows with its axe. It attacked Sgt. Bash while Flip Flop Fly wobbled around the arena. Wild Willy then pushed Flip Flop Fly into the arena wall. Both robots were jostled by the arena spike, and Flip Flop Fly's tyre went flat. However, whilst positioning Flip Flop Fly by the pit in an attempt to push it in, Wild Willy was jostled once again. Driving forward, Wild Willy drove partially over the pit and became trapped. After attempting to wiggle itself free, Matilda pitted Wild Willy completely.
The judges were consulted, as Flip Flop Fly was also struggling for mobility, but the Judges nevertheless determined that Flip Flop Fly would go through, and that Wild Willy would be eliminated.
"Oh, silly, silly billy, Wild Willy"
Wins/Losses
Edit
Series Record
Edit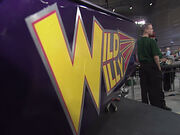 Community content is available under
CC-BY-SA
unless otherwise noted.