"Don't make us destroy you!"
— Team Tie-Rip's introduction to X-Bot
X-Bot was a robot that entered Series 1 of Dutch Robot Wars. It reached the second round of its heat by defeating Meshuggah, before it lost to Pika 2. Its successor was S.O.Xbot (Son of X-Bot), one third of √3², while Jeroen van Lieverloo also entered Dutch Series 2 with Impact, and four UK series with varying machines.
Design
[
]
"We arrived and did a tech check, then all Hell broke loose! Xbot was maybe the most tested robot I have built to this day but the Dutch Robot Wars advisor, Django Mathijsen, remarked that the robot was a bit on the slow side and recommended a switch up to 36 volts instead of the 24 we were currently running. As I did not have the money for proper speed controllers, I had built a very complex servo-driven 2-stage relay system so it was possible to drive the robot at 2 different speeds, 12 volt and 24, both forwards and back. It seemed like a good idea to add the extra stage up to 36 volts as I had the parts and enough weight left in the robot. I did not think about how the extra power involved might effect things and only did some simple testing after this late change on the robot."
— Jeroen van Lieverloo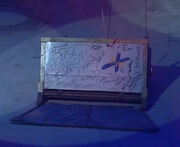 X-Bot was a silver box-wedge, driven by two wheels on roll-bar motors. It was armed with a spatula-like scoop for picking up other robots. The weapon was powered be a 40mm bore cylinder, running at 6 bar, pulling a 100mm arm connected to the pivot point on the HDPE scoop, although this proved completely ineffective at lifting in combat and was used primarily as a flat wedge. The team allowed other roboteers to write graffiti all over X-Bot's silver surface, earning it the nickname "graffiti-bot".
"The scoop in the front was supposed to be a lifter. This is before I found out about laws of physics. I had a 40mm bore cylinder running at 6 bar trying to pull on a 100mm arm connected to a pivot point on the scoop."
— Jeroen van Lieverloo
The Team
[
]
Main article: Team Tie-Rip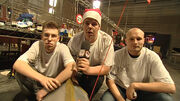 X-Bot was entered into Dutch Series 1 by Team Tie-Rip, captained by Jeroen van Lieverloo, who would go on to compete in Dutch Series 2 with Impact, and would compete in Series 7-10 of the UK series with various robots. For Dutch Series 1, Team Tie-Rip also included Jaap van Domzel and Andries Langlois van den Bergh. The three team members wore Santa hats throughout their heat.
Robot History
[
]
Series 1
[
]
"When our second tech check came, one of the relays melted down causing Xbot to get stuck in full speed forward. The fail safes did not help because the relay was stuck and welded shut. Blind panic ensued, followed by possibly the longest day of my life. I did not make a system diagram when I built the setup and now, with what seemed like 1000 wires everywhere, we were trying to figure out what went wrong and fix the issue. I only made things worse. I now know I should have taking a step back, draw a schematic and work out the problem methodically, not pull all the wires out in mad panic! Of course, we had a recording schedule and the Dutch Robot Wars advisor came by every hour to check up on us (thanks Django Mathijsen). This did not help me! By this point I was also rejecting all help from everybody else because, in my mind, I was the only one who could possibly understand this complex beast I had built. I should have accepted all the help I could. Even explaining the problem out loud to somebody else helps you refocus. Look up rubber duck debugging if you are unaware of it. It works for all problems, not just programming! But even in my stubbornness I managed to get it partly fixed, with 12 volts driving forwards and 24 volts driving backwards. After our first fight I did have time to fix it all and it mostly drove well."
— Jeroen van Lieverloo
In its second tech check prior to its first fight, X-Bot became stuck in forward drive, which took a full day to fix. When X-Bot entered the arena, it fought Meshuggah, whose weapon was not working properly and so the team kept its locking pin in place to prevent it from being damaged.
"Meshuggah had a petrol powered weapon, that failed before the fight, so it was not just the pin. X-bot was built pretty weak, so it would be in a lot of pieces I think."
— Jeroen van Lieverloo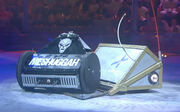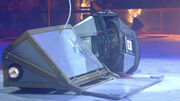 X-Bot was initially slow, attempting to face the moving Meshuggah with its weapon. X-Bot was able to approach Meshuggah, briefly driving underneath it, but was unable to lift the robot. After Meshuggah drove away, X-Bot was pushed side-on by Meshuggah, until it was near the closed Pit of Oblivion. However, the process of pushing X-Bot towards the pit had caused Meshuggah to break down, early into the match. X-Bot tapped the motionless Meshuggah with its lifting scoop, and then kept its distance until Meshuggah was counted out. X-Bot briefly clashed with Sir Killalot near the pit while Meshuggah was being attacked by the House Robots, but 'cease' was called, and X-Bot emerged to the second round, victorious.
"We did not get far in the competition. We won 1 fight by miracle, as our opponent's weapon failed and it became a boring pushing match. Xbot's weapon never worked."
— Jeroen van Lieverloo
X-Bot then fought the Belgian entry Pika 2, and was covered in signatures from roboteers at this stage. Team Tie-Rip stated their odds of victory at 50-50.
Bridget Maasland: "You really think this is gonna boost your luck?"
Jeroen van Lieverloo: "I hope so. I got a lot of the other teams to sign it, so they'll all be thinking of me!"
Bridget Maasland: "But do they think you'll win?"
Jeroen van Lieverloo: "...No, that's probably why so many of them wished me luck…"
— Interview with Bridget Maasland before fighting Pika 2 (translated from Dutch)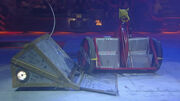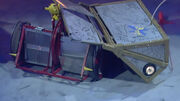 Both robots collided head-on, and then separated, avoiding contact for a large period of time. Eventually, X-Bot backed into Pika 2, and briefly became stuck on its opponent's wedge. This allowed Pika 2 to push X-Bot onto the flame pit. Further into the battle, both robots collided over the closed pit, and X-Bot then pressed the pit release button to open the arena hazard. X-Bot wedged straight under Pika 2's wheel, and managed to carry the Belgian robot towards the pit, until Pika 2 escaped before it could be defeated. X-Bot lingered near the pit, allowing Pika 2 to ram it from behind, although X-Bot was again able to trap Pika 2 on its wedge. X-Bot finally drove away from the pit, but Pika 2 drove straight under the lifter of X-Bot, and used its vertical spinner to split apart the two panels of X-Bot's weapon, visibly damaging the metal. In the closing stages of the match, X-Bot drove back onto the flame pit, with a panel on its rear end visibly hanging loose, and then X-Bot bumped into Pika 2's wheel before time expired on the match. The battle was sent to a Judges' decision, which unanimously awarded the victory to Pika 2, eliminating X-Bot at the second round stage.
"It was clear in testing that the design was bad and I never bothered to replace it with a good one. But I did add lights to the side! Spotlights made of glass…and they didn't break! So that right there is a good indication of how boring the fight was!"
— Jeroen van Lieverloo on his whole campaign
Results
[
]
Wins/Losses
[
]
Series Record
[
]
Dutch Series
[
]
UK Series
[
]
Trivia
[
]
Despite the similarity, X-Bot's name had no relation to the Xbox video games console, with Jeroen van Lieverloo stating that X-Bot predated the brand[1].
X-Bot's statistics stated 'hefvermogen' (lifting capacity) as the robot's strength, and 'bepantbering' (control) as the robot's weakness. Ironically, X-Bot's lifting capacity proved to be lower than that of its heavyweight opponents.
X-Bot is one of only four televised competitors which has a name that starts with X, alongside Xylon, Xenomorph and X-Terminator.
References
[
]