"Newcomers, but looks mean and fairly impressive"
Xenomorph was a reverse wedge shaped robot that exclusively competed in the Seventh Wars of Robot Wars. The robot featured a front arm with a vertical spinning disc as its weaponry, powered by two wheelchair motors. It was invertible, could attack forwards and backwards, but it did not get very far in the main competition. The robot was modelled like Xenomorph from the movie Alien, and highly resembled the original American Robot Wars legend and Combat Robot Hall of famer The Master, as well as experienced UK competitor Sumpthing.
Team member Tracey Preston was absent during the filming for Xenomorph's heat.
Robot History
Series 7
Xenomorph competed in the penultimate heat of the Seventh Wars. In its first round battle, Xenomorph went up against Robot Wars veterans Iron-Awe 2.1, Dutch entrant Hammerhead 2 and fellow newcomers DisConstructor. After a sluggish few opening seconds of the fight, Xenomorph was pinned beneath Hammerhead 2 as the latter was flipped over by Iron-Awe 2.1. Xenomorph's saw sliced into Hammerhead 2, before Xenomorph was then teamed up on by Iron-Awe 2.1 and DisConstructor. However, DisConstructor then drove into the pit of its own accord. Xenomorph spent the majority of the battle being axed, flipped and shoved around by Iron-Awe 2.1, which left some evident damage later on. Xenomorph was comparatively slow for then on, but then the battle went to a judges' decision, which eliminated Xenomorph from the competition, alongside Disconstructor, who had already been ruled out of the decision.
Results
Wins/Losses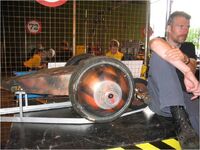 Series Record
Series 1-6: Did not enter
Series 7: Heat, Round 1
Trivia
Another robot, known as Xenomorph, failed to qualify for Series 3 and 4 of Robot Wars, however this machine was the predecessor of Chip, and had nothing to do with this team at all.
Community content is available under
CC-BY-SA
unless otherwise noted.