For the unrelated robot that fought in Series 7, see Xenomorph.
"Inspired by HR Giger's Alien. A truly visual robot that people will see and remember for being different"
— Team Xenomania website
Xenomorph was a robot that attempted to enter Series 3 and 4 of Robot Wars. It was not selected to take part in the main competition of Series 3, but was asked to participate in a side competition. However, the event in which it was due to compete in was cancelled following a behind-the-scenes accident. Xenomorph would also fail to qualify for Series 4, despite winning its qualifier.[1]
Xenomorph was entered by Team Xenomania, which would later enter Extreme 2 and Series 7 with Chip. The robot's name and design were both inspired by the titular alien creatures from the Alien film franchise.
Design
[
]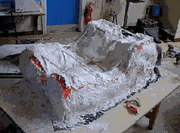 Xenomorph was a robot modeled on the aforementioned Alien character, with an 'organic' nylon polymer bodyshell which was initially sculpted using clay and plaster. Its weapon was a large motor-powered axe, while the robot was painted green and grey to match its inspiration.
Series Record
[
]
Outside Robot Wars
[
]
"IT WAS DISMANTLED IN 2001 AFTER NOT GETTING CHOSEN FOR EITHER SERIES 3 OR 4 OF ROBOT WARS. SHAME BECAUSE IT HAD A GREAT AXE, IT WAS 100% RELIABLE AND LOOKED SCARY!"
— Team Xenomania website

After failing to qualify for Series 3 and 4, Team Xenomania entered Xenomorph into several Robot Rumble events held at RAF Bentwaters in Ipswich, at one point fighting Mortis in a three-way melee. The robot was dismantled shortly after Series 4, with the team building a second version with a lower box-shaped chassis, an improved axe and a front lifter. However, this version of Xenomorph was not entered into any future series of Robot Wars, instead being driven around Denbigh High School, the school where it was built, and scrapped when Team Xenomania decided to build Chip.
Trivia
[
]
Denbigh High School, the school which built Xenomorph, also purchased Series 3 Semi-Finalist Pitbull on eBay.
External Links
[
]
References
[
]