"From the pantheon of the robot gods comes Zeus..."
— Jonathan Pearce
Zeus was a competitor robot that fought in Series 3 of Robot Wars. The robot performed poorly in its only televised appearance, losing in the first round to Scutter's Revenge.
The team who built Zeus would later enter Series 4 with the equally unsuccessful Cronos.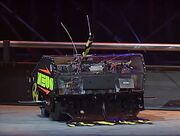 Zeus was a black and yellow semi-wedge box-shaped robot armed with a front scoop and a rear pickaxe as weapons. The scoop was driven by a five-tonne airbag mechanism and was capable of lifting a Ford Transit van, while the robot also featured side spikes which were intended to prevent it from being flipped onto its side. Zeus also had good pushing power, being able to push a Range Rover during testing, although the small size of its scoop was not enough to counter Scutter's Revenge's drive power in its only appearance. The robot cost approximately £400 to build.
Like its successor Cronos, the name Zeus came from Greek mythology, being named after the Greek king of the gods of Mount Olympus.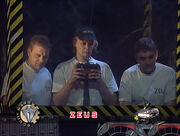 Zeus was built by Team Clean Machine, a family team from Wiltshire. The team was captained by Julian Raffle, and he was joined by relatives John and Mark Raffle. Oddly, only two of the three team members appeared in Zeus' introduction in the pits. Team Clean Machine would later compete in Series 4 with Cronos.
Zeus fought in Heat M of the Third Wars, and faced fellow newcomer Scutter's Revenge in the first round.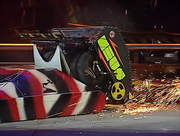 Both robots approached each other in the middle of the arena, before Zeus was pushed into the wall by Scutter's Revenge and turned on its back. The bottom of Zeus' scoop caught the top of Scutter's Revenge's, allowing Scutter's Revenge to push Zeus towards the pit as its pickaxe caught a grille, forcing the axe head to break off completely. Zeus was eventually pushed into the pit, and swiftly eliminated from the Third Wars.
"The gods weren't with them today. Zeus goes in the pit."
— Craig Charles after the battle
Ordering all robots to compete on the show alphabetically, Zeus was the last robot listed until Series 7, when the record was taken by Zorro.
Community content is available under
CC-BY-SA
unless otherwise noted.